When young people graduate from high school, some will enter the work force right away. Others will go on to college and not start working a full-time job until they complete their education. What happens when students graduate and begin their first serious job? Will it pay enough that they can support themselves? What if they have families?
This was the purpose of Real Money, Real World, a Williams County OSU Extension Office sponsored program presented by Kim Herman that came to North Central High School in Pioneer, Ohio, on Friday, March 1 for students in their freshman and senior years. According to a description of the program, "Real Money, Real World simulates real-life experiences to help make youth aware of the money management they need. The curriculum focuses on making students aware of the correlation between educational attainments and earning power. This hands-on experience gives our students the opportunity to make lifestyle and budget choices similar to those they will make as adults."
The office added that, "throughout the program, the students assume the role of a 25 year-old adult who is the sole income provider for a family. They receive an occupation, monthly salary, and the number of children they are raising…The simulation involves volunteers who represent actual businesses that the students will spend their money on (such as housing, utilities, groceries, child care, and transportation). The students keep track of their finances and attempt to complete the simulation with a positive balance."
Students in the 9th grade selected from a list of occupations according to their GPA (grade point average). For example, those with the best grades could choose to be a pharmacist with an income of nearly $80,000 per year. On the other hand, those with low GPAs were assigned lower income occupations such as waitresses, farm workers, cook or janitor. Seniors chose occupations based on their actual employment ambitions following high school.
Students paired off and visited stations. At each station, students could choose from different levels expenses in the following categories: child care, clothing, communications (phones, cable), credit, entertainment, food, housing, insurance, transportation, and utilities. They could also spin the wheel of Chance, which could result in extra money such as a $100 check for their birthday, but it could also result in further debt for unexpected bills. Students could revisit a station only once, and many did after figuring out that their monthly paycheck would not cover their actual costs of living. Some sought a second job. Others decided on a less costly car or housing purchase. Among the first things that most students sought to "purchase" was a car or a house. Dick Harpster, a teacher of real estate at Northwest State Community College manned the transportation station. Many students were quick to buy the cheapest car, but when he pointed out to them that the care had in excess of 255,000 miles and only 19 miles per gallon gas mileage, he asked them to reconsider their purchase. He suggested to them that they should spend only 40% of their income on such costs as housing, transportation, and credit cards.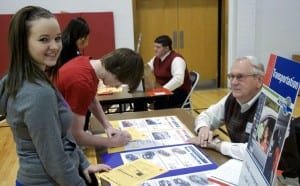 North Central students were, in general, a thrifty crowd, making purchases that cost them the least. Most chose to either rent or buy the cheapest house at $55,000. These choices were based on actual homes for sale and apartments for rent in the area. After buying a house and a car, they visited the insurance station. Students obtained utilities at a cost of $170 per month for a rental home, and $315 for a house. They also purchased food from four levels of cost, with the cost for 2 adults and one child estimated at $406 per month for a thrifty meal plan which included purchasing a whole chicken to cut up into portions, to $785 per month for the liberal meal plan, which included steak and desserts.
Many students were shocked at the cost of child care. The cost was based on number of children and their ages, with the highest cost for infants. The cheapest alternative was in-home care from $437-546 per child, to as much as $762 per month of an infant in a licensed day care facility. Comments heard at this station were, "My spouse needs to get off their lazy butt and go to work!" In this exercise, the spouse was assumed to be going to college to further their education and earning power, or seeking a job. Others commented: "I'll have to take them to work with me!" "I don't have that kind of money!" Following a visit to this station, some had to go to the Financial Advice station for a loan or to make credit card purchases, thereby adding to their monthly debt. Others sought a second job. When it came to entertainment costs, many decided that they could just as easily rent a movie from the library for free and watch it at home, or go to RedBox for a dollar movie, or they could entertain themselves for free by taking a walk with their family or go to the park where their children could play. Only a very few decided that they could eat out at a restaurant, such as Applebees.
Freshman student Phillip Barnes said he learned that "It's expensive to live." His job paid only $19,300 per month, and his second job yielded only an additional $328 per month. One young lady who was a nurse's aide in the exercise decided that she would like a better job. She finished in the negative. She found herself telling her partner who was a pharmacist with money to spend that she should "just stop buying things!"
A young man, who came to the finish line with $120 in the hole even after choosing the cheapest option at each station, found out that based on his family size he could receive $307 per month in food stamps, thereby finishing on the plus side with some money left over to buy basic supplies for his family. Another student who began with an income of $30,000 per year as an embalmer finished with a negative balance and said she never wanted to do this again. A student who chose to be a baker found the exercise "frustrating" as she realized that she could not sustain the lifestyle she would like. She said that she hoped to win money spinning the wheel at the "chance" station, but actually lost money instead. For the young woman who was a waitress with an income of $13,700, the experience was "really bad" and that after the cost of child care put her in the negative, she had to get a second job and still couldn't pay her bills.
Said freshman Asia Logan, "I learned how expensive it is to take care of a family." Added Josh Pannell,"Life is a lot harder than it seems. You won't have as much money as you think." Jevik Carr ended up the most in debt of the freshman class. His job as a janitor netted him $19,300 per year, but his cost of $1368 per month for three children in child care devastated his budget. Even with a second job, he finished with a debt of over $1000 monthly. Jenna Eidenier fared much better. With an income of $80,000, she finished with over $900 to put aside for savings or other costs. She chose many thrifty options, but spent extra for a nice house and designer clothing while purchasing a used car. She said that the exercise "helped a lot" in teaching about the expenses in the real world.
In concluding the program, Kim Herman asked the students to go home and share what they had learned with their parents. She hoped that it would also teach them to understand the expenses that their parents are responsible for in their own homes, and to make them more appreciative of all that their parents do for them.
The Real Money, Real World program has been in existence in Ohio for 10 years, but it has only been within the last year and a half that the program has been available in northwest Ohio due to obtaining a grant. This was the first year that the program included freshman, and several were heard to say that they wanted to work harder to increase their grade point average and go to college. The general consensus of the participants was that it was a good program and that they learned a lot.
The Real Money, Real World program is being presented in other county schools such as Montpelier Exempted Village Schools, and they are working to bring it to other area high schools.