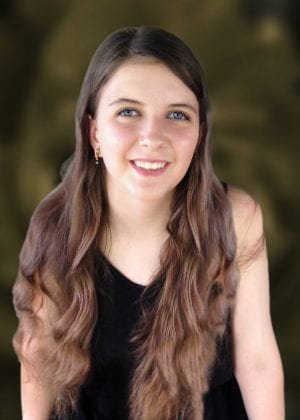 A Williams County youth will be traveling to Japan this summer as part of the 4-H/Japanese Exchange Program.  Jaelina Mitchell, 15 year old daughter of Gayland and Toni (Filip) Mitchell, of Bryan, will join 4-H'ers from around the country for the exchange, June 14th to August 10th, 2017.
While in Japan, the Ohio youth will be learning the local culture by living with Japanese host families and participating in community life.  Many of them will be staying with the families of Japanese youth who have previously visited them in Ohio on this reciprocal exchange.
Jaelina is among 40 4-H'ers from the USA who will be visiting Japan.
She will be one of only 5 Ohio youth participating in the 8 week, Nihongo Language program.
During this program, the first 4 weeks will be spent with a family in Tokyo, participating in an intense, language-learning program during the weekdays and spending her evenings and weekends living with and interacting with a Japanese family.
Her second 4 weeks will be spent with a second family, most likely in a rural setting, learning how they live their daily lives and experiencing the differences between her life in the USA and the life she would lead as a Japanese citizen.
Later during the visit, Jaelina will attend a 5 day camp with Japanese and American youth.
Jaelina attends Stryker High School, and is active in Band, Track and 4-H. She is a member of the Stryker Livestock 4-H club. She decided to apply for the Japan experience because "I have been learning about places around the world. For at least the past three years, I have been fascinated with Japan, learning all I can about the Japanese, even studying the language.  I want to experience the culture for myself and see what it is like to be a part of the Japanese culture. The only way to get the real experience of life as a citizen of Japan is to go and live the daily life with a family there."
The exchange program in Japan is coordinated by the Labo Foundation, an organization dedicated to teaching foreign languages and cultures to Japanese youth. Japanese young people learn about a country's culture and do songs and stories in the language they are studying.
In 1972, Labo established the first exchange with 4-H clubs in the United States. The first year for Ohioans to make the journey to Japan was 1981. Since then, a group of Ohio 4-H'ers has visited Japan nearly every summer, with a total of 244 youth and adult chaperones making the trip so far.
Youth interested in traveling overseas or families interested in hosting someone from another country should contact your local county extension office at 419-636-5608. or your local volunteer International County Coordinator, (ICC)  Bobi Williams at 419-551-2795.
You can also visit www.ohio4h.org/youth/international
Ohio 4-H is currently seeking families to host young people from Japan from July 23 – August 18 this summer. Youth and families do not need to be current 4-H members to apply. Join the fun and learn about your world!
INFORMATION PROVIDED