---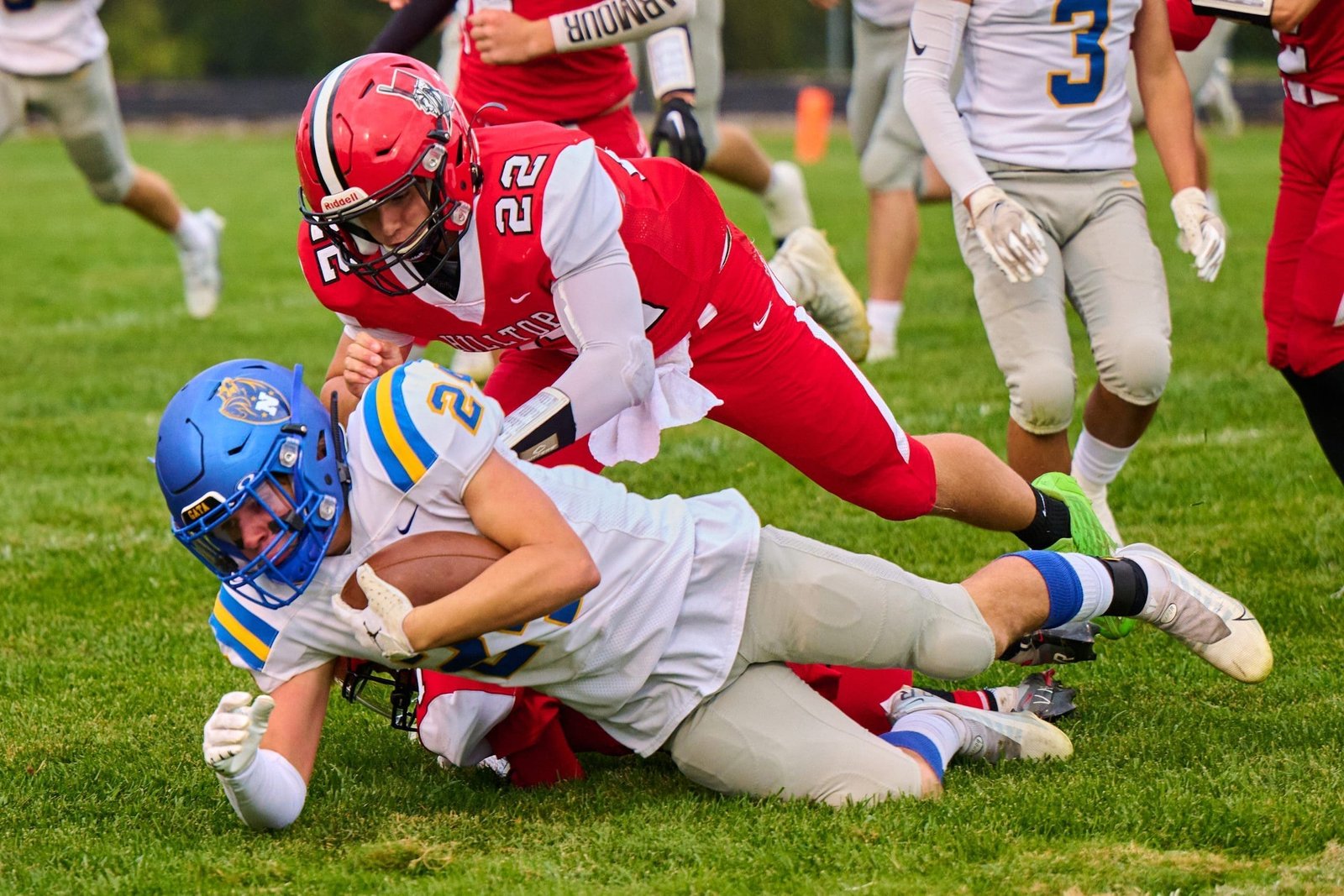 SEASON PREVIEW … Linebacker Dalton Bauer cleans up a tackle on a Northwood ball carrier. Bauer returns on defense for the Cadets after posting 39 tackles, five tackles for loss, two forced fumbles, and one interception last season. PHOTO BY RICH HARDING / THE VILLAGE REPORTER
---
By: Daniel Cooley
WEST UNITY – Hilltop suffered through a dismal 1-9 season last fall, with the only win coming against North Baltimore, 12-6.
The bad news is that North Baltimore is no longer on the schedule. But the good news is that with 17 returning starters, nine on offense and eight on defense, the Cadets should be greatly improved.
STRENGTHS: Offensively, the Cadets return nine starters, with the biggest strengths at the skill positions. Junior quarterback Cameron Schlosser returns after throwing for 608 yards and four touchdowns.
Provided the offensive line can protect him better, Schlosser should be able to throw for more yards this year.
Both running backs return, in senior Branson Heisey (154 yards rushing and 74 yards receiving) and senior Dalton Bauer.
There are two returning wide receivers: senior Wade Wagner (154 receiving yards) and senior Brock Kesler (223 yards receiving). Senior David Rodriguez and junior Izaras Washburn will battle for the tight end starting slot.
The top returning offensive lineman is 260-pound senior Colton Wood. Also back is 190-pound senior Dylan Cammack, 185-pound senior Shannon Spires and 230-pound senior Aiden Terril.
Battling for the other two offensive line positions are sophomore 230-pound sophomores Zakk Cammack and Jonathan Stephens and 250-pound junior Jason Rediger.
Returning starters on defense are linebacker Schlosser, defensive back Wagner (four pass breakups, one interception), defensive back Heisey (44 tackles, one interception), linebacker Bauer (39 tackles, five tackles for loss, two forced fumbles, one interception), defensive lineman Wood, defensive back Kesler, linebacker Dylan Cammack and defensive lineman Rediger.
Vying for the three remaining defensive lineman spots are Spires, Zakk Cammack, Stephens, and Terril.
"Our strength (on both sides of the ball) is experience," said Hilltop coach Nathan Massie. "Offensively, our strengths are the skill positions (quarterback Schlosser, running backs Heisey and Bauer and wide receivers Wagner and Kesler)." "Defensively, our strength is our linebackers (Schlosser, Bauer and Dylan Cammack)," Massie said.
WEAKNESSES: Offensively, Hilltop needs to improve on last year's scoring average of 4.8 points per game. "We need to improve on not turning the ball over and our other weakness is our kicking game and depth (Hilltop has just 35 players on its roster, including freshmen)," Massie said.
Partially because of offensive turnovers, the defense surrendered 46.9 points per game. "Defensively, we need to become more aggressive and improve our tackling," Massie said.
OVERALL OUTLOOK: With 17 returning starters, Hilltop should be vastly improved. "This team has the potential to be very good," Massie said. "Another important factor in our success this season will be injury prevention."
ABOUT THEIR SCHEDULE: Season Opener: August 18th – Ridgedale (A) 7pm; TAAC Opener: September 22nd – Cardinal Stritch (A) 7pm
Dan can be reached at publisher@thevillagereporter.com
---