---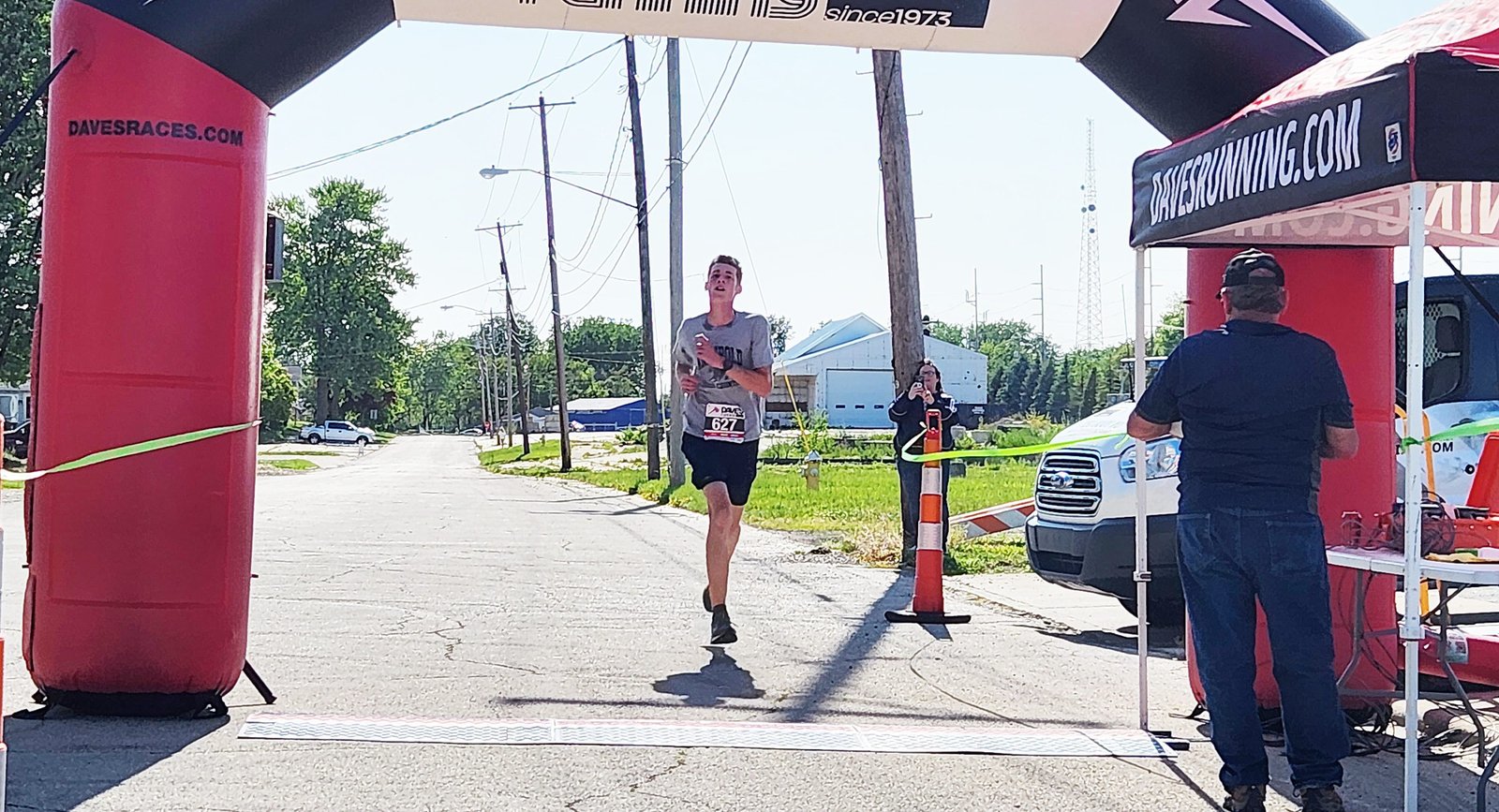 FANTASTIC FINISH … Caleb Harrow, a 16-year-old sophomore at Archbold High School, crosses the finish line to take first place at the Wauseon Firecracker 5K. (PHOTO BY JESSE DAVIS / THE VILLAGE REPORTER)
---
By: Jesse Davis
More than 60 people turned out on a warm, sunny afternoon in Wauseon Thursday to take part in the third annual Wauseon Firecracker 5K.
The event, put on by the Wauseon Chamber of Commerce, serves as a fundraiser for the community's Independence Day celebration.
According to Chamber Board Vice President Natalie Roth, the event has seen declining participation since its first year in 2021 as other running events in the area have spooled back up after being sidelined during the height of COVID-19.
The first year of the event drew 144 runners, while last year brought out 93 compared to the 62 finishers this year.
Dave's Running representative Terri Kaczor said there were around 18 events in the area just this month.
"This is my third one (I've been in charge of) timing in 8 days," Kaczor said. "Although that's a little unusual."
She said the bigger runs in the area have now come close to full strength, while smaller ones have not fully recovered or are suffering due to higher attendance at the larger events.
Spirits were high despite the lower attendance, not least of all with first-place finisher Caleb Harrow.
Harrow, 16, is a sophomore at Archbold High School who just finished the track season and is gearing up for cross country.
He was shooting for under 17 minutes and 30 seconds and was successful, coming in at 17:27.88.
"For where I am in the season, it's good," Harrow said. "I definitely have some work to do before the season comes around."
He said the main adaptation is the transfer between the different types of terrain in the two sports. He also had a message for others looking to get into running.
"Anybody who wants to run, just keep on putting in the work. Stay disciplined with your training. Always give it 100 percent."
Second place was taken by Gavin Knierim, 14, of Wauseon, with a time of 18:51.76. In third place was Philip Roth, 30, also of Wauseon, with a time of 19:26.48. Full results are available online at runsignup.com
Jesse can be reached at publisher@thevillagereporter.com
---