---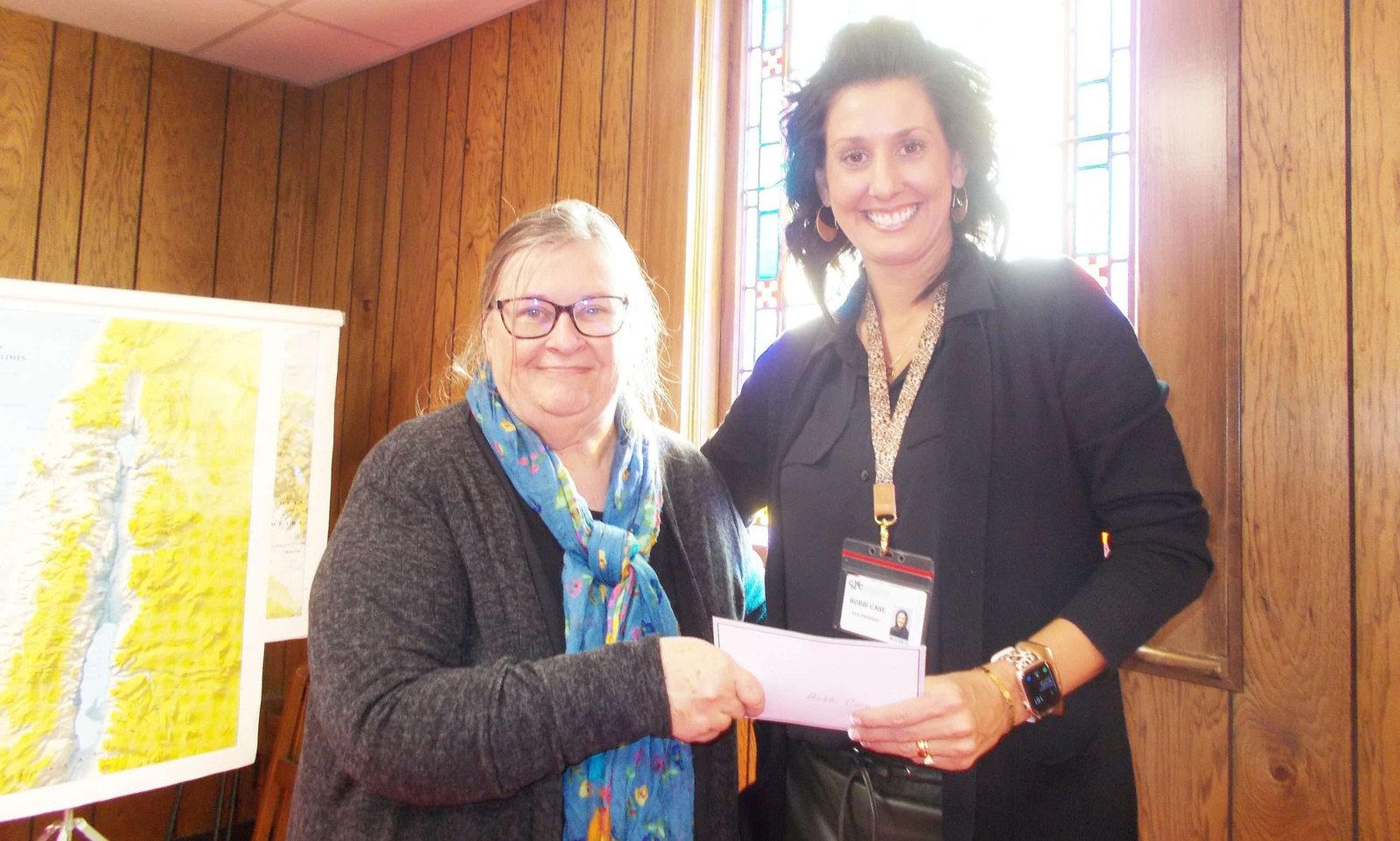 GUEST SPEAKER … Montpelier Hospital Auxiliary President Patty Ledyard, left, presented an appreciation gift to Bobbi Case, right, CHWC-Vice President of Ancillary Services, who was guest speaker at the auxiliary's general meeting Monday, Oct. 10th. (PHOTOS PROVIDED)
---
Bobbi Case, Community Hospitals & Wellness Centers Vice President of Ancillary Services from Bryan, was guest speaker Monday, Oct. 10th for CHWC-Montpelier Hospital Auxiliary.
This was the first general meeting of the auxiliary for their 2022-23 year October thru June at St. Paul's United Methodist Church, Montpelier.
Auxiliary President Patty Ledyard introduced Bobbi whose presentation included the CHWC Strategic Plan for all facilities at Bryan Hospital, Montpelier Hospital, Archbold Medical Center and Bryan Radiation Oncology Center.
A 23-year veteran employee at CHWC, Bobbi holds a bachelor's degree in natural science and master's degree in business administration and healthcare management.
She was employed in 1999 in the lab as a board-certified medical laboratory scientist with promotions in 2006 to laboratory supervisor and in 2019 to Director of Laboratory.
In 2020 she became Assistant Vice President of Ancillary Services and earlier this year accepted the position of Vice President of Ancillary Services.
In this role she provides oversight and leadership to Laboratory, Pathology, Imaging, Patient Experience, Radiation, Oncology, Medical Oncology, Environmental Services and Nutrition Food Services.
Her presentation began with CHWC's vision: "First choice for exceptional care, delivered by exceptional people". Four strategic priorities were defined as follows:
Establish CHWC as "Employer of Choice"—resolve staffing shortages and have exceptional people seeking employment with CHWC at the top of the list.
Evolve Healthcare Services—enhance the health, safety and well-being of the community with technology, services and facilities evolving continuously.
Elevate Brand Awareness—be first choice for healthcare, increasing awareness of CHWC's services through marketing plans.
Educate for Impact—foster a healthier community by engaging the community in health education and strengthen community outreach efforts.
Goals and objectives for these four priorities were outlined by Bobbi. She noted that many in the community may not be aware that the radiology imaging capabilities (X-ray, CT scan, MRI, PT scan, etc.) are the same at both Bryan and Montpelier Hospitals.
Also, future expansion is planned for the CHWC radiation oncology center and CHWC offers a hyperbaric chamber for wound care.
At the conclusion of her presentation, Bobbi was thanked for sharing this information and she was presented an appreciation gift from the auxiliary.
Auxiliary President Patty Ledyard then conducted the business portion of the meeting, beginning with the auxiliary prayer.
The auxiliary's membership drive continues through October and November. Program books are available to all members. Secretary Connie Dunseth and Treasurer Joyce Schelling gave reports.
---
SERVICE PINS … Officer and Executive Board members of Montpelier Hospital Auxiliary were presented with service pins at the Oct. 10th meeting, from left to right—President Patty Ledyard, Past President Gloria Poorman, Historian Ruth Cooley who also received her life membership and framed certificate, and Vice President Armeda Sawmiller.
---
Roll call was answered to "When you were growing up, what Halloween costume did you like to wear?". Thought for the day was "Don't judge each day by the harvest you reap, but by the seeds that you plant."
Auxiliary members were invited to attend the Williams County Dept. of Aging "Rainbow of Wellness" on Thursday, Oct. 13th at the Williams County Veterans Memorial Building at the fairgrounds in Montpelier. The auxiliary will donate one of the door prizes.
Again this year, the auxiliary will offer memorial angels and luminaries, dedicated in memory of loved ones.
Order forms are available by contacting Joyce Schelling, Treasurer, ph: 419-459-4696. Plans are in progress for the annual auxiliary memorial program "Lighting the Way to Christmas" Sunday, Dec. 4th.
Special officer & executive board pins were presented to President Patty Ledyard, Past President Gloria Poorman, Vice President Armeda Sawmiller, and Historian Ruth Cooley.
President Patty also announced the auxiliary honors Ruth Cooley with her life membership for her service as gift shop manager for several years and presented Ruth with a special framed certificate. Congratulations, Ruth!
The auxiliary participated in the Montpelier Library "Fall Fest" recently and auxiliary volunteers were thanked for helping with the membership drive and financial donations for the gift table.
Volunteers also signed up to take care of patient favors at the Montpelier Hospital each month.
Members and guests are encouraged to attend the auxiliary's next meeting Monday, Nov. 14th at 1:00 p.m. in the Robison Room at St. Paul's United Methodist Church, 402 Broad St., Montpelier.
Guest speaker will be Becky Weaver from CHWC-Bryan Cardiac Cath Lab. Roll call will be sharing names of veterans in your family.
---