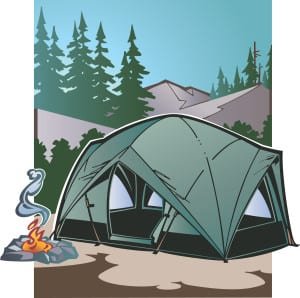 COLUMBUS, OH – Pull out the camping gear, grab the makings for s'mores and leave the wallet at home for a night of free camping with the Ohio Department of Natural Resources (ODNR). The night of free camping will be available at 54 campgrounds within Ohio State Parks on Thursday, April 18.
[emember_protected custom_msg="Full content protected for online subscribers. Purchase a one week subscription from the top menu bar for just $1.99 to read all online content (full access). Longer subscription plans are also available. Subscriptions cover our costs to attend local events; bringing forth Hometown News Coverage to our communities."]
"I want to encourage Ohioans to start their weekend early by camping at one of our Ohio State Parks campgrounds for free," said ODNR Director James Zehringer. "This is an excellent opportunity for families to explore new parts of Ohio and find out what is available within our state parks system."
For this promotion, campers can make a free reservation for a stay that includes the Free Camping Day. To make the reservation, people must call the Ohio State Parks Reservation Call Center at 866-644-6727. Customers can also reserve online but will pay the standard reservation fee. Walk-ins are also welcome on April 18, but space is limited.
For more information about Ohio State Parks campground availability, reservations and amenities, go to: http://bit.ly/freecamping.
This promotion will not be available at Jackson Lake State Park or Strouds Run State Park, as these are concession-operated campgrounds.
ODNR ensures a balance between wise use and protection of our natural resources for the benefit of all. Visit the ODNR website at ohiodnr.com.
For more information, contact: Matt Eiselstein, ODNR Office of Communications 614-265-6860[/emember_protected]