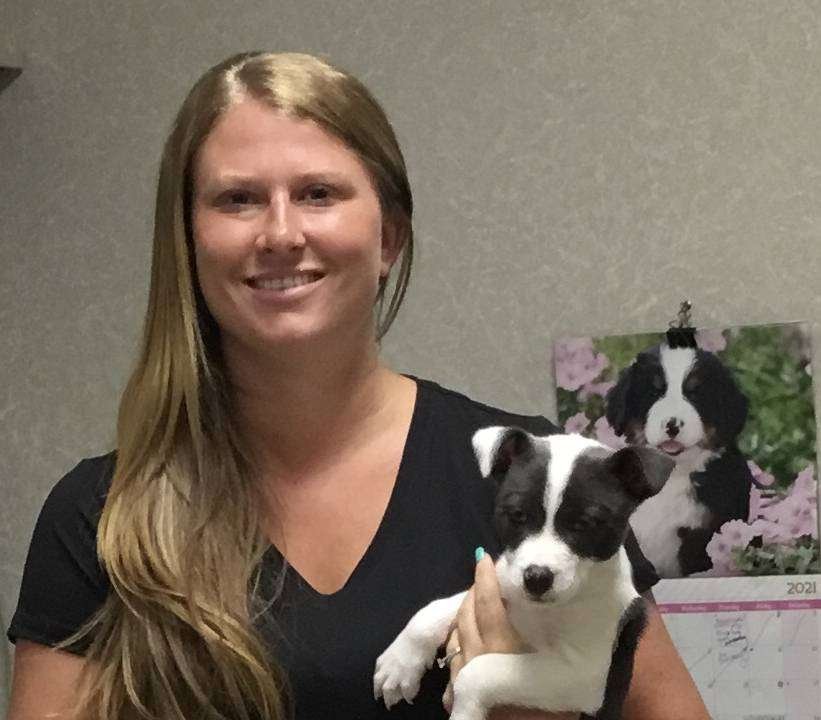 ---
By: Rebecca Miller
Alicia Strup is truly a Williams County native to the core. She was born and raised in Montpelier, graduating from Montpelier High School in 2006.
Her parents are Montpelier residents Jill and Kent John. After high school she did spend four years living in Columbus, but returned to her home county and plans to stay.
While she was in Columbus she got a job at a Doggy Daycare and fell in love with caring for dogs.
There was a veterinarian office that was part of the business and she helped sometimes, but her "general love for animals blossomed greatly" while caring for the dogs in the daycare.
Alicia always had a love for animals and pushed to get a dog while growing up but never got to have one until she graduated and moved out on her own. She has had dogs ever since.
During her childhood she loved to watch Animal Cops on Animal Planet and thought that it was awesome, "and now her I am one of them!" She said in an interview.
Alicia married Jaren Strup in 2019 and they have a one year old daughter. They live on what she calls a "hobby farm" with fifty or so chickens, three goats, five dogs and a couple barn cats.
Her favorite dog is a Boxer and she has owned up to seven of them now. Alicia recalls going straight to the Humane Society to apply for a job when she moved back to the area in 2011.
She worked her way up, starting with cleaning, then office manager, then Humane Officer, then Assistant Dog Warden and now she is thrilled to be the new Dog Warden for Williams County.
Concerning the duties of the Dog Warden, Strup said that it is a 24 hour job. They basically go out to collect stray dogs, assist any other law enforcement officers when they need it, deal with fighting or aggressive dogs as well as any dogs who have bitten someone.
Dog bites always get reported to the Dog Warden and the Dog has to be quarantined for ten days.
For situations with aggressive dogs, she assesses the situation and goes from there. She first gets down to the dog's level, trying to befriend it through use of treats and love, body language, and silly voices.
If none of that works she resorts to using the Catch Pole, which is a long pole with a loop for around the dog's neck. "I have had to do that many times as part of the Humane Society and as Dog Warden," she said.
Another responsibility of the Dog Warden is to sell dog tags, which are required by law. Every dog has to be registered and have tags.
"There is something different every day," Strup said. "There are many facets to my job and I love it all. She will remain actively involved in the Humane Society when she has time and feels very fortunate that all three of the employees in the Dog Warden Department are "double badged as Humane Officers and Dog Warden officers."
Emily Pearson, Jen Buehrer and Alicia work well together. They have set up an on call rotation so that none of them are working all the time.
She feels having them double badged makes it convenient for the county residents and for the animals.
The Humane Officers and Dog Wardens do not have a wildlife license so they care for cats, dogs and some livestock when necessary.
Strup has taken some continuing education classes, studied Physical Handling, completed the Ohio Peace Officer Training for Humane Agents in Columbus, as well as getting certified as a Humane Agent and in euthanasia.
She has all the experience that she gained in the past ten years and was next in line for the position of Dog Warden when Pam Welch retired.
"I look forward to serving my county as Chief Dog Warden, and I hope I do the animals justice in my career."
"I see this as a long term position for me. I can't see myself working in any other field," Strup shared at the end of the interview.
Rebecca can be reached at publisher@thevillagereporter.com
---