---
10/3/22 UPDATE: * The Steuben County Sheriff's Office continues investigating a hit & run traffic crash that injured 2 juveniles that occurred over the past weekend on CR 275 N near Lake James.
Through investigative efforts, a suspect vehicle description has been identified. The vehicle involved is a silver 2008 – 2012 Jeep Liberty with passenger side damage to include the side view mirror.
Below are reference photos and not the actual vehicle involved. The circled portion of the mirror photo is the actual damaged area.
The mirror itself may still be attached to the vehicle.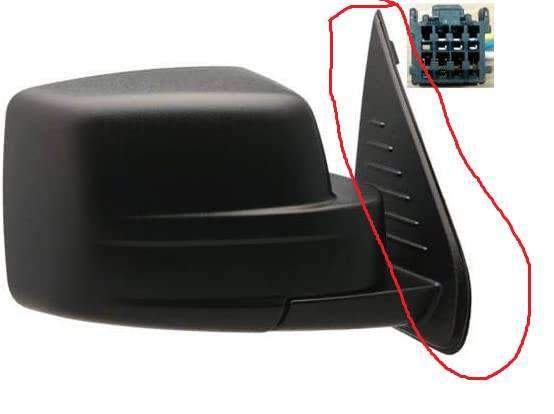 ---
Anyone with any information is asked to please contact the Steuben County Sheriff's Office or Steuben County Crime Stoppers. The Sheriff's Office is following all available leads to identify the person responsible.
The Sheriff's Office is investigating a leaving the scene, personal injury vehicle crash that occurred in the 1500 block of West CR 275 N in Steuben County's rural Pleasant Township.
On Saturday October 1st, 2022, at approximately 8:55 pm, Steuben County Sheriff's 911 received a report of a vehicle crash in which two pedestrians were injured. Upon the arrival of Sheriff's Deputies, two juveniles were located near the roadway with significant injuries.
One 12-year-old male juvenile was transported to Cameron Memorial Community Hospital in Angola, Indiana for treatment of minor injuries.
A second 13-year-old male juvenile was initially transported to Cameron Hospital, then flown to Parkview Regional Hospital in Fort Wayne, Indiana for treatment of injuries.
The 13-year-old juvenile is listed in grave condition that this time. The names of the victims are being withheld by the Sheriff's Office at this time in order to give the families involved ample time to make all necessary notifications.
Initial crash scene investigation revealed that an unknown vehicle was traveling eastbound on CR 275 N and struck the juveniles who were walking along the roadway.
The vehicle, and driver, involved in the crash left the scene before the arrival of first responders.
This incident remains under investigation by Sheriff's Office Detectives. Anyone with information regarding this incident is asked to contact the Steuben County Sheriff's Office Tip Line at 260-668- 4646 or Steuben County Crime Stoppers at 260-668-STOP.
Assisting the Sheriff's Office were the Angola City Police Department, Angola Fire Department, Steuben County EMS, and Parkview Samaritan Helicopter.
**Any criminal charge is merely an accusation. The Defendant is presumed innocent until and unless prove guilty.**
---