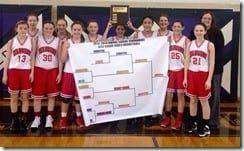 The 2013-14 NWOAL Eighth Grade Girls' Champion
Wauseon Lady Indians (Photo supplied)
HAMLER: February 8, 2014 – The Wauseon Lady Indian eighth grade squad faced off against Archbold for the 2013-14 NWOAL Championship, where they came away with the conference gold by zapping the Lady Streaks by a score of 37-21.
Scoring for the Indians were Karli Penrod, Kendra Gorczyca, Bailey Wensink, Myia McLeod, Ally Tefft, Rylee Campbell, and Reagan Spadafore.
With the win, the Tribe closes out the season with a 13-1 record and back to back league titles. Congratulations on a great season ladies!