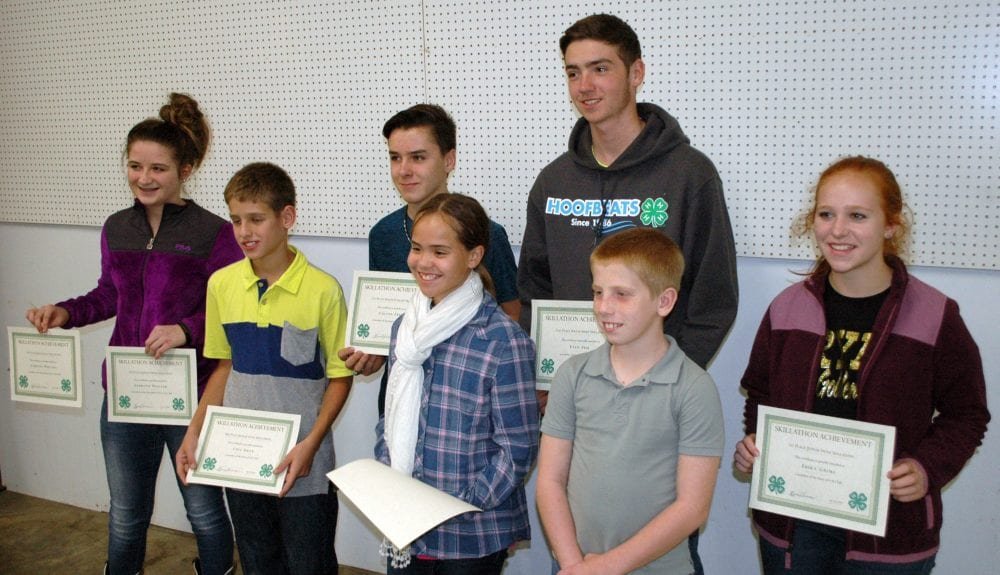 A legacy of service and commitment to excellence brought more than 100 people together for the annual 4-H Awards Dinner.
The Gillette Building at the Williams County Fairgrounds was the setting as the county organization paid tribute to the work of adult and youth volunteers and participants. The event featured games, a dinner, election of new officers and the awards ceremony.
The program was emceed by Kim Herman of Ohio State University Extension.
Several clubs were recognized for being a 2016 Honor Club:
4-H Explorers, Bonnie Blue Ribbons and Dairy, Edon Go Getters, Fit N Trim, Heartland 4-H'ers, Hoof Beats, Kidding Around Goat Club, Locos in Action, Sharp Shooters, Stars of 4-H and Superior Farmers.
Milestone anniversaries included:
Wide Awake Livestock, 95 years; Bonnie Blue Ribbons and Dairy, 60 years; Hoof Beats, 30 years; 4-H Explorers and Sharp Shooters, 15 years and Hop For It, 5 years.
Two volunteers were recognized for 30 years of service, JoAnn Skiles, Sharp Shooters, Stars of 4-H and April Sloan, Stryker Livestock, 4-H Advisory Council.
The Outstanding Teens were Evan Fisk, Caleb Haines and Dakota Freeman.
Each year, we also like to recognize outstanding teens. The Outstanding Teen award is given to the teens that have had a successful 4-H career, not only in physical accomplishments, but personal accomplishments as well.
Fisk had no other options but to become a 4-H member, Kim Herman said.
"Coming from a family full of 4-H'ers, this teen has made their own path and I look forward to seeing them excel in the future," Herman said.
This teen has been active as a camp counselor, Junior Fair board member, 4-H ambassador, and a youth representative on the 4-H Advisory Council. They have excelled in a multitude of projects such as sheep, beef, and engineering projects. Even though they are already super busy with 4-H-related duties, they also find time for sports and other extracurricular activities. They have served in various club officer roles and also help with club fundraisers and community service.
Through 4-H, they have been able to attend state and national camps and events. They credit 4-H with teaching them skills that have impacted their life – responsibility, money management, leadership, and people skills to name a few.
Fisk is a member of the Hoof Beats 4-H club and son of John and Dawn Fisk.
Caleb Haines also comes from a strong 4-H family. He has served as a camp counselor, youth advisory council member, 4-H ambassador, Jr. Fairboard, Food and Fashion board, and was also selected to serve on a few boards at the state level.
Haines was a self-proclaimed quiet and shy 4-H member…when they started.
"However, 4-H has worked some of its magic again, as I would not consider them shy now," Herman said. "I have watched this teen push themselves outside of their comfort zone and have fun during the process. They credit 4-H with helping them develop skills such as time management, organization, public speaking, teaching, and interviewing.
Haines is a member of the Stars of 4-H and son of Paul and Melanie Haines.
This year there was a 3-way tie for the top honors, with Freeman also being honored.
Freeman is known for always being able to put a smile on people's faces. As an active camp counselor, 4-H ambassador, and Jr. Fair board member – Freeman can turn the most daunting tasks into something fun and enjoyable.
"The whole idea behind (4-H) projects is not to win a ribbon – that's just a bonus," Freeman said. "I have eIt's to teach yourself that you can do anything if you set your mind to it."
In their first years as a 4-H member, he remembers looking up to those "big kids" and wanting to be like them. Along with several other goals this teen has set for themselves (and reached), becoming one of those "big kids" that is looked up to is one.
"I must say, they have done an amazing job," Herman said." Crediting 4-H as a "vehicle to continue on (their) learning path", this teen wants to thank all the advisers that have helped along the way. He wants them to know that, as advisers, you not only impact the 4-H members, but their families as well.
Dakota is a member of the Stars of 4-H and son of Scott & JoDel Freeman.
The outstanding first year members were nominated by their advisers. The award is based not only on their accomplishments, but their overall first-year experience as a traditional 4-H member.
Blake Dulle is known for having a lot of spunk and enthusiasm throughout the 4-H year. He helped his club with several community service projects and fundraisers. Dulle represented Williams County at the Ohio State Fair this year and came home with an Outstanding of the Day. An adviser described this member as always willing to help in any way they could.
Dulle is member of the Sharp Shooters 4-H Club and is the son of Kevin and Laura Dulle.
Adyn Herman is described as very eager to help anyone and as a "hard little worker." He was nervous about his first 4-H meeting and wasn't too sure about what to expect, but quickly got over his fears and started enjoying the meeting times.
As a last minute decision, he attended 4-H camp and had a blast! While he did not receive top honors at the fair for his project, he still enjoyed the experience and had fun. Adyn helped his club with fundraisers and community service projects.
He is a member of the Heartland 4-H'ers 4-H club and is the son of Jason and Kim Herman.
Overland Farms Demolition LLC, won the Friend of the 4-H Award. The award is selected and presented by the Williams County 4-H Advisory Council. This award recognizes and individual, company, group or business that has displayed a great deal of either financial or material support to Williams County 4-H.
Overland Farms are considered huge supporters of the Williams County 4-H and their family has deep roots in Williams County 4-H.
Throughout the years the family has supported improvements at 4-H Camp Palmer, donated towards the updated landscaping around the 4-H building and have supplied mulch for fairgrounds.
The 4-H Service Award went to JoAnn Skiles. This award is presented to an individual, company, group or business that displayed a great deal of continued support and service to the Williams County 4-H program.
Skiles was nominated for her "never-ending support of the 4-H program." She has served on multiple advisory and organizational boards, has helped increase membership within their club. She often goes above what is expected to help support and promote the program.
James Pruitt may be reached at publisher@thevillagereporter.com