---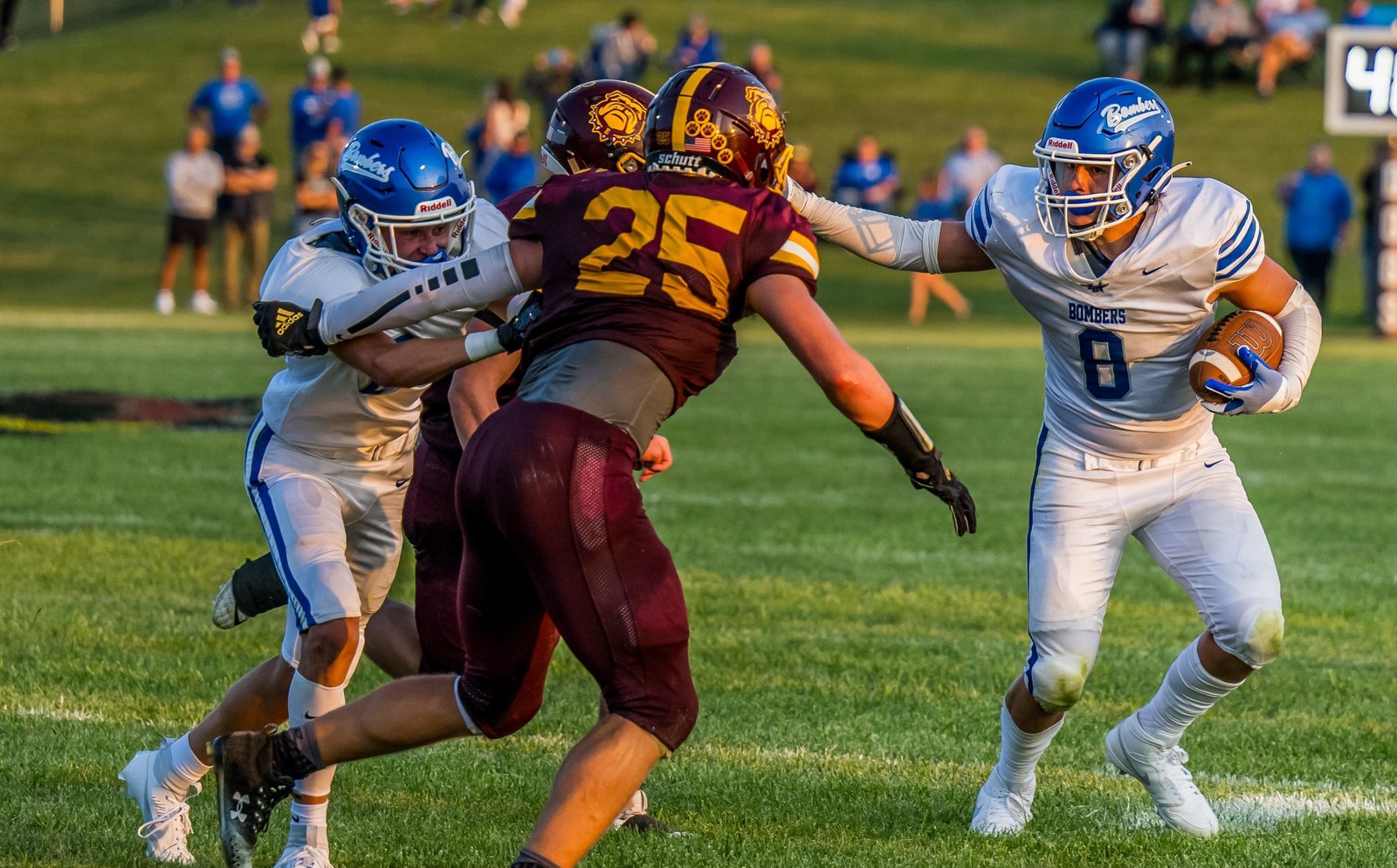 ROUTE 49 RIVALS … Edon's Cohen Hulbert stiff arms a Bulldog defender on Friday night. Hulbert scored two touchdowns and forced a Bulldog fumble late in the game. (PHOTO BY RICH HARDING / THE VILLAGE REPORTER)
---
By: Daniel Cooley
(August 18, 2023) EDGERTON – Edon had just taken a 28-20 lead on a touchdown and two-point conversion with 1:15 left in the game. But Edgerton came roaring back.
Starting from its own 43 after a kickoff return, Edgerton quarterback Maddox Baker completed passes of 28 yards, six yards and 20 yards to Scottie Krontz, putting the ball at the Edon three-yard line.
Krontz then scored a touchdown from the three-yard line with 15.8 seconds left, to cut Edon's lead to 28-26.
But on the two-point conversion try that would have tied the game, Edgerton running back Owen Roth was stopped short of the goal line by Edon's Parker Kelley, to preserve the Edon win.
"I was expecting the run," Kelley said. "I shot the inside gap; he was right there, and I put him to the ground."
Edon then recovered the onside kick and quarterback Kyle Sapp then knelt down in victory formation, for the win in the battle of Route 49. The two schools are just eight miles apart and it was the season opener for both squads.
"This game was like a prize fight," said Edon coach Bob Olwin. "They threw punches, and we threw punches. We have just four seniors and they have five, so we could have the same type of game next year."
"Our quarterback struggled a bit, as he was releasing the ball too far behind his head, but we made some adjustments (Sapp completed 11 of 12 passes for 137 yards in Edon's final two scoring drives)."
Edon had jumped out to a 14-0 lead early in the second quarter, on a two-yard run by Cohen Hulbert and a two-point conversion pass from Kyler Sapp to Christian Owens, to make it 8-0 Edon. Sapp then hit Kendol Brigle on a four-yard TD pass to give Edon the 14-0 lead.
But Edgerton then scored 20 unanswered points to take a 20-14 lead, with 11:32 left in the game.
First, Krontz scored from the one-yard line to cut Edon's lead to 14-7 at halftime. Next, Krontz scored on a 95-yard pass from Baker and Krontz's second extra point tied the game at 14-14.
Next, following a 55-yard punt return by Krontz to the Edon 30-yard line, Baker hit Krontz with a 29-yard pass to the Edon one-yard line.
Baker then scored from the one, but the extra point kick was blocked, leaving Edgerton with a 20-14 lead with 11:32 left in the game.
Edon then broke their scoring drought, driving 63 yards in 11 plays, to tie the game, at 20-20. Sapp completed all six passes he threw in the drive, including the final 11 yards to paydirt, to Max Radabaugh.
Edgerton looked ready to take the lead, moving to a second and goal from the Edon five-yard line. But Edon's Hulbert forced a fumble from running back Shaun Murphy and Edon's Radabaugh returned the fumble toEdon's own 20-yard line.
From there, Edon drove 80 yards in nine plays, scoring on a 17-yard run by Hulbert, on third down and two yards to go.
"I told coach (Olwin), let me run it, I can do it," Hulbert said. "I felt a couple of guys grab me, but I could see the end zone and I just kept going."
Edon's Sapp completed 31 of 47 passes for 289 yards, to seven different receivers. Sapp also rushed for 91 yards on 14 carries.
The two top pass catchers for Edon were Radabaugh, with eight catches for 81 yards and Christian Owens, with 10 catches for 101 yards.
"I think we were making a lot of mental mistakes when we weren't scoring," Sapp said. "We had a lot of guys go down with cramping issues, but they kept coming back and that just shows how tough we are. We didn't give up."
For Edgerton, Baker completed 11 of 15 passes for 273 yards. Krontz had a breakout game for the Bulldogs, catching eight passes for 255 yards and rushed 15 times for 77 yards.
UP NEXT: August 25 – Antwerp (1-0) at Edon (1-0); Edgerton (0-1) at Hilltop (0-1)
                             Edon       Edgerton             
First Downs      25                12
Rushes-yards   27-141     3-115
Passing yards   289          278
Passing          31-47-1        11-16
Total Yards       430       393
Fumbles-lost    0-0       2-1
Penalties-Yards  8-70      3-30
EDON             7 7 0 14 – 28
EDGERTON  0 7 7 12  – 26
Edon – Hulbert 2-yard run (Owens pass from Sapp)
Edon – Brigle 4-yard pass from Sapp (pass failed)
Edg -Krontz 1-yard run (Elden kick)
Edg – Krontz 95-yard pass from Baker (Elden kick)
Edg – Baker 1-yard run (kick failed)
Edon – Radabaugh 11-yard pass from Sapp (pass failed)
Edon – Hulbert 17-yard run (Sapp run)
Edg – Krontz 3-yard run (run failed)
Dan can be reached at publisher@thevillagereporter.com
---