---
NATIONAL SPECIAL OLYMPICS … Running at the head of the pack became one of Dawson Moore's newest experiences as he competed in Orlando, Florida in June 2022. Racing in the 800 Meter and 1500 Meter heats were two of his competitions and Dawson joyfully came in third for both. (PHOTOS PROVIDED)
---
By: Rebecca Miller
Many in Northwest Ohio have enjoyed following the unfolding story of Dawson Moore, a kind, gentle, 17year-old boy who loves to run.
Dawson enjoys running in the Williams County Special Olympics as well as with the Track Team during their practices at Bryan where he attends school in a self-contained Cross Categorical Classroom.
Dawson was tossed into the limelight when he was asked to run in the National Special Olympics in Orlando, Florida. He was thrilled to get to run as a part of Track Team Ohio.
He and his coach, Angela Luke (also a first for Williams County as she was chosen to coach Track Team Ohio) headed for Florida.
They arrived in Orlando on June 4, 2022, and settled in to their rooms at Disney Allstar Music Resort Jazz Hotel.
Dawson grew close to his roommate Seth over the next eight days and was very sad to have to say goodbye when they headed home on June 12th.
Fortunately, it did not end there for Dawson and Seth!  They both were asked to participate in the opening ceremonies of the Ohio Special Olympic State Summer Games on June 24th!
Dawson got to carry the Torch and Seth led everyone in the Athlete's Oath.
While in Florida, Dawson had a huge fan club present to support him and cheer him on. Not only were his parents and 11-year-old sister there, but eleven other family members traveled there from Ohio as well.
Four more who live in Florida joined them, making for some great family support. Dawson, his family and Angela made many new friends, thrilled to watch the others compete, soaked up the moments when it was Dawson's turn to compete, and tried hard not to get sunburnt.
The week in Florida was a life changing event for Dawson. He was part of Ohio's Track team which was made up of six individuals from all over the state. Dawson was the youngest and the oldest on his team was 38.
He spent each day with a routine that kept them busy…rise and shine, breakfast, 10-minute shuttle ride, half mile walk to the track, rubbing shoulders with delegates from all over the U.S. plus Haiti, Virgin Islands and elsewhere, and competing in preliminaries and finals.
Each of the six Team Ohio Track members participated in three events, making Angela Luke and the other coach responsible, over the 8 days, for 18 preliminaries and 18 finals as all six qualified for the Finals.
Dawson ran in the 800 Meter and 1500 Meter and threw Javelin. There were eight competitors in each heat and Special Olympics awards for each heat, not for the entire group of 5500 who were there.
In both of his running Final Heats, Dawson took the constantly given advice of his dad, Kaleb, and Coach Angela and quickly dashed into the front of the pack.
In an interview, they shared that in the past he has relaxed in a position at the rear of each group of runners, but during National Special Olympics he grasped their counsel and took off. It paid off as Dawson won Bronze medals, taking third place in both of his races.
"At the beginning, he led the races for more than half," his dad said proudly, adding with a smile and a pat on Dawson's shoulder, "then that Florida heat got to ya, huh!"  "Yup," Dawson agreed, grinning as he remembered.
---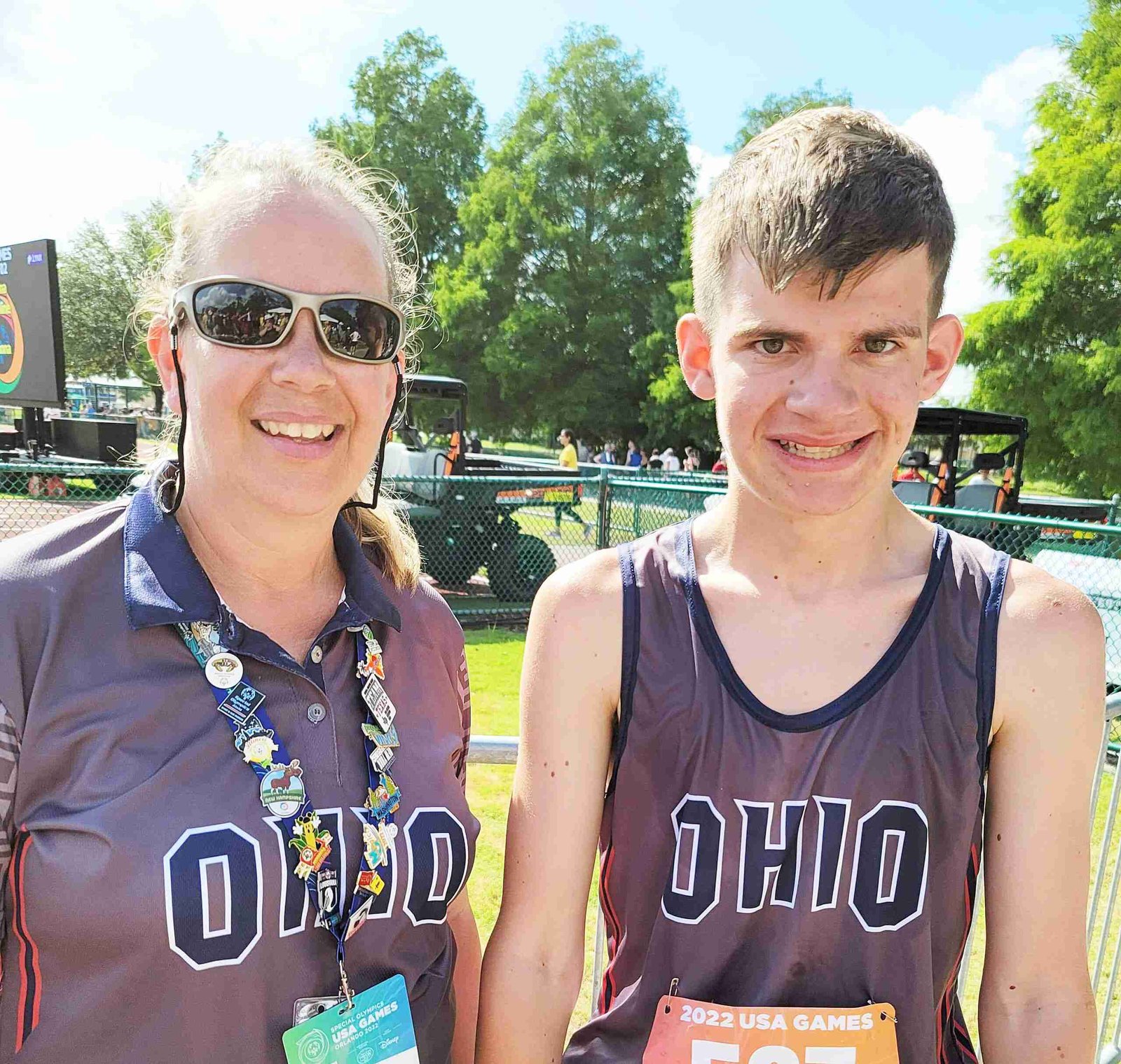 FIRST FOR WILLIAMS COUNTY…Track Coach Angela Luke and runner Dawson Moore were very happy and proud to be the first coach and first athlete from Williams County, Ohio to participate in the National Special Olympics. Being a part of 2022 USA Games was a great experience.
---
He is so proud of those medals and agreed with his dad's comment that it has truly been a confidence builder. He now knows of what he is capable and that "it is ok to run past people in a race."  Now he is more comfortable running in the front.
Dawson had never competed with mini-Javelin before, but had fun and came in 5th.  He said he was relaxed and felt ready to throw even though it was relatively new to him. "It was fun!" he said with a smile. In the Finals he threw 11.73 Meters.
Coach Angela shared, "It was so awesome to see them all compete. They were all so focused! They would stretch, get taken to the bullpen to get set up, and during their heats they did not get distracted by all the noise and crowds of people. It was amazing."
"I really enjoyed it all," Dawson said. "It was fun and I enjoyed running for Team Ohio."  The whole week was an "Independence building experience" as well, for each of the athletes, Coach Angela shared.
While staying at the resort, they were without the normal aid of their family members and she would give each of her six athletes a list at night letting them know for what they were responsible the next day.
"They did great!" she said. It truly built Dawson's confidence and helped him learn more about what he can do on his own.
Other special things happened for Dawson. He made friends with an athlete from Lucas County, Ohio who has become a fan of Dawson, due to all the news coverage.
When this athlete graduated recently from Sara's Garden, he was given a choice of a trip for his gift. He chose to travel to the National Special Olympics in Florida so that he could watch Dawson compete.
They met and became good friends. Plans to run together sometimes are being made.
Zappos gave every athlete a new pair of shoes which they got to pick from a large selection. Both Angela and Dawson chose the pair that had the Special Olympics symbol on them.
Their shoes are different but both had the symbol.  Angela shared how the shoes were designed by a person with Cerebral Palsy who couldn't tie their shoes, but wanted to have shoes that looked like everyone else's.
These shoes have a zipper that is either on the side, or goes all the way around the front.  Both Angela and Dawson are proud of that gift and he has been wearing his every day.
Dawson especially enjoyed watching his new friends compete in the Olympics. His gentle smile says it all, it was an unforgettable week!
Rebecca can be reached at rebecca@thevillagereporter.com
---