---
By: Nate Calvin
STRYKER – It's safe to say that Sage Woolace will long be considered one of the best athletes to ever wear the Stryker blue and white.
Entering Stryker's league opener versus North Central on December 16, Woolace needed only nine points to reach 1,000 career points.
The Stryker senior took care of business quickly by scoring those nine points in the first four minutes of the game on her way to 22-point night against the Eagles.
This is the second career milestone of the year for Woolace who reached 2,000 career digs during the volleyball season back in September.
Accomplishing those two things in her senior year is something she did not envision.
"I probably did not even know what a dig was until my freshman year of high school", commented Woolace.
"As for 1,000 points, I have dreamed about that since I was in the fourth grade. I remember watching my uncle achieve this accomplishment and thinking to myself that one day I wanted that to be me."
"As I became a freshman it was still in the back of my mind, but to be honest I didn't think it was practical."
"Fast forward to now I could not be any more grateful for achieving both of these. It has truly been a dream!"
Woolace's family, which includes parents Eric and Dawn Woolace along with brothers Payton and Brannan, have played a vital role in her athletic success.
"My whole family is so supportive and I could not have made it through my high school career without them", began Woolace, who is also a member of FFA, NHS, student council and participates in dance, track, softball, and cheerleading while maintaining a cumulative GPA of 3.98.
"I have said this many times before, but my dad has helped me tremendously in all of my sports."
"He especially loved basketball and would stay outside with me in the freezing cold helping me work on a new move for hours."
"Seeing his work ethic and drive to do better every day has been my biggest inspiration in not only basketball, but in life."
"He pushes me till I do not want to be pushed anymore, but isn't that what dads are for", said Woolace.
Her time in the gym began at early age as her dad coached both of her brothers in elementary and middle school so Woolace was often right there with them.
Woolace is the fifth girls player and 11th player overall to reach 1,000 career points. She joins Megan Myers (2000-2003), Brooke Ruffer (2009-2012), Haley Doehrmann (2015-2018), and current Stryker head coach Conner Varner (2011-2014) as Lady Panthers to hit the milestone.
"Sage is an incredible athlete. She can do just about anything on the basketball floor- shoot from the outside, get to the rim, break a press, make a post move, pressure the opponent's best player, be a help side defender… the list goes on," said Varner who is in her third year as head coach but has been involved in the program since graduating in 2014.
"And through all of that, she stays humble, and her ultimate goal is to put the team first. Although she is usually our leading scorer, to her that doesn't matter."
"Sage Woolace just wants to win, and she knows that her teammates play just as important of a role on the team as she does."
"She is a vocal leader on and off the floor as well. Sage has been someone others can look to for advice on their game, and she owns that role very well."
"Many people want to talk about her offensive skills, but my favorite thing to watch her do is play defense."
"She is quick on her feet and can make her opponent feel very uncomfortable, many times resulting in a turnover", add Varner.
Varner also said, "Sage is a great student and is involved in many extracurricular clubs that don't involve sports."
"It doesn't matter what Sage is a part of- she is going to give it her all and help others along the way to make the team, club, or group successful!"
Varner has seen plenty of growth in Woolace's game, especially the last four years.
---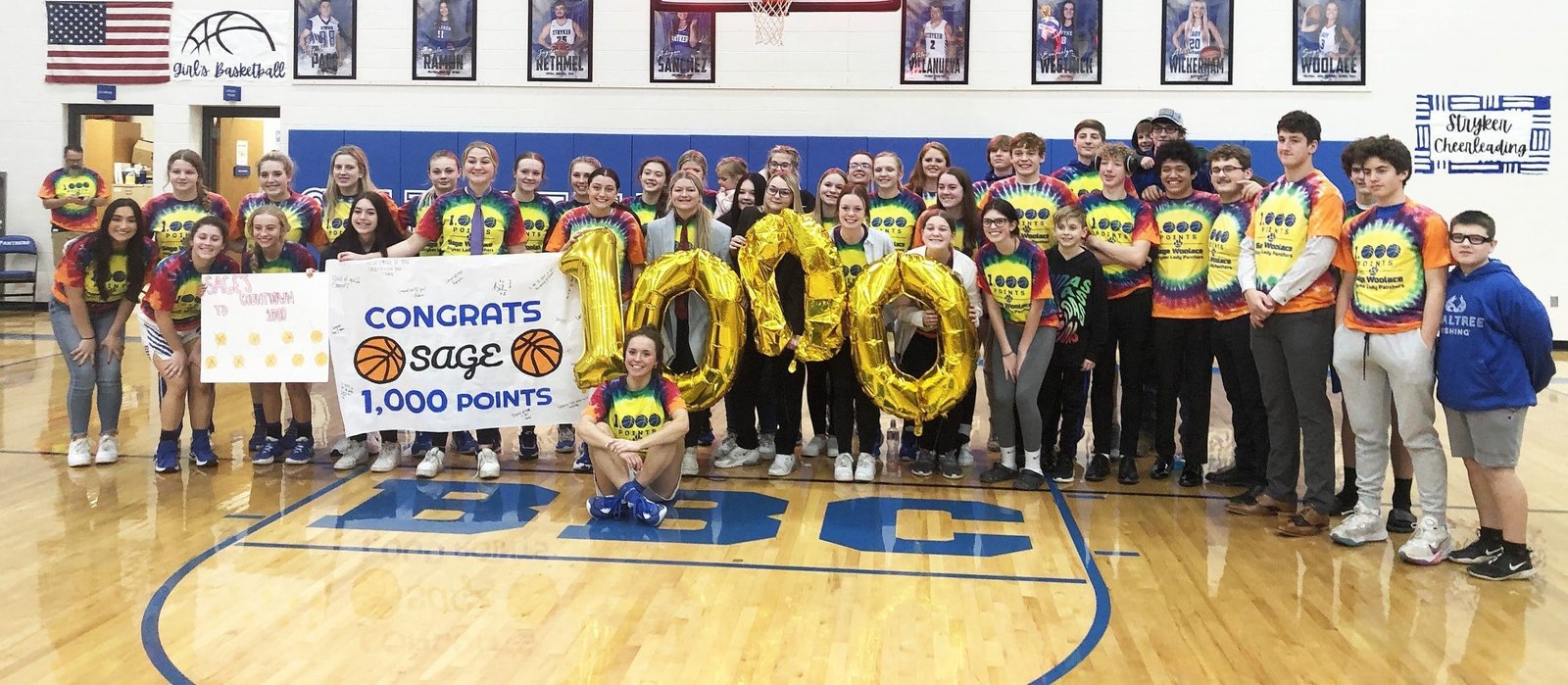 ---
"Sage has always been a great ball handler, but she has developed a great outside shot over the last few years", Varner elaborated.
"She has also introduced new moves into her game like the step back shot, a few "post" moves, and she has also improved in her use of her left hand when driving and finishing at the rim."
"This year especially, Sage has been doubled/tripled teamed more often and she has been a great passer to her teammates."
"Her teammates have definitely stepped up on the offensive end, and it's great to see everyone contributing."
"She has grown more confident as the years have gone by in her game and as a leader on the team", concluded Varner.
Looking back on her career, Woolace has plenty of memories to cherish as she nears graduation.
"Some of my fondest memories have not been the wins or the losses but have been the number of countless memories that have been made with my teammates from when we were in 4th grade at Mini Panthers to being seniors on the varsity Lady Panthers Basketball team."
"Playing sports has helped me form lifelong friendships that I will cherish forever. I am so lucky to have something that is going to make saying goodbye so difficult."
"I would just tell young players to dream big and dream for something bigger than 1,000 points because you really never know how much you will surprise yourself with the abilities you have."
"If you go into every game with a negative attitude you are going to play poorly no matter what."
"So, I come into every game with the mentality that nothing is impossible. If you play with your heart, you never know what you can achieve."
After graduating, Woolace plans to attend The Ohio State University and major in Early Childhood Education.
After college, Woolace would like to travel the world and become a pre-school teacher.
Nate can be reached at sports@thevillagereporter.com
---