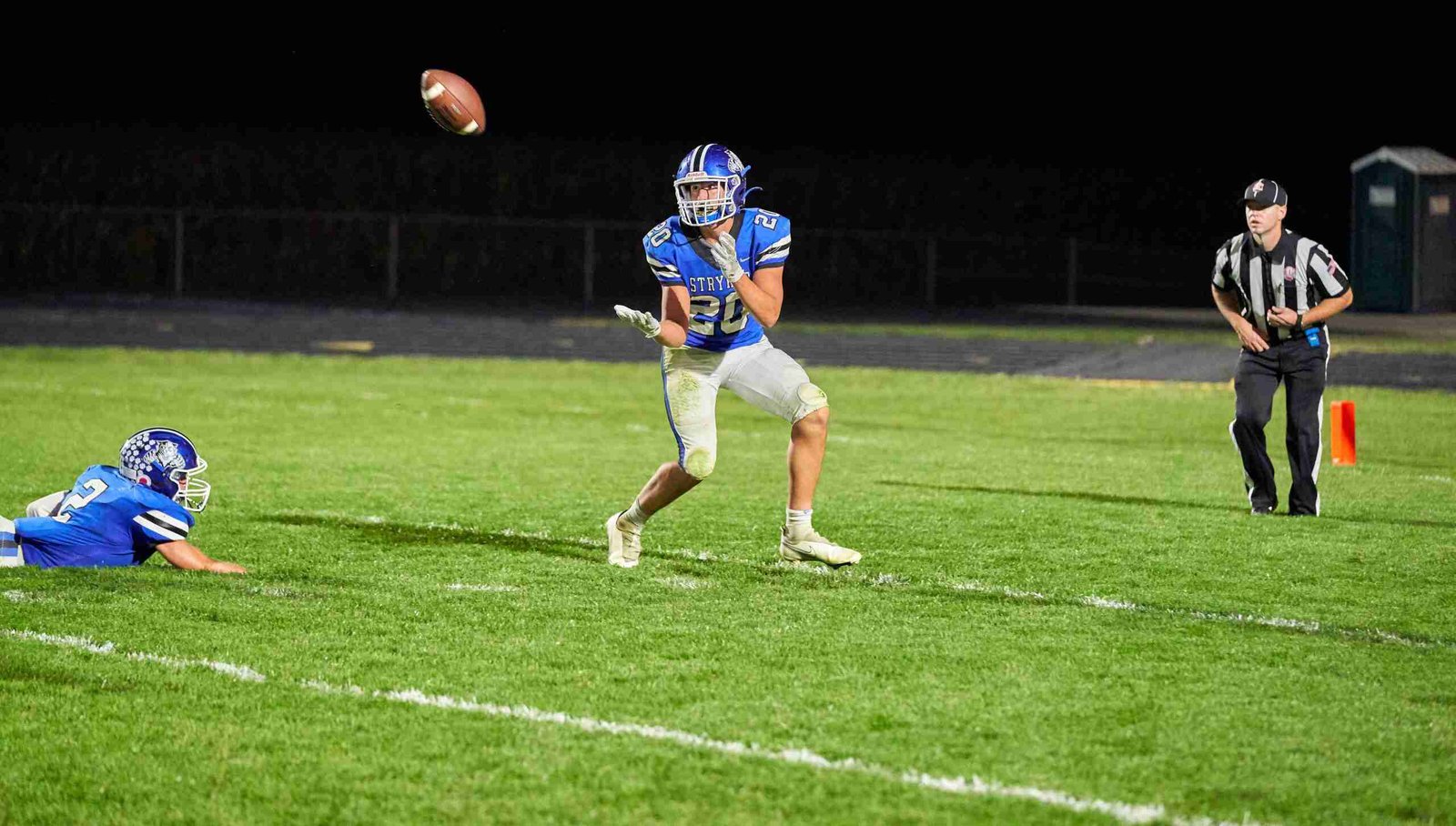 TOP RETURNING RECEIVER … Levi Barnum hauls in a pass for a touchdown versus Danbury last year. (FILE PHOTO)
---
By: Nate Calvin
The Stryker Panthers will look to build off last season's success in which they won the first game in program history when they defeated Sandusky SMCC 36-22 on October 3rd.
Kent Holsopple starts his third year leading Stryker, who are members of the Northern 8 Football Conference. The 8-man football league was founded in 2019 and currently consists of five teams.
Looking back on the 2020 season, Holsopple sees a lot of reasons for his team to be proud of what they accomplished.
"I am extremely proud of our Seniors and the team for making 2020 such a memorable season for our school and community", reflected Holsopple.
"We overcame several challenges throughout the season, found ways to improve, rallied together, and broke through with our first varsity win. We're very thankful to have had a season and are hungry to earn more "Firsts" for our program."
The Panthers will have holes to fill on both sides of the ball with the graduation of leading tackler Amos Sloan (52.5 tackles, 5 TFL, 3 fumble recoveries), quarterback Payton Woolace (65/137, 976 yds, 10 TDs), and receiver Kaleb Holsopple (38 rec., 732 yds, 8 TDs).
Holsopple and Woolace also contributed on defense for Stryker with 38 and 33.5 tackles respectively with Holsopple also recording two interceptions.
Sophomore Jacob Cadwell (32/66, 436 yds, 5 TDs, 164 yds rushing) will step in at quarterback to engineer the spread offense for Holsopple.
Levi Barnum figures to be the top target for Cadwell after snatching 31 receptions for 396 yards and five TDs in 2020.
The Panther junior will also be the team's leading returning tackler after registering 43.5 tackles, 4.5 sacks, 7 TFL, 1 fumble recovery, and 1 defensive touchdown last season.
"On the offensive side of the ball, we have a talented and experienced core group of returning starters in the trenches and skill positions to make plays for us, but we must be more consistent in the run game and strive to win the time of possession battle every game", said Holsopple.
"Defensively, we have tough competitors coming back in key positions on all three levels that gained significant game experience last season."
"On the flip side though, we have to replace a significant amount of defensive production lost due to graduation. We must reduce our opponent's explosive plays on a more consistent basis.
"We also have to execute schemes to create pre-snap confusion and post-snap pressures while remaining solid in the secondary", elaborated Holsopple.
Holsopple has several keys for Stryker to have a successful season in 2021.
"We must stay healthy, incorporate and develop our newcomers into solid contributors, improve our defensive performance, and just be more fundamentally sound on a consistent basis."
LEAGUE OUTLOOK: "The Northern 8 will continue to bring an exciting brand of high school football to Ohio. Each team lost some dynamic playmakers, but also brings back high-quality performers."
"We expect the level of competition to remain high in the Northern 8, and the league championship to go down to the final weeks of October."
ABOUT THEIR SCHEDULE: Stryker starts the season at home on August 20th against Danbury.
Nate can be reached at publisher@thevillagereporter.com
---