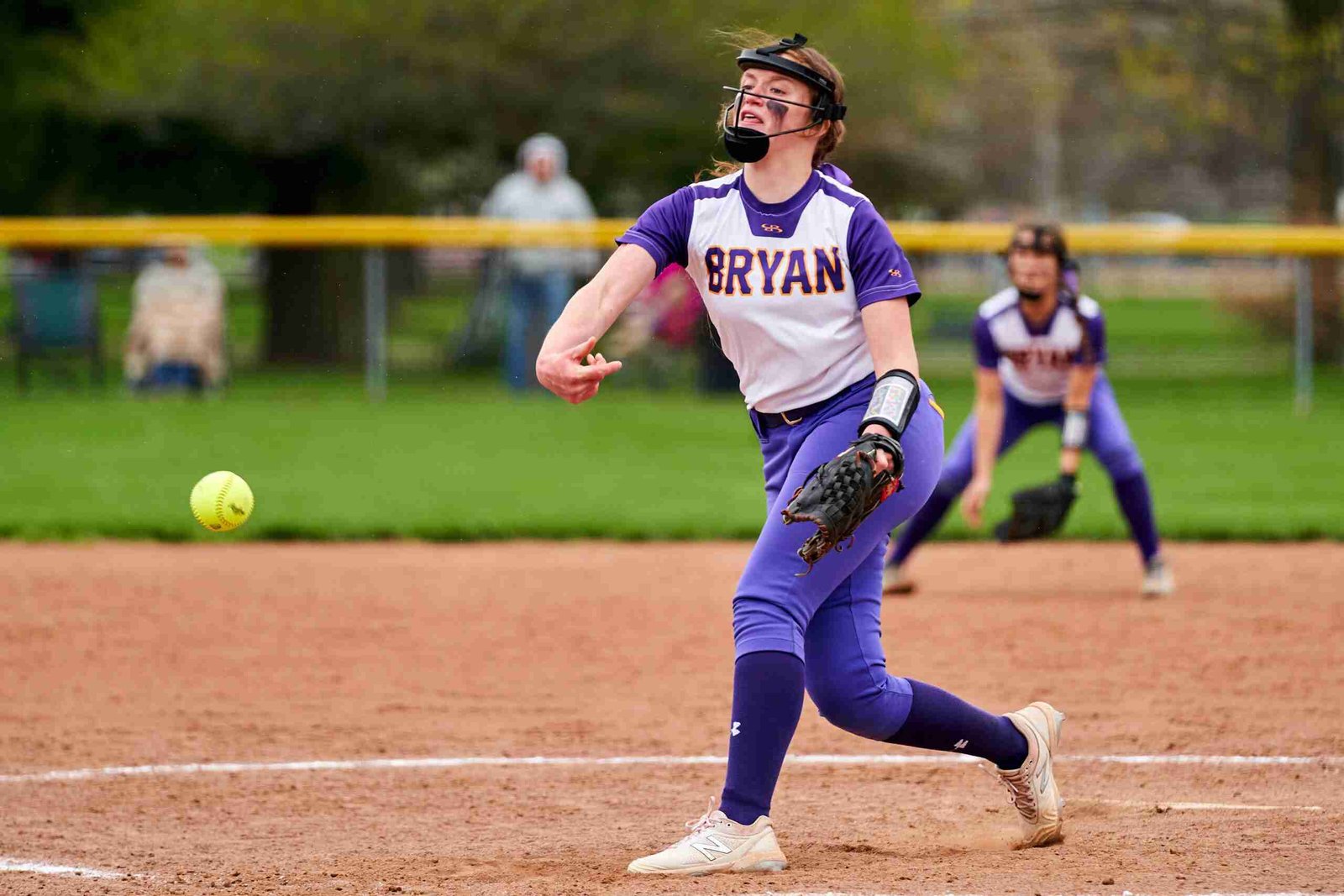 LOOKING TO REPEAT … Bryan ace Addie Arnold unloads a pitch in a NWOAL game versus Wauseon last season. Arnold is the reigning NWOAL Player of the Year and looks to guide Bryan to another NWOAL title. (FILE PHOTO)
---
By: Nate Calvin
The Bryan Golden Bears return the NWOAL Player of the Year in Addie Arnold has they try for a second consecutive league title.
Evergreen, who shared the championship with Bryan last year, figures to be in the race again despite losing their starting pitcher Breanna Huffman to graduation.
The Vikings bring back offensive firepower led by sophomore Macy Chamberlin and senior Jocelyn Schuster.
There will be two new coaches in the NWOAL this year and a coach who returns to the dugout after a couple years away.
Nick Lavinder takes over in Wauseon, where the Indians have plenty of seniors to replace off last season's district championship team while Jim Zoltowski is the new head coach for defending league co-champs Evergreen.
After two seasons away, veteran coach Mike Meyer (208-88) resumes his role as head coach at Patrick Henry.
Below are the team-by-team previews for this season in order of last season's league standings.
---
T1. Bryan (22-4, 6-1 NWOAL; Lost to Lima Shawnee 13-4 in Division II district semifinal)
HEAD COACH: Samantha Fowls-3rd Season
PLAYERS LOST FROM LAST SEASON:  Scout Smith (3B), Alexandra Vreeland (1B), Breanna Long (2B), Olivia Moore (OF/DP), Jasmine Richter (Utility)
RETURNING LETTERWINNERS: Seniors-Addison Arnold- P/3B/OF (2021 NWOAL Player of the Year, 1st Team All-Ohio, 1st Team All-District); Delilah Taylor-SS/P (2nd Team All-League NWOAL, 2nd Team All-District); Brooke Taylor-OF; Madison Grisier-OF; Sophomores-Kailee Thiel-1B/OF; Ella Voight-C/SS (Honorable Mention NWOAL, Honorable Mention All-District); Tabithah Taylor-OF/3B
NEWCOMERS: Freshmen McKenzie Mason (2B/OF), Izabella King (3B/2B), Caitlyn DeWitt (2B/C/OF); Sophomores-Marlee Yoder (1B/OF/C); Katelan Nagel (OF/2B/P); Teaghan Blad (OF); Juniors-Alli Alspaugh (1B/Utility); Kierstyn Bherns (3B/2B/OF); Elizabeth Thiel (DP/Utility)
STRENGTHS: Athletic; returning experience at pitcher, catcher, and shortstop
WEAKNESSES: Inexperience at 3B, 2B, and 1B
SEASON OUTLOOK: "Evergreen tied in the league with us last year. We know they will be strong coming into 2022 again this year."
"We also know Archbold and Wauseon will continue to be strong teams, as well as the rest of the teams in our league."
"Each program in our league has a chance to knock off someone on any given day. Our goal is to compete for a NWOAL Championship on a yearly basis."
"We want to continue to build this program to compete in the NWOAL and Division II."
---
T1. Evergreen (15-9. 6-1 NWOAL; Lost to Otsego 4-0 in Division III district semifinal)
HEAD COACH: Jim Zoltowski-1st Season
PLAYERS LOST FROM LAST SEASON: Breanna Huffman-P (Pitching-12-6, 3.16 ERA, 161 Ks, 121.2 IP; .390 BA, 5 HRs, 28 RBIs); Kennedy Keller-C (.222 BA, 11 RBIs, 25 R, 4-2B); Riley Lumbrezer-2B (.216 BA); Lexi Thibodeaux-RF (12 R, 10 RBIs)
RETURNING LETTERWINNERS: Seniors-Kennedy Coolman-LF/3B (11 R, 11 RBIs); Skylee Raker-1B (15 R, 12 RBIs); Brooklyn Richardson-P/1B (.375 BA, 2 HRs, 9 RBIs); Jessica Riggs-OF (.333 BA); Jocelyn Schuster-CF (.421 BA, 31 RBIs, 8-HRs, 9-2B); Emma Vaculik-OF (.500 BA); Junior-Lucy Nichols-OF (.571 BA); Shelby Moore-OF; Marissa Van Denk-SS (16 RBIs, 30 R); Sophomore-Macy Chamberlin-3B/C (.690 BA, 13 HRs, 38 RBIs, 40 R, 9-2B, 5-3B)
NEWCOMERS: Juniors-Hannah Double (OF), Lucy Serna (Utility); Freshmen-Evy Shrader (P/IF); Kira Keller (P/IF
STRENGTHS: Senior leadership; experience
WEAKNESSES: New coach; inexperience at the varsity level
SEASON OUTLOOK: "Our goal is to compete for a league championship and go make a long run in the postseason."
"Within the league and only playing each team, no team can be overlooked."
 T3. Liberty Center (18-6, 4-3 NWOAL; Lost to Evergreen 7-5 (13 inn.) in Division III sectional final)
---
HEAD COACH: Scott Barrett-5th Season
STRENGTHS: Pitching
WEAKNESSES: Inexperience, offensive production
SEASON OUTLOOK: "We come into the season losing nearly 97% of their offensive production from 21'.  Pitching and defense will need to be the calling card for us in 22'."
"We lost sophomore starting catcher and All-NWOAL performer Bea Barrett to a knee injury during basketball."
"Given all of the losses of offensive production from 21' our focus will be offensive creativity and pitching.
"We do bring back our top two starting pitchers in sophomore Reese Kessler (8-2, 2.78) and sophomore Eme Grey 9-3, 2.88) they will be relied on heavily."
"Cadence Sifuentes, Jr. and rising sophomore Molly Perry will play important roles on the mound."
"We will be re-tooling important parts of the defense with the loss of Cass Chapa (SS), Sam Engler (CF), Bea Barrett-injury (Catcher) with sophomores Eliza Jones- CF, Emma St. Claire-C and Eme Grey-SS.
"Offensively, we expect to be led by juniors Dulaney Krugh and Maddie McBride, both are projected to start and play important roles in the lineup. "
"A lot of untested players will be relied upon on the offensive for 22'."
"As far as the league, Bryan feels like the NWOAL leader with Addie Arnold returning the mound."
"Wauseon, Archbold and Swanton are also going to be contenders in 22'."
---
T3. Swanton (16-6, 4-3 NWOAL; Lost to Lake 13-5 in Division III sectional final)
HEAD COACH: Joe Nye-10th Season
PLAYERS LOST FROM LAST SEASON: Rachel Waszak, Bailey Arnold, Emma Operacz, Amy Lawson, Kailey Brownfield, Aricka Lutz, Avery Lutz
RETURNING LETTERWINNERS: Seniors-Bianna Williams-P, Trista Eitniear-3B, Ryeanna Kesler-IF, Jayden Hendricks-OF; Junior-Alaine Pelland- IF/OF; Sophomores-Olivia Gowing-SS, Kyleigh Shinaver-OF, Taylor Forrest-P/IF, Samantha Nelson-C
NEWCOMERS: Katie Floyd, Miranda Yeager
STRENGTHS: Pitching
WEAKNESSES: Experience
SEASON OUTLOOK: "Our pitching will be solid. I look for Wauseon, Bryan, Liberty Center and Evergreen to be at the top of the league."
---
T3. Wauseon (19-9, 4-3 NWOAL; Lost to LaGrange Keystone 8-2 in Division II regional semifinal)
HEAD COACH: Nick Lavinder-1st Season
PLAYERS LOST FROM LAST SEASON: Macee Schang-P (Pitching-19-9, 234 Ks; Hitting-.441 BA, 9 HRs, 36 RBIs); Jettie Burget-INF/OF (.422 BA, 3 HRs, 32 RBIs); Chelsie Raabe-INF (.BA 409, 4 HRs, 20 RBIs); Payton Albright-INF (.418 BA, 12 HRs, 39 RBIs; Alexis Haury-INF/OF (.386 BA, 3 HRs, 23 RBIs); Kiara Stutzman (OF) (.275 BA, 18 RBIs)
RETURNING LETTERWINNERS: Seniors-Autumn Pelok-INF (Missed last season due to injury); Olivia Gigax-OF (.413 BA, 4 HRs); Jayli Vasquez-C/INF (.424 BA, 1 HR, 32 RBIs) Sophomores-Bri Hays (.319 BA, 22 RBIs); Ella Albright-OF; Madisyn Ledyard-P; Ella Hageman (INF/OF)
NEWCOMERS: Junior-Grace Calvin; Sophomores-Lola Lavinder-1B; Danica Pack-INF; Freshman-Ava Kovar-OF
STRENGTHS: Work ethic, coachable group
WEAKNESSES: inexperience at varsity level (only 3 seniors)
SEASON OUTLOOK: "We feel optimistic about the upcoming season. We will be trying players in several different positions."
In the NWOAL, Bryan will be tough with the returner player of the year in the league and Archbold will have a solid team. "We have to make every play and every game count."
---
6. Archbold (10-11; 3-4 NWOAL; Lost to Eastwood 10-4 in Division III sectional final)
HEAD COACH: Andre Thiel-6th Season
PLAYERS LOST FROM LAST SEASON: Kylie Sauder-SS (.493 BA, 1st Team NWOAL, 2nd Team District); Alyssa McCoy-C (.238 BA); Lucia Rodriguez-P (1-1, 4.84 ERA)
RETURNING LETTERWINNERS: Seniors-Reagan Kohler-RF (.311 BA, Honorable Mention NWOAL); Addison Ziegler-1B (.333 BA, 2nd Team NWOAL); Harley Phillips-3B (.233 BA); Emma Hall-SS/OF (.125 BA); Carsyn Hagans-LF (.310 BA); Juniors-Maddie Thiel-P/Utility (64.2 IP, 3-5, 3.13 ERA); Natalie Nofziger-P/1B (11.2 IP, 8.40 ERA); Bre Boysel-Utility (.310 BA)
NEWCOMERS: Seniors-Alli Bickel (2B), Kylee Miller (Utility), Zoe Arend (OF), Emily Walker (OF), Sophie Schramm (OF); Sophomore-Meghan Taylor (C)
STRENGTHS: Strong focus and desire to get better every day; team chemistry
WEAKNESSES: Replacing a four-year starter at SS and some other key positions; unproven consistency at the plate
SEASON OUTLOOK: "Our goal is to be playing our best softball of the year as we approach tournament time."
"We will have another very challenging non-league schedule, which will help us prepare for our NWOAL contests."
"It will probably take some time for us to fit all of the pieces together and to adapt to the new roles that our newcomers are being asked to fill."
"Every year our goal is to battle for the NWOAL title and make a nice tournament run, and this year is no different."
"It will take a group of young ladies that can maintain a strong focus through the ups and downs that come along the way, and who are committed and determined to work together for that to happen."
"We had a great off-season and we are excited to get back on the field and compete!!"
"There will be some great competition in the NWOAL again this year. Several league teams return key players that will make each league opponent we face a tough test."
"I believe that there could be several teams fighting for the right to call themselves NWOAL champs at the end of the season, with Bryan being at the top of that list."
---
7. Patrick Henry (3-15, 1-6 NWOAL; Lost to Fostoria 15-4 in Division III sectional semifinal)
HEAD COACH: Mike Meyer-13th Season
PLAYERS LOST FROM LAST SEASON: Abby McGraw
RETURNING LETTERWINNERS: Ella Meyer, Jazmine Miranda, Kyleigh Breece, Kayla Kruse, Baylor McGraw, Grace Haas, Audrey Honeck
NEWCOMERS: Kelsey Smith, Kasey Nelson, Grace Behnfeldt, Illiana Schwiebert, Haylee Haas, Mariah Boyer
STRENGTHS: Players are willing to work hard every day to improve on their game
WEAKNESSES: Experience
SEASON OUTLOOK: "We hope to be more competitive this season. Looking to get better every day."
---
8. Delta (1-22, 0-7 NWOAL; Lost to Evergreen 17-1 in Division III sectional semifinal)
HEAD COACH: Kelsey Gillen-3rd Season
PLAYERS LOST FROM LAST SEASON: Reagan Rouleau, Mariah Mattimore
RETURNING LETTERWINNERS: Jersey Irelan, Kate Friess, Sophia Burres, Jasey Spiess, Abby Ford, Madison Savage, Anna Munger, Faith Kern
NEWCOMERS: Oliva Smith, Jaclyn Kohlhofer, Mackenzie Mercer
STRENGTHS: Returning experience
WEAKNESSES: Lack of program's success
SEASON OUTLOOK: "The program hasn't had many wins for several years. "We want to become a strong and confident program with tradition."
"We're hoping to be able to build from last season and compete in most games."
Nate can be reached at sports@thevillagereporter.com
---