---
SERVICE… Bull Thistle volunteers work to serve chicken dinners to the hundreds of people waiting to receive one. (PHOTOS BY JACOB KESSLER, STAFF)
---
By: Jacob Kessler
The 46th annual Fayette Bull Thistle festival took place on Saturday, August 6th. The event started off with a breakfast at Our Lady of Mercy Church from 8:00 a.m. to 10:00 a.m.
At 11:00 a.m. the parade began moving through the town following Fayette Street and crossing US 20/West Main Street. The parade saw numerous local organizations along with several fire and police departments.
After the parade, everyone headed over to Normal Grove Park on North Eagle Street for the festival. Music by Renegade Lemonade began at noon and lasted until 4:00 p.m. with Heidi Paxton also playing from 1:00 p.m. to 1:30 p.m. and at 2:30 p.m. to 3:00 p.m. Festival goers had much to do while at the park.
Numerous craft and shop booths were available for people to visit. Kids carnival games, pedal tractor pulls, a bounce house and train ride, and Bull Thistle judging also took place.
Food options ranged from Port-A-Pit Chicken which had lines for hours that led nearly half the distance of the festival.
B&E Lemonade, Pence's, Garry's Kettle Corn, FUMY Milkshakes, Aqua Ice and Burger/Pulled Pork were also available for everyone to order.
Moving through the night, at 6:00 p.m. the party in the park portion of the festival started with the beer tent and music by Back At It.
All portions of the festival lasted until 10:00 p.m. with fireworks taking place at the Fayette Local School building at dusk.
Crowds continued throughout the day and night leading to the festival having a great turnout this year.
Jacob can be reached at jacob@thevillagereporter.com
---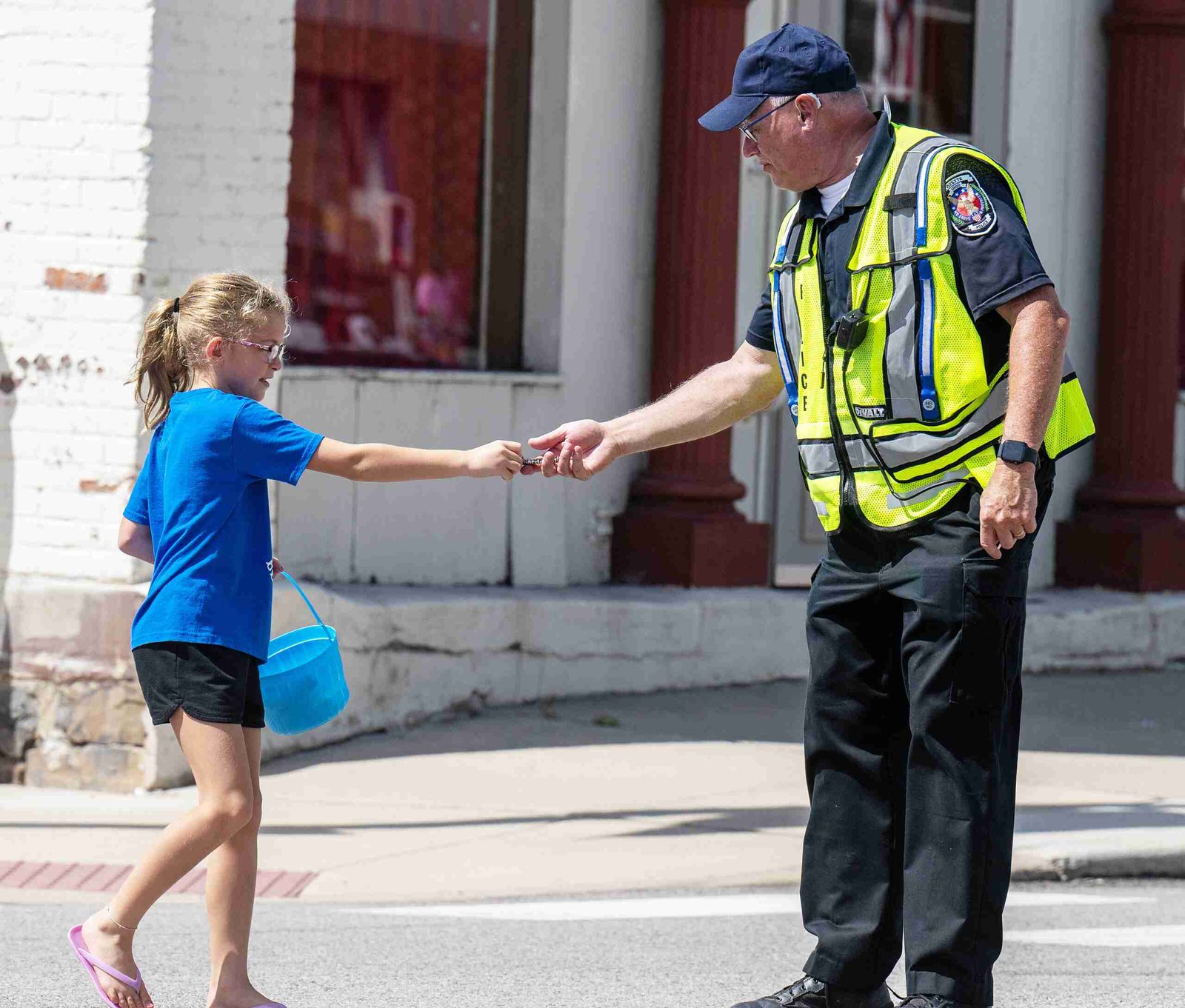 HANDOFF… Sergeant Bill McConnell receives candy from a girl as she walks in the Fayette Bull Thistle Parade
CHICKEN… Port-A-Pit BBQ prepares chicken to serve during the Fayette Bull Thistle Festival.
---