---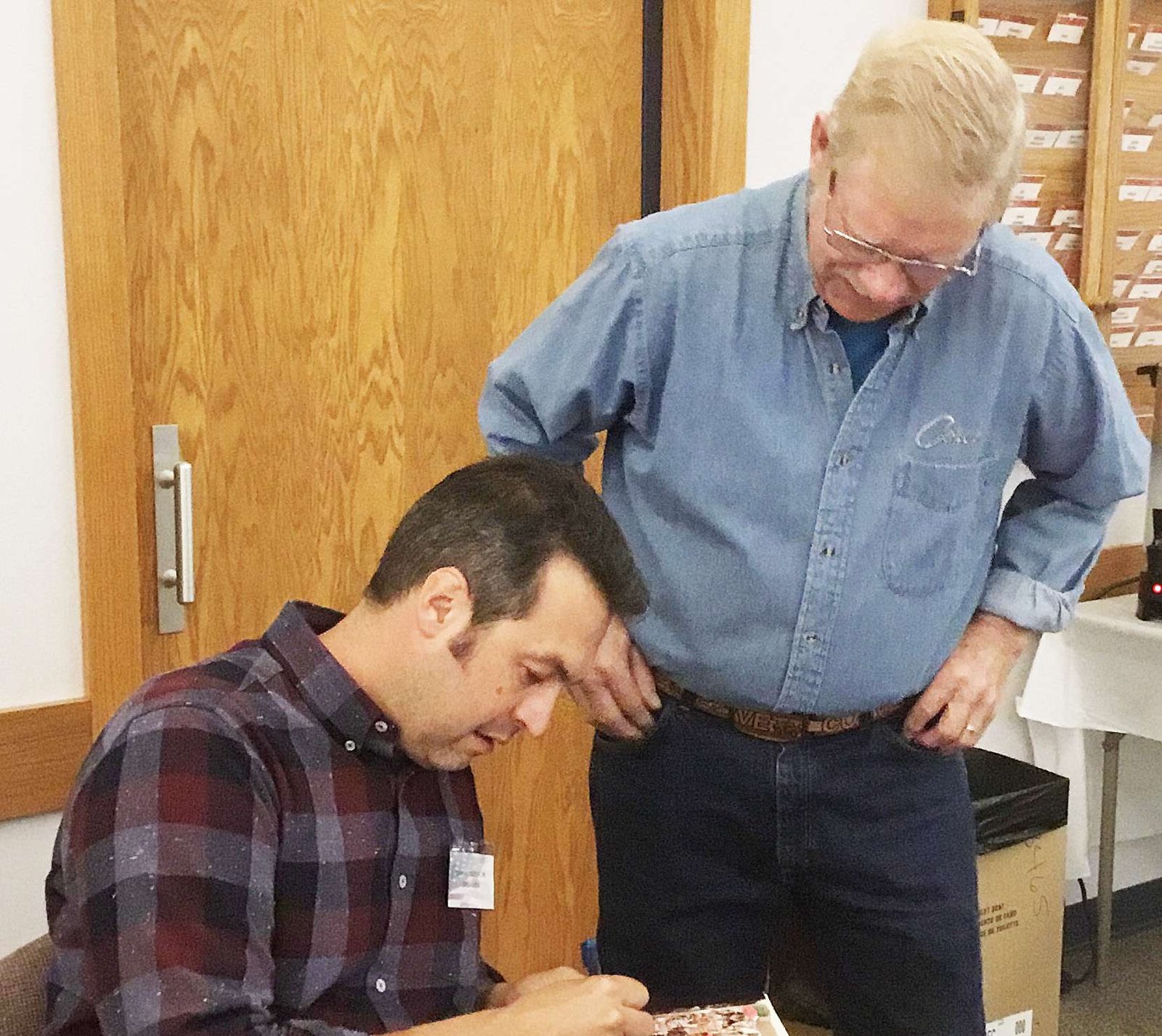 AUTOGRAPH … 2022 Prayer Breakfast attendee Burnell Bauer had brought along his copy of the book A Passion for Victory, to get Sam Hornish, Jr.'s autograph. Burnell is in the book in a crowd picture so Hornish signed that page. (PHOTO BY REBECCCA MILLER, STAFF)
---
By: Rebecca Miller
Tuesday morning, September 27, 2022 greeted those driving to Wesley United Methodist Church with a gray drizzle, but it did not stop a large number of area residents and elected officials from gathering to pray and hear some inspiring words from Sam Hornish, Jr.
For someone who says he feels much more comfortable behind the wheel of a racecar than in a public speaking engagement, Hornish did well in sharing his heart.
Prior to his moments as the special speaker for the event, the morning held a delicious continental breakfast served from 8:30-9:30 in the Fellowship Hall, and a full program in the sanctuary which began at 10 a.m.
The ladies on the planning committee had every aspect well covered and those in attendance were treated to an event par excellence.
Pre-service music was provided by July Lewis at the piano and committee member Jenella Tilton welcomed everyone and read the Theme Verse for this year – Hebrews 12:1 which says in part, "let us run with endurance, the race that is set before us, fixing our eyes on Jesus.'
Mike Bowman and Phil Klingler from American Legion Post 284 and V.F.W. Post 2489 presented the Flags and Pledges, putting them in their holders as everyone stayed standing and sang two verses of My Country Tis of Thee.
Reverend Steve Rath, Senior Pastor at the Host Church prayed the invocation, followed by committee member Carole Cramer taking a few minutes to share some deeply spiritual thoughts woven with humor, before recognizing the elected officials who were present.
She asked them to stand as they were named: Williams County Commissioner Lewis Hilkert, Williams County Engineer Todd Roth, Williams County Sheriff Tom Kochert, Williams County Clerk of Courts Kim Herman, Williams County Prosecutor Katherine Zartman, Williams County Treasurer Kellie Gray, Bryan Council John Betts, Bryan Council Judith Yahraus, Judge-Juvenile Probate Court Karen Gallagher, Bryan Mayor Carrie Schlade, Williams County Recorder Patti Rockey and State Representative Jim Hoops.
Bryan Mayor Carrie Schlade brought greetings from the city to the gathering and read a Proclamation honoring "this 27th day of September 2022, to fellowship together during this Bryan Area Christian Prayer Breakfast in Bryan, Ohio.
Jack Brace, Director of Bryan Life Wise Academy, stepped in for Rev. Dan Grant from West Milford Church of Christ who was unable to be there, and prayed for governmental leaders and military personnel.
Jenella Tilton introduced Diana Moore Eschhofen for the special music of the day.
Each year an excellent singer is invited to sing two or three songs before the speaker, and they are always so inspiring.
Mrs. Eschhofen, who has been "active in the Bryan music scene for more than 40 years," and is the director of corporate communications for Spangler Candy Company, definitely filled the bill for excellence and inspiration.
The first two songs were written as prayers, "In Jesus Name" and "Blessings" (by Laura Story), and the third was an arrangement of "It is Well With my Soul."
All three were sung with depth, clarity and spirit, as well as professionalism, bringing goose bumps and tears to many who were present.  Accompanied by Judy Lewis on the piano, the two made a great duo.
Jenella then introduced the speaker, Sam Hornish, Jr., mentioning that he was born in Bryan and even naming the doctor who delivered him, bringing a chuckle.
She said he describes himself as "an all in person." In 2017 he retired from racing so that he could be the best father and husband he can be.
He is actively involved in his children's activities and leads aa men's discipleship program called Every Man a Warrior. His talk was entitled "Trust the Process."
Hornish began by declaring that the morning had been incredible and he was a little concerned that he might just take it downhill from there, giving the audience a good laugh.
He shared how he usually has to make sure when he is asked to speak, if he can share about his faith, but that with this group who lifts up the name of Jesus, it was not a necessary question.
"I think I am right on base here where I am supposed to be," he said, adding that he was excited but nervous.
He shared a few stories of his childhood and how he got into racing, saying that his mom definitely did not like it.
She is happy now that he is no longer racing. He spoke about all the people who helped him become the Racecar driver that he was.
"Mechanics, sponsors, fans, his parents and the rest of his family" were all mentioned.
Some humourous stories of how they made it financially during those racing years, kept the group laughing.
Inspirationally, some of the points he made in his talk entitled "Trust the Process" were: "Instead of asking God 'why?' when hard things happen, start asking 'what?, what do you want me to do? What do you want me to learn as a co-laborer of Christ?"; "Breath in my lungs means I still have an opportunity to do God's will."; Setbacks give us an opportunity to do things out of our comfort zones.; When facing setbacks, remember
God is with you.; and the verse that has helped him through the many setbacks in his life – I Peter 4:19 "So then, those who suffer according to God's will should commit themselves to their faithful Creator and continue to do good."
After sharing about a number of setbacks he has experienced and how they have affected him, he spoke about the event in history that looked like the biggest setback ever…the crucifixion of Jesus Christ.
Speaking with "his heart on his sleeve", and tears in his voice, Hornish shared gently of the horrors Christ went through and how he came through in the Resurrection. "Can you imagine the cheers in heaven?!"    "It was a tough process for many people!
But it had to happen so that all who would come to Him will be saved," he said.  "We need to remember that we will never be left alone, which Jesus had to go through when his Father turned away."
"We are never alone. It is enough to know He is with me!" Before closing his talk with prayer, Hornish made a last powerful statement, "Life is short. Eternity is long. Pray hard."
Following a standing ovation for Hornish, Mrs. Tilton thanked everyone who helped make the event happen, and explained that the money raised by the event will go to the Compassion Medical Clinic of Williams County.
She asked everyone to join in singing "God Bless America." Reverend Leo Pech from Bryan First Presbyterian Church prayed and gave the benediction.
As everyone filed out to be greeted by Eschhofen and Hornish, the music of Judy Lewis echoed through the building.
As always, it was a wonderful event, aiming all in attendance toward more prayer.
Rebecca can be reached at rebecca@thevilagereporter.com
---