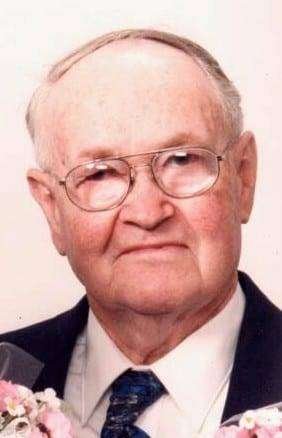 A. LeRoy Emmons, age 98, of Lyons, passed away Thursday, February 12, 2015 at the Fairlawn haven Nursing Home in Archbold. Prior to his retirement he had been a lifelong area farmer, had owned and operated the former Emmons Flower Shop, near Lyons and had also been a Bulk Milk Hauler.
LeRoy was born in Ann Arbor, Michigan on April 21, 1916, the son of Silas J. and Alma (Heis) Emmons. On March 9, 1937 he married Doris E. Reichhardt, and she preceded him in death in 2008.
Surviving is his son, Floyd (Carol) Emmons of Wauseon; two daughters, Phyllis Bender of Wauseon and Delores (Dennis) Simpson of Tecumseh, Michigan; seven grandchildren; several great-grandchildren; and numerous great-great-grandchilden. He is also survived by his daughter-in-law, Shigeko Emmons of Bremerton, Washington. He was preceded in death by one son, Marvin Emmons; brothers, Kenneth, Carl, Gerald and Ansel Emmons; and two sisters, Vesta Reed and Gertrude Phenicie.
Visitation for LeRoy will be held on Monday, February 16, 2015 at the Edgar-Grisier Funeral Home in Wauseon, where the funeral service will immediately follow at 1:00 P.M. Interment will follow in the Lyons Cemetery. The family requests that memorial contributions be given to Fairlawn Haven Nursing Home Chapel Courtyard Fund. Online condolences may be offered to the family at www.grisierfh.com