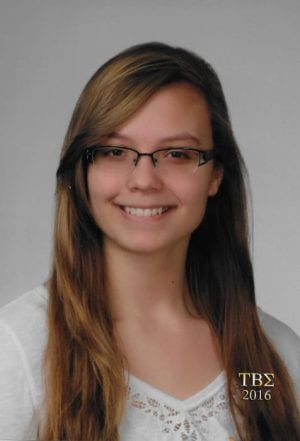 We celebrate the life of Andreya Maria Grzegorzewski who left this earth on January 19, 2018 surrounded by family and friends.  Andreya's life journey began on March 29, 1997 when her parents, Terry and Teresa (Wiseman) Grzegorzewski, gave birth to the most amazing human being in the world. Their unconditional love for their daughter is obvious to all who know them.
Andreya was a beloved student of many teachers and professors at Bryan City Schools and Ohio Northern University.  She majored in Computer Science at ONU.  She was proud to hold a 4.0 GPA, and blessed the world with her love of music.  Andreya was an accomplished pianist and an amazing percussionist.  She travelled far and near to share her musical gifts and made many friends along the way. Andreya had the opportunity to play in a 43-day National Tour traveling to various states and playing in numerous venues. She worked hard at everything that she put her mind to and was passionate about achieving her goals, whether it be academically or musically.
Andreya will be missed beyond words by her parents as well as her special friend, Jaired Birks of Uniopolis, Ohio, who wanted to spend his life with her; she was his special lady.  Her grandparents, Andrew Grzegorzewski of Swanton, Ohio, Anna Mae (Carl) Bowles of Swanton, Ohio, William (Natalie) Wiseman of Defiance, Ohio will miss her deeply as will many aunts, uncles, cousins, and friends.  Andreya has joined her grandmother, Mary "Sue" Wiseman, in heaven.
Visitation for Andreya Maria Grzegorzewski will be held on Friday, January 26, 2018 from 2:00 p.m. – 8:00 p.m. in Oberlin-Turnbull Funeral Home, 206 North Lynn Street, Bryan.  A celebration of the joy Andreya brought to this earth will be held at 1:00 p.m. on Saturday, January 27, 2018 at Grace Community Church, 206 West Bement Street, Bryan with Rev. Courtnie Morton officiating. Interment will follow in Fountain Grove Cemetery, Bryan.  Two memorial services will be held at Ohio Northern University at a later date.
Those planning an expression of sympathy are asked to consider memorial contributions be made to Ohio Northern Music Department.
Condolences may be sent to the family or the online guest book may be signed at www.oberlinturnbull.com