---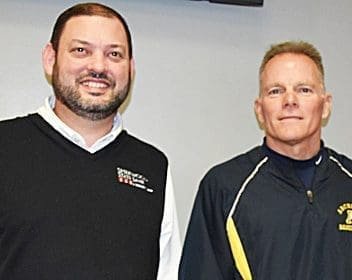 Brian Ziegler (right) is starting his 15th season as Archbold's girls basketball coach.
The four-time district coach of the year is leading a Bluestreak high school program that has more than 20 athletes participating this year, including enough freshmen to field a squad — something that many of the area's high schools are not able to do.
The coach explained that low numbers are largely due to a common problem: more high school athletes are focusing on one sport instead of playing two or three sports each year.
As a result, small and medium sized schools have trouble fielding as many teams as they once did.
The coach said that Bryan is the team to beat in the NWOAL this year with the rest of the league fairly evenly matched.  The program was arranged by Matt Mello.
---