---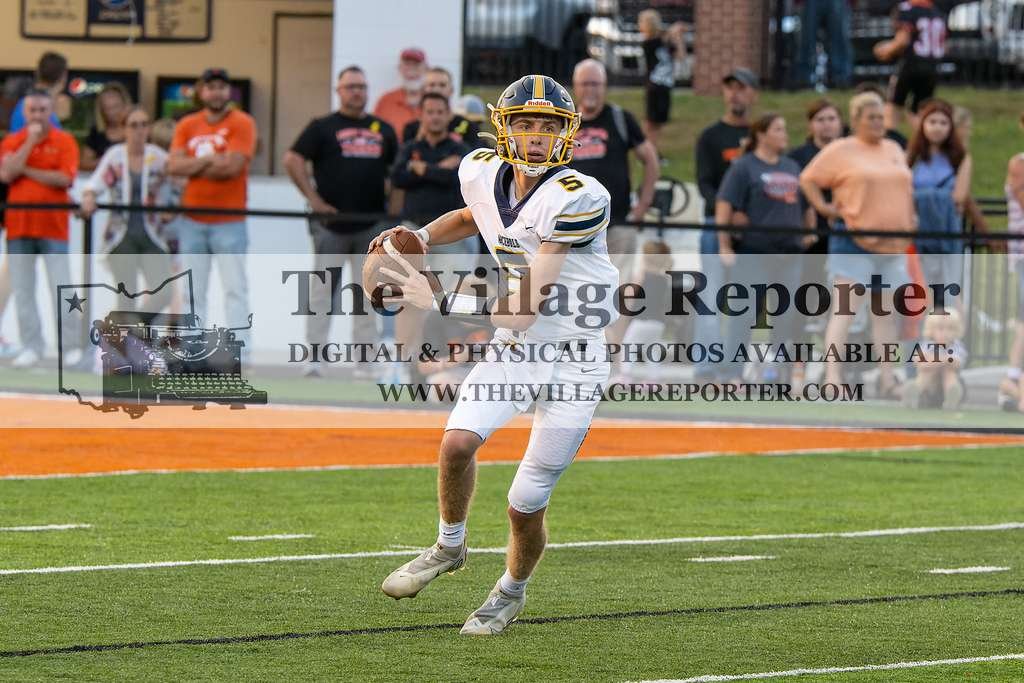 ---
By: Nate Calvin
LIBERTY CENTER – There's a saying in sports that "defense wins championships". If that saying holds true, then the Liberty Center Tigers will be adding some hardware to their trophy case later this season.
Liberty Center held the high powered Archbold attack to just 129 yards of total offense and recorded their third shutout of the season in a 16-0 win at Rex Lingruen Stadium.
Liberty Center's special teams setup their first points of the night as freshman punter Max Walker pinned Archbold at their own one-yard after the Tigers first possession.
On third down from the one, Archbold quarterback Cade Brenner was flushed out of the pocket and was called for intentional grounding in the end zone, resulting in a safety and a 2-0 lead for the Tigers.
Following an exchange of punts, Liberty Center got a 17-yard run from quarterback Zane Zeiter on third and nine at midfield to move into Archbold territory.
One play later the Tigers hit a pay dirt as Zeiter found a wide-open Aiden Hammontree on a play-action pass for a 33-yard touchdown to make it 9-0 Tigers with :56 left in the opening quarter.
The Bluestreaks had a golden opportunity early in the second quarter after stopping Liberty Center on a fourth and one at their own 31-yard line.
The Tiger's defense was up to the challenge, led by their front six, forcing Brenner into an incompletion on fourth down to get the ball right back.
Liberty Center then put together their best drive of the night starting with a 15-yard scamper by Zeiter before who had completions to Riley Chapa of 11 and 16 yards to move the ball to the Archbold 26-yard line.
From there it took the Tigers six plays to find the end zone as Matthew Orr capped off the 13-play 70-yard drive with a four-yard run up the middle to extend the lead to 16-0 with just 1:45 left in the first half.
The second half continued to be controlled by the Tigers defense and special teams as Archbold started their two third quarter drives at their own 15 and 14-yard lines after punts by Walker.
The Archbold field position woes continued in the fourth quarter by starting possession at their own 11 and 16-yard line with the possessions ending in a punt and turnover on downs.
A rare mistake by the Tigers special teams would leave door open slightly for Archbold with 5:21 left in the game.
A high snap on a punt would give Archbold the ball at the Liberty Center 37-yard line and after Brenner tossed a 32-yard pass to Karter Behnfeldt, it was first and goal at the five-yard line.
The Tigers defense once again responded by eventually breaking up a Brenner pass on fourth down with 3:43 to go to seal the win.
Liberty Center wound up with 199 yards from their running game topped by 99 yards from Orr and Zeiter with 67.
Archbold finished the night with just six yards rushing as a team, well below the 190 yards per game they were averaging entering the game.
UP NEXT: September 23- Delta (4-1, 2-0 NWOAL) at Archbold (4-1, 1-1)
AHS       LCHS
First Downs        9              13
Rushing Yards   22-6        45-199
Passing Yards     123         66
Total Yards          129         265
Passing           10-27-1      4-12-0
Fumbles-Lost     2-0          0-0
Penalties             4-25       6-50
Archbold           0 0 0 0 – 0
Liberty Center 9 7 0 0 – 16
LC – Safety
LC – Hammontree 33-yd pass from Zeiter (Chambers kick)
LC – Orr 4-yd run (Rosebrock kick)
INDIVIDUAL STATISTICAL LEADERS
RUSHING: Archbold – Carson Dominique 13-28; Liberty Center-Matthew Orr 19-98, Zane Zeiter 11-67; PASSING: Archbold- Cade Brenner 10-27-1-123; Liberty Center – Zane Zeiter 4-12-0-66; RECEIVING: Archbold-Brodie Bailey 2-43, Karter Behnfeldt 2-37; Liberty Center – Aiden Hammontree 1-33, Riley Chapa 2-27
Nate can be reached at sports@thevillagereporter.com
Click below for a free photo album of this event to view all the photos.
---