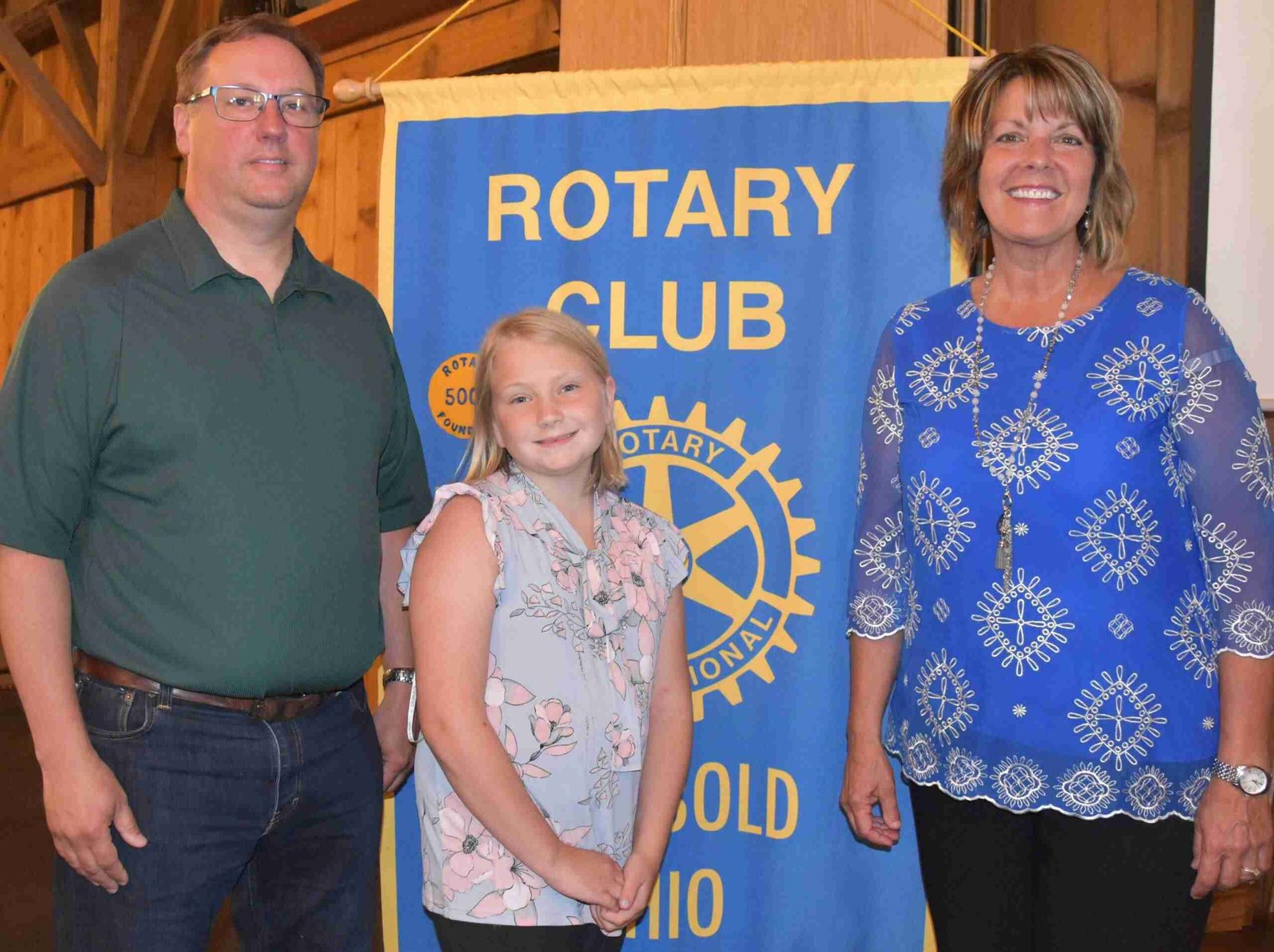 ---
Brent and Stacy Nofziger with Stacy's daughter Leona Bucher of rural Swanton have created a home where the buffalo roam called the Bracy Gold Bison Ranch on County Road 4.
Brent recently told Rotarians how they created a 55 acre bison ranch two years ago with one bull and 18 cows purchased from a bison rancher from Connecticut that has grown to a herd of 54 animals.
According to Brent, he always thought it would be interesting to raise bison for meat. He explained that the meat is similar to beef, but much more nutritious with significantly less fat, fewer calories, less cholesterol and more iron and vitamin B-12 than nearly all other meats.
Bison are easy to care for (nothing at all like cattle since they are wild animals) and prefer to spend most of the year outside.
So, no barns to clean or manure to haul. For 364 days a year they present no problems at all, according to Brent, but once a year all the bison are "rounded-up" for their annual vet check… and they don't like it.
Otherwise, Brent said that while they are wild animals, they are not aggressive unless you get too close to a cow and her calf.
With mature bulls weighing around 2,000 pounds and a cow about 1,000 pounds, it's advisable to give them space.
Typically, he said, they don't become excited, but if they choose to run, their top speed is about 35 mph and they are capable of jumping a six foot fence, and can turn on a dime.
So, their fences are tensile wire, six foot high with the middle wires electrified.
Their 55 acres of pasture are fenced into five acre lots so they can practice rotational grazing (in a field for 3 to 4 days before moving to a different field). And, during the winter when most domesticated animals are in the barn eating hay, bison prefer to stay outside.
Unlike cattle that eat more hay once the grass stops growing, bison eat less, reducing their hay intake by 25 to 40 percent in the winter.
It takes a calf about 24 to 30 months to reach market weight (about 1,000 to 1,200 pounds). Most of their bison are processed at a facility near Wooster. They sell their bison meat from their farm, which is located at 11616 County Road 4 (phone 419-360-3395).
Meat is sold by the package with cuts ranging from about $12 a pound for ground to $30 for a top steak or also by the quarter.
But, they ask customers to call or text before stopping to make sure they will be home. Brent also enjoys showing the ranch and their bison to visitors.
Pictured from left: Brent Nofziger, his step-daughter Leona Bucher, and Jodi Herman who arranged the program.
---