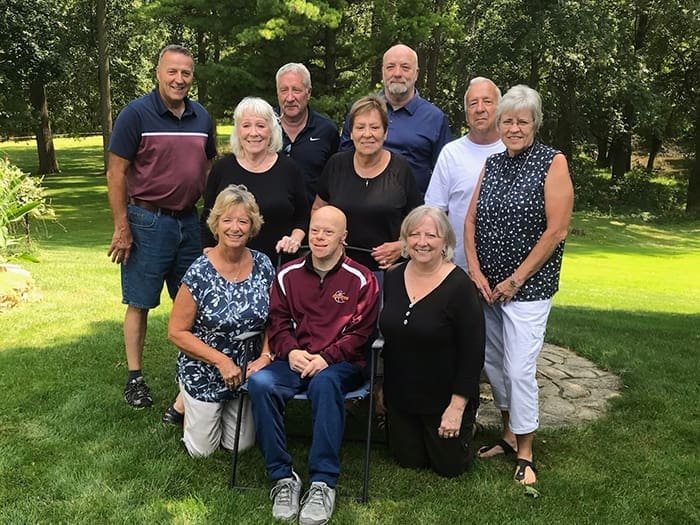 ---
By: Amy Wendt
THE VILLAGE REPORTER
If you have been a local newspaper reader anytime over the last 40-plus years, chances are, you have come across a photo or article about Edgerton's own Steve Kimpel a time or two.
Over the years, "Stevie" as he is more commonly known in the community, has amassed quite a collection of scrapbooks and photo albums that include many articles chronicling his track, basketball, and bowling accomplishments with the Special Olympics.
He also has a box full of medals and awards to show for his over 45-year involvement with the organization.
While many know Stevie through his Special Olympics affiliation or as being "Edgerton's #1 Fan," the hometown boy who has the whole town of Edgerton rooting for him, has much more to his story.
After going through boxes of family photos and files following her mother's passing, Stevie's sister and guardian Marlene Oxender of Montpelier, was inspired to put pen to paper to write a book in honor of her little brother and how he has touched many lives.
In 1969, Vernon and Ruth Kimpel welcomed their 11th child, Steven. Shortly after his birth, a pediatrician told the Kimpels that their son had Down Syndrome and likely would not be accepted by his siblings.
The specialist recommended that the baby be placed in an institution, otherwise, he would be a "burden" and an "embarrassment" to the family.
Defying the doctor's advice, Vernon and Ruth brought their precious baby home. Once there, Stevie's ten brothers and sisters immediately embraced and cared for the new addition to their family.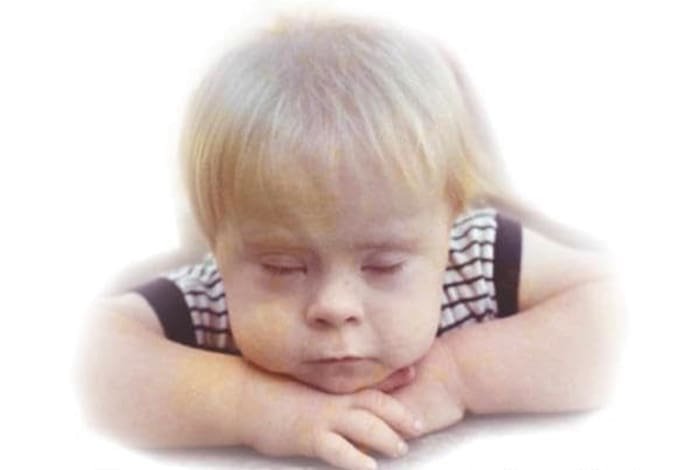 ---
From the very beginning, the Kimpel home was filled with love and support for their youngest family member.
Proving that pediatrician wrong, Stevie grew up living a life chock-full of love with his family. The saying "it takes a village" could also apply as many in the small Williams County community jumped in to help the Kimpels with Stevie in any way that they could be of assistance.
Sadly, in 2008 Vernon passed away. Eleven years later at the age of 92, Ruth also passed away leaving Stevie in the family home by himself. But Stevie wasn't alone and his siblings immediately stepped in to take care of their little brother.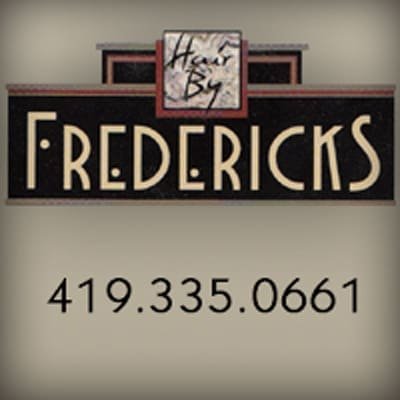 Today, with the help of caregivers and his siblings, Stevie continues to live a full life at the home he grew up in.
He goes to Quadco during the weekdays and attends as many Edgerton Bulldog games as he can.  During the weekend, one can often find him hanging out at his sister, Marlene's home where he sorts through old photos and helps her around the house in any way he can.
While he's still involved with the Williams County Special Olympics Sharks basketball team, he recently traded in his game jersey for a manager's shirt.
"Stevie," the second book of Oxender's Picket Fences series, is a collection of family stories, newspaper clippings, and color photos focusing on the Kimpel Family's life with Stevie.
As Oxender shares funny tales about her little brother, she artfully intertwines life lessons that she learned from him along the way. The story's main character even helped choose some of the photos featured in the book.
Throughout the memoir, the reader will find many notes and short stories highlighting how Stevie has positively impacted many and is an inspiration to not only his family but to his community.
---
Oxender writes that when Stevie was growing up, he always wanted his small town to share in his successes and know the good news going on in his life.
As such, he would frequently ride his bike to the local newspaper office and let the editor take his photo and write a story about him.
On Stevie's birthday in 2021, Edgerton Mayor Bob Day shared a heartwarming post on Facebook where he noted that Stevie was "adopted" by the entire Williams County town.  Mayor Day's post ends with, "The unspoken rule in Edgerton is don't mess with Stevie."
Upon the recent release of Oxender's book, one Amazon reviewer (most likely an Edgerton resident) commented that Stevie has been an inspiration to those in the community and is welcomed and loved by many.
The review further demonstrates how much Stevie means to his hometown which he loves with all his heart.
Oxender shares in her book that spending just a few minutes with Stevie can leave others with a memorable story to share.
He possesses a talent for initiating conversations with strangers and forging connections. At the same time, Stevie has the incredible ability to make anyone he is talking to feel special.
"Although it may be true everyone in his community has enjoyed helping take care of him – it seems he in return is taking care of everyone else," Oxender says in her book.
Marlene Oxender's self-published book was released on Amazon on August 15th and is the second book of the Picket Fences American Family Series.
As of the date of this writing the book was the #1 New Release on Amazon's Parent and Adult Child Relationships list.
To purchase a copy simply go to www.amazon.com and type in the search bar "Stevie by Marlene Oxender."
Book Signings will be held at Cookies on Demand, 114 Broad St, Montpelier, on September 30th from 9:00 a.m. to 1:00 p.m.
On October 7, a second book signing will held at Floral Designs, 158 N Michigan Ave, Edgerton at a time to be determined.
Oxender also writes a blog found at www.dottingmyteas.com and is a contributor for the Edgerton Earth newspaper where she publishes various short historical stories about her family.
Amy can be reached at amy@thevillgereporter.com
---