---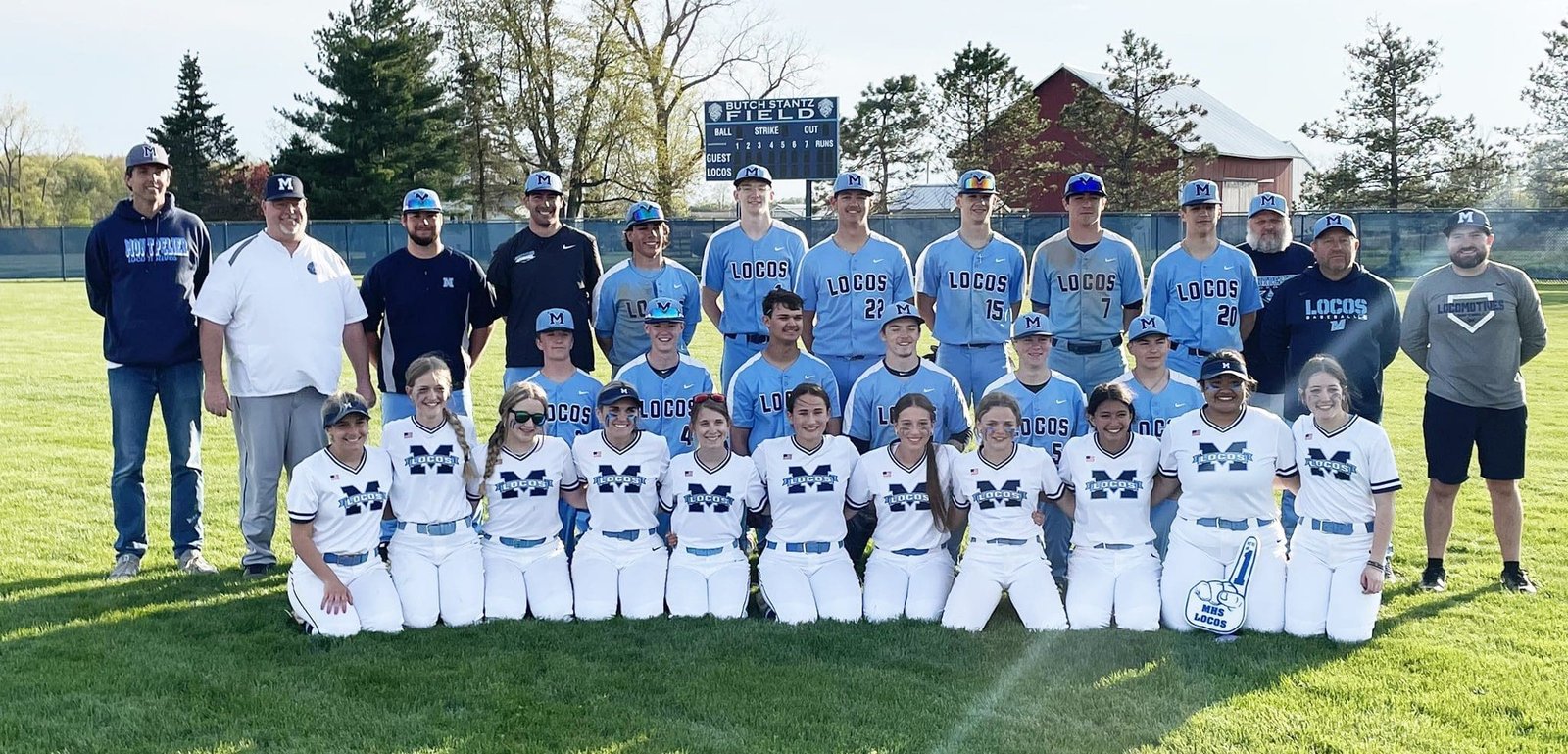 CHAMPIONSHIP CELEBRATION … Montpelier's baseball and softball teams celebrated league championships last night after defeating North Central. The baseball team claimed at least a share of the BBC after a 4-2 win while the softball earned a share of the conference championship with Hilltop after beating the Eagles 14-0. (PHOTO PROVIDED).
---
By: Daniel Cooley
MONTPELIER – Going into Friday's home matchup against North Central, the Lady Locomotives knew that a win would give them a tie for their first ever conference title.
Well, Montpelier made sure there would be no drama in gaining a win, scoring three runs in the first and five more in the second to take an 8-0 lead.
Montpelier added five runs in the third, en route to a 14-0 run rule win over North Central in five innings.
With the win, Montpelier ties Hilltop for the Buckeye Border Conference title, with a 6-1 BBC mark and is 13-5 overall. It's the first league title for the Montpelier softball team, which began playing varsity softball in 1984.
Eight of Montpelier's nine starters registered at least one hit against North Central. Bianca Phongphiou led the hit parade with three singles in three at bats, along with four runs batted in.
"It feels good to get three hits and four RBIs, it's been a while since I've had this kind of a game," the junior Phongphiou said.
"It feels amazing that we finally won a conference title. We've been working hard to do this. We came close the last two years, finishing second both times."
North Central threatened to score in the top of the first inning, putting runners at second and third with two outs, on an error and a walk. But a strikeout ended the threat.
In the bottom of the first, a single, walk and a batter hit by a pitch loaded the bases with no outs. Jada Uribes then had an RBI groundout and Madelyn Hopper knocked in the second run with a sacrifice fly. Phongphiou then knocked in the third run with a single.
After Montpelier pitcher Hopper retired North Central in order in the top of the second, Montpelier came right back and scored five times in the second inning, to take an 8-0 lead.
Montpelier again loaded the bases with no outs, on two walks and an error. Jada Uribes then knocked in two runs with a single, followed by an RBI double from Hopper, an RBI single from Phongphiou and an RBI ground out by Zoe Uribes.
North Central threatened to score in the top of the third inning by getting its first two hits, on singles from Brooke St. John and Emma Fidler. But another strikeout ended any further threat.
Montpelier tallied five more times in the bottom of the third inning, to take a 13-0 lead. Montpelier again started the inning with the bases loaded with no outs on a walk, a Kaycee Humbarger single and a North Central error.
Jada Uribes had an RBI groundout and Phongphiou knocked in two runs with a single. Zoe Uribes and Arielle Bass followed with RBI singles, to bring the score to 13-0.
In the bottom of the fourth inning, after a Lyla Mahan single and a double by Kelsie Bumb, Jada Uribes added an RBI groundout, to bring the score to 14-0.
In the top of the fifth inning, the Lady Eagles put a runner on with a two out walk, but Hopper's ninth strikeout ended the game by run rule, after 4 1/2 innings and another shut out for Hopper.
"(Hopper) works her butt off and it's paying off for her," said Montpelier coach Andy Robinson. "We finished second in the conference the previous two years, and we've been trying to do things the right way, in order to get to a conference title and we finally broke through."
Along with Phongphiou's three hits and four RBIs, Jada Uribes knocked in five runs on a two RBI singles and three RBI groundouts.
Hopper hit a double and had two RBIs and Zoe Uribes knocked in two runs on a single and a groundout.
Winning pitcher Hopper allowed just two hits, while striking out nine and walking two.
N. CENTRAL   000 00 – 0 2 1
MONTPELIER 355 1x – 14 11 1
Records: North Central 8-9 (4-3 BBC), Montpelier 13-5 (6-1 BBC)
WINNING PITCHER: Hopper (5 innings, 2 hits, 0 runs, 9 strikeouts, 2 walks)
LOSING PITCHER: Wright (1.1 innings, 4 hits, 8 runs, 7 earned, 1 strikeout, 4 walks) Other: Burnett
LEADING HITTERS: (North Central) – 2 singles; (Montpelier) Hopper – double, single, 2 RBIs, 4 runs; Bumb – double, 3 runs; J. Uribes – single, 5 RBIs, 2 runs; Phongphiou – 3 singles, 4 RBIs; Z. Uribes – single, 2 RBIs
Dan can be reached at publisher@thevillagereporter.com
---