---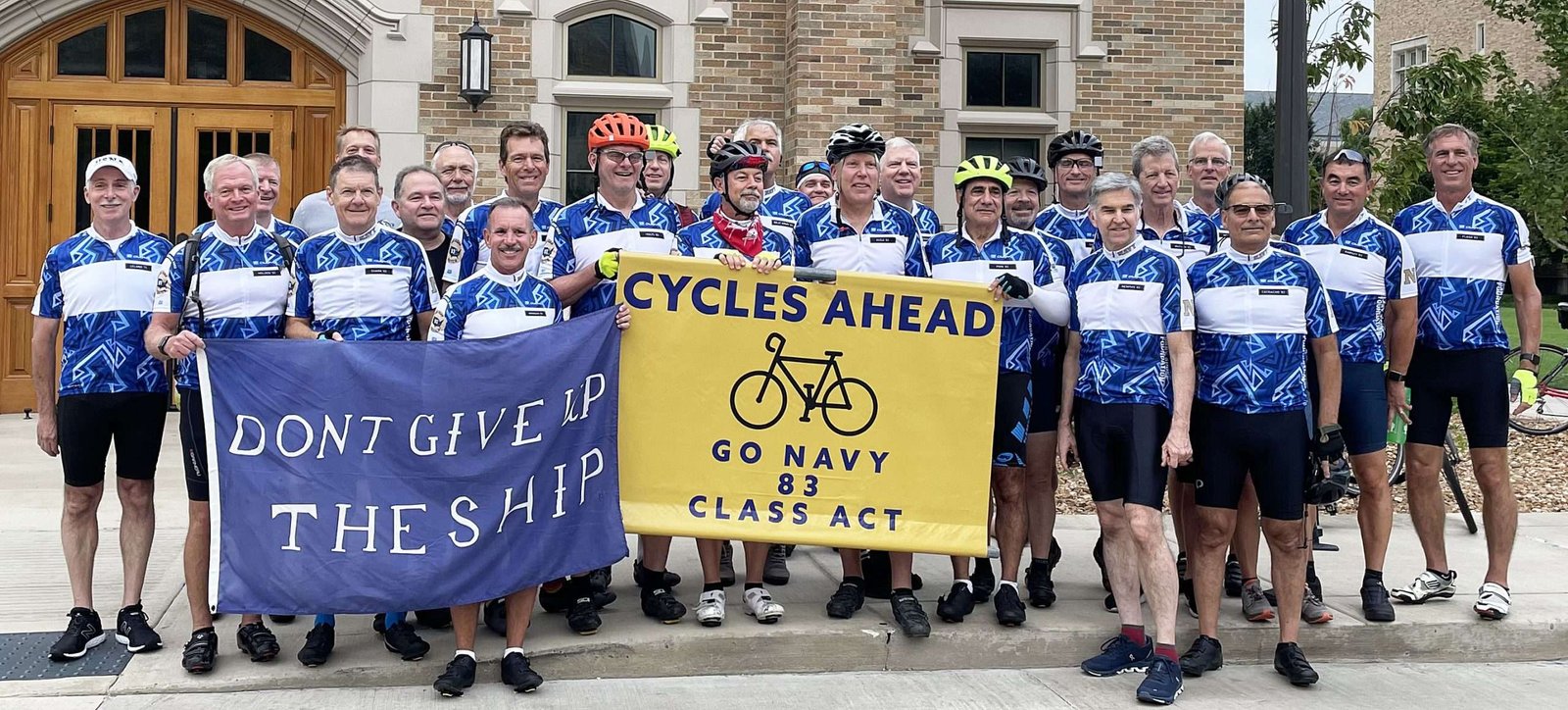 NAVY ALUMNI … Twenty-six bicyclists from the Naval Academy Class of 1983 recently rode their bikes from Notre Dame, Indiana to Pittsburgh, Pennsylvania. Along the way the group made stops in Edon, West Unity, and had lunch at the Delta American Legion Hall. Next year, the bicyclists plan to ride 3,000 miles from Washington State to the Naval Academy in Annapolis Maryland for a Navy football game on October 7, 2023 for their 40th class reunion.  (PHOTO PROVIDED)
---
By: Daniel Cooley
Right before Labor Day, Bob Cain, the head of the Delta American Legion, received a surprising and rather strange phone call.
On the other end was Dixon Smith, who lives In San Diego, California. Smith explained that he was part of 26 bicycle riders from the U.S. Naval Academy Class of 1983.
The group was going on a training ride from Notre Dame, Indiana to Perrysburg and wondered if they could use the Delta American Legion parking lot, while they stopped to have lunch.
"It gets a little interesting trying to find rest stops in Ohio, because the roads that we take go along private property and have low shoulders," Smith said.
"So, we try to plan out specific places where we can have a rest stop." Cain responded to Smith's request in a big way.
"There were about eight people, including Bob Hasepas, who was our main contact, because Cain could not make it to the lunch time we had set," Smith said.
"He came at the very end of our visit. But these people really went out of their way."
"They not only opened the doors of the American Legion to us and let us use their restrooms, but they fed us pulled pork, cole slaw, baked beans and even opened up the bar for us," Smith said.
The group first stopped in Ohio in two spots in Williams County; at the Marathon Gas Station in Edon and then to Wabash Park in West Unity.
"That was a nice little park in West Unity," Smith said. The group then stopped in Delta and were able to keep the lunches they had made until the next day.
The group made a couple of stops in Lucas County, before staying overnight in Perrysburg.
After that, the group traveled across Ohio and their final stop was in Pittsburgh, Pennsylvania.
"The hospitality in Ohio was outstanding," Smith said. "The ones that stood out were stops in Delta, an ice cream store in Monroeville and a tree farm in Valley City."
The bicycle group is made up of 23 riders from the Naval Academy class of 1983, two spouses and one rider from the Naval Academy class of 1973.
That one, Doug Leland, age 71, from Maine, rides an elliptical bike (a standup bike).
There are also nine supporters, who drive a couple of vans and provide food, drinks, repair bikes and provide first aid for injuries.
Smith explained that the bicyclists have ridden on training missions the last four years, in various parts of the country.
The one from Notre Dame, Indiana to Pittsburgh took six days. These training rides are all in preparation for next year's 3,000-mile trip from Washington State to Annapolis, Maryland, the site of the U.S. Naval Academy.
Smith estimates the trip, which will start in mid-August, will take 6-7 weeks to reach their destination.
They plan to stop over in Arlington, Virginia first on October 4 and then arrive for the football game at Navy on October 7.
"Hopefully, our core group will be able to make the entire trip, along with some who will ride in our five segments throughout the U.S.," Smith said.
"Each year, we have had more people join us in our training rides. Our second year, we had nine riders, then 18 the third year and 26 this year."
"I am anticipating having as many as 80 bicyclists riding with us in one segment or another."
"We anticipate going through the same route in Indiana and Ohio too, so we hope to be able to stop again in Williams and Fulton counties and stop off at the Delta American Legion, again."
Dan can be reached at publisher@thevillagereporter.com
---