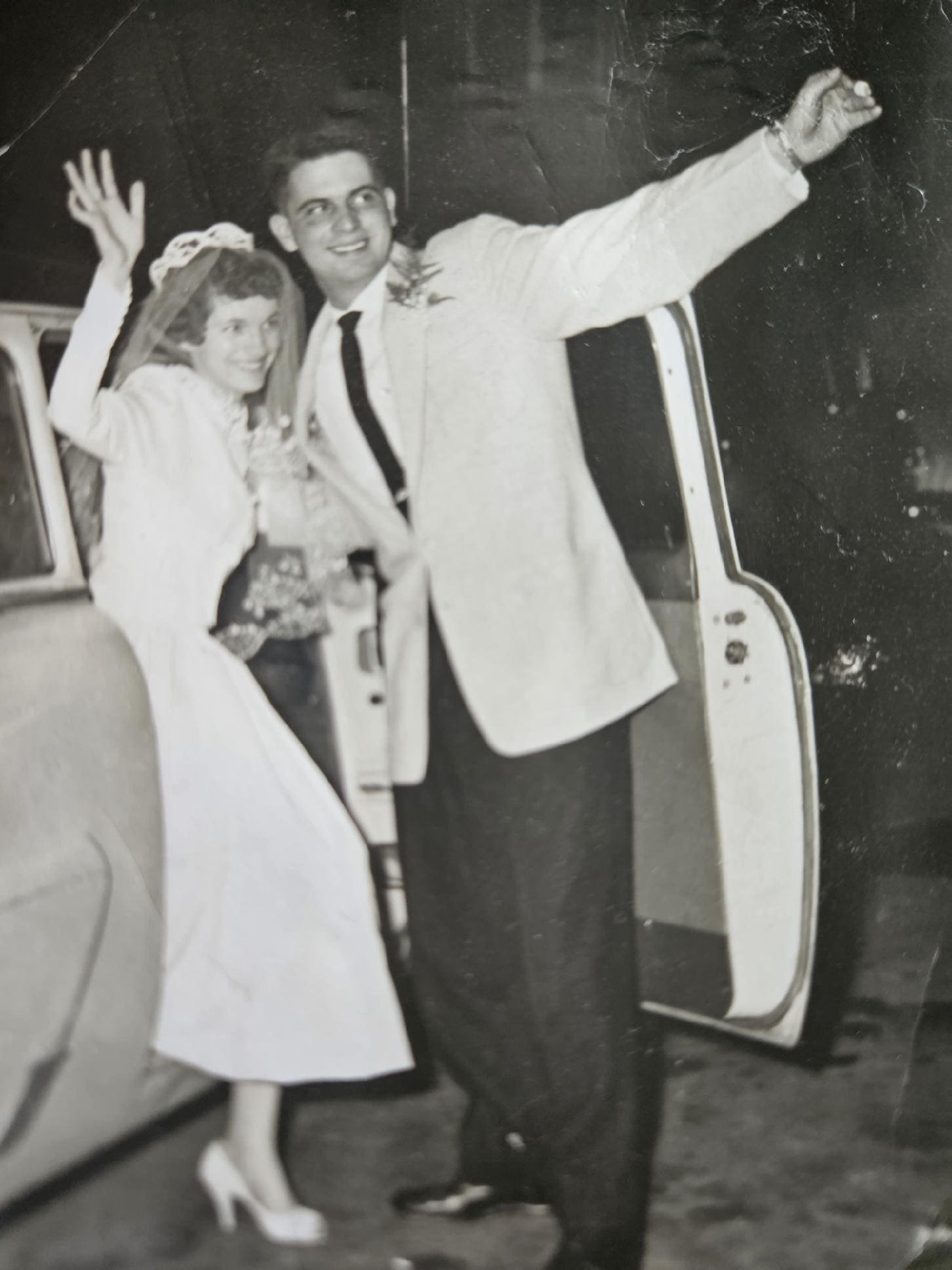 ---
By:  Amy Wendt
THE VILLAGE REPORTER
Bill and Sue Beers from West Unity is a resilient couple whose love story traverses continents and spans decades.
Originally crossing paths and marrying in Germany in 1958, eventually planted roots in Ohio to raise a family and build a life together.
Now, having journeyed through 65 years of marriage, they stand as a testament to the power of love and commitment.
Sue, a Southwest Ohio native and self-proclaimed "military brat," spent her teenage years on a military base in Friedberg, Germany.
As a student at an American high school for military kids, she had a unique upbringing shaped by the world of military life.
On Veteran's Day in 1957, Sue and her fellow classmates visited a local skating rink. As the evening continued, Bill, a young American soldier hailing from Pauxatawny, Pennsylvania, approached the young lady and asked her to skate with him.
Little did the two know that their first chance encounter would mark the beginning of their 65-year story.  The couple quickly discovered that they wanted to spend their lives together and made plans to marry.
Bill and Sue soon found that since both were Americans residing in Germany, the process of getting married was not as straightforward as it is in the States and required that their nuptials be performed by a government official.
"I wanted to get married in the church, but you have to be married by their (German) law," explained Sue.
To further complicate the matter, at that time in Germany, there was also a required waiting period between having a government wedding ceremony and a church wedding ceremony.
On January 13, 1958, the couple, accompanied by Sue's mother as their chaperone, hit the road to Basel, Switzerland, and exchanged vows in a civil marriage ceremony to comply with local law.
The Beers spent their first wedding night, along with their chaperone, traveling back to Germany so they could have their "real" wedding ceremony at the chapel on the military base.
On January 14, 1958, the young couple exchanged vows once again when Bill was 22 and Sue was 16 years old.
Sue laughed at their age difference, "I was young and impressionable. I went along with it, but it lasted all these years."
Every year since their nuptials, the couple has celebrated January 14 as their official anniversary date.
The young couple set up a home in Germany where they lived for the first year and a half of their marriage while Bill fulfilled his military duty overseas.
Bill noted that during the time he was stationed in Germany, he became well acquainted with none other than iconic American rock and roll artist, Elvis Presley. "That was one of the highlights of my military career," Bill added.
Presley was drafted into the Army's 3rd Armored Division in Fort Worth, Texas, and was then transferred overseas to Germany.
The singer lived in the same town as the Beers along with his grandmother, father, and a couple of bodyguards.
---
Building a connection with the singer, Bill began driving Elvis back and forth to the military base daily before the singer eventually acquired his own car.
Bill remembers that despite what one might think, the American celebrity received no special treatment, nor would he accept any.
As Elvis was under contract at that time, he did absolutely no entertaining and was just one of the guys.
As a military family, the Beers had the opportunity to call many states "home," with Texas and New York being just a couple of the places they lived during their journey.
"Hindsight is always better than foresight. I would say of the different places that we have been in the military…we might not have cared much for them then, but now I'm really glad we were at all of them," Sue shares of their nomad-like experience.
With limited leave of just 30 days per year, the military lifestyle allowed the Beers only a few opportunities to travel with their children.
While living in Texas, the family would take the opportunity to visit relatives in Kentucky, Ohio, and Pennsylvania, embarking on car trips to connect with their loved ones.
In 1969, during a leave from the military, the Beers family decided to take a family vacation to Northwest Ohio, where Sue's mother had recently acquired "The Village Kitchen," a small restaurant in West Unity.
Bill and Sue fell in love with the small Ohio community because it was so different than the area of Buffalo, New York where they had been living.
In 1971, deciding they wanted to raise their children in the quaint Northwest Ohio town, the family moved from New York and established roots in West Unity.
Once in Ohio, Bill continued on with his military service before retiring after 25 years.  He also "did a little bit of everything" including driving a truck, working in factories, and selling insurance.
Sue worked for Dean and Bly Insurance for 17 years and then transferred to Bryan Trucking to finish out her career.
Upon retiring, Bill and Sue seized the opportunity to travel more often and explored various destinations from the islands of Hawaii to leisurely cruises on the ocean.
One of their most treasured trips was a visit to Yellowstone National Park. Accompanied by two other couples, they rented a house and hired a tour guide who expertly showed them the park's highlights, making it a truly memorable experience.
During the same journey, they also ventured to Little Bighorn, a place Bill, as a former military man and history enthusiast, found particularly interesting.
Most recently, Bill and Sue spent quality time with some of their children, grandchildren, and great-grandchildren by watching their great-granddaughter participate in the NASP World Archery competition in South Carolina.
"That's something we really enjoyed.  We spent several days at North Myrtle Beach, so they (the kids) got to (go to) the ocean. They really enjoyed it so much. For me, that really meant a lot," shared Sue.
The couple is looking forward to a trip this fall as they plan to travel to the Smoky Mountains, a place they called home for nine years.
They will be accompanied by a close-knit group of friends on their adventure and plan to visit family while they are in the area.
Looking ahead to next year, they also hope to go on a trip to Hawaii to celebrate their 66th anniversary and spend time with one of their sons.
Over the years, the Beers have stood beside each other during good times and bad.  "I would say our biggest challenge is what most people have…If anybody says, 'it's been a bed of roses for 65 years' I would have a hard time believing that", Sue commented laughing.
Sue went on to explain that military life proved to be a challenging time for the family as Bill was often away from home.
---
"When you're in the military you belong to them, and you don't belong to anyone else. Your family comes next."
"But I wouldn't change a thing because we learned a lot – I learned a lot.  I would say I value things so much more.  I value marriage so much more," finished Sue.
After 65 years of marriage, the Beers have accumulated a wealth of wisdom on nurturing a lasting relationship, making them a valuable resource for young couples about to begin their own journey together.
"What I have learned, is it's not all give or take. It goes both ways. Before you get upset with the other one, take a deep breath, count to 10, step back, and think about it. Work it out together."
"I would just say that people really need to stop, think and look at the positive not the negative," Sue offered.
Adding a humorous take, Bill recalled a few years ago when he and Sue attended a show in Hocking Hills.
During the intermission, the emcee decided to find out which couple in the room had been married the longest and the Beers were declared the winners with over 60 years of marriage.
As the spotlight fell on them, the emcee asked Bill the secret to their enduring marriage. "I told him I keep my mouth shut and do what I'm told. That must have been a good answer because I got a lot of applause," Bill teasingly added.
The Beers have four children: Bill (Peggy) Beers, Jr.; Deb (Larry) Robarge; Mark Beers; and Chris Beers. They also have four grandchildren and 10 great-grandchildren.
Throughout the years, the Beers have established meaningful traditions with their family. For Christmas, Bill and Sue forgo the traditional holiday dinner in favor of an open house-style get-together with a salad bar, snacks, and desserts. This allows their loved ones to drop in whenever they can.
Another cherished tradition, upheld by Sue, is creating homemade birthday cards for all her children, grandchildren, and great-grandchildren.
---
Recently, her 14-year-old granddaughter shared how much these cards mean to her, and she keeps each one as a precious keepsake. On their special day, Sue makes sure to call each one and sing "Happy Birthday."
"We're very fortunate. We've seen our kids grow up, grandkids grow up, and now we're watching our great grandkids grow up.  We're pretty healthy… we're both in our 80s so we're like every other 80-year-old.  But we have been very, very blessed," began Sue.
"Every day, when I get up, I might get up with a few aches and pains, but I'm still thankful and I thank God for that day," she finished.
When the Beers are not traveling or keeping up with their great-grandchildren's activities, they are content just staying at home.
"We really enjoy where we live right now," Bill happily shared. They have enhanced their spacious property with a woodworking shop and there's also a garage where Bill can park his cars, something he longed for during his military years.
After celebrating their 65th wedding anniversary, Bill and Sue reflect on a lifetime of adventures and memories.
From their chance encounter as young lovebirds in Germany to raising a beautiful family back in Ohio, they have weathered life's challenges and joys together.
Their journey serves as an inspiration to all, reminding us that love, resilience, and commitment are the pillars of a lasting and fulfilling marriage.
Amy can be reached at amy@thevillagereporter.com
---