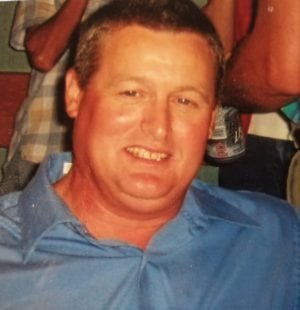 Bradley (Brad) Allen Westfall, 55, of West Unity, passed away at his home Thursday, May 3, 2018.
He was a 1981 graduate of Hilltop High School. He lived in Williams County his entire life and would not have traded it for any place in the world.
Brad was an avid outdoorsman and enjoyed spending time at home with his family. He was happiest sitting outside in the summer months with Lori and their many pets.  Brad began each day with an unparalleled sense of optimism and was always willing to help his friends and neighbors, whether herding stray cattle or building a home. He hoped to see the Detroit Lions football team hoist the Lombardi trophy one day, although his expectations were tempered.
He is survived by his wife, Lori (Corcoran) of Pioneer; sons Travis of Oakland, Calif., Cody of Archbold; stepsons Jed Herrington of Chicago, Ill., and Joey Herrington of Ann Arbor, Mich.; parents Joan Westfall of West Unity, Ben and Jan Westfall of Punta Gorda, Fla.; sisters Julie (Steve) Smith of Mark Center and Kelly (Colin) Watt of Punta Gorda, Fla.; brothers Bart (Terri) Westfall and Kevin (Kelly) Gray of West Unity; along with dozens of beloved nieces and nephews.
A celebratory gathering will be held from 4 p.m. to 7 p.m. on Monday May 7, at Thompson Funeral Home at 204 East Main St., Montpelier.
Tributes may be made to the American Diabetes Association.
Condolences can me left for the family at www.thethompsonfuneralhome.com.
---