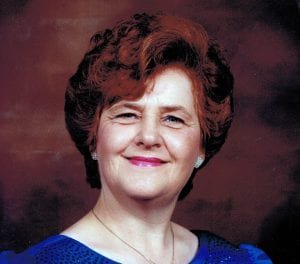 Carol S. Knapp, age 74, of Liberty Center, passed away Friday, January 12, 2018 at Grand Rapids Care Center with her family by her side.
She was born in Battle Creek, MI on November 29, 1943 to the late Henry Huva and Catherine (Darling) Huva.
On June 13, 1964 she was united in marriage to Robert V. Knapp Sr. and he preceded her in death on September 25, 2015.
Carol was a member on Shiloh Christian Union Church in Delta. Before retiring she served over 25 years with American Can Company and later Rexam Can Company in Whitehouse. Some of her fondest hobbies included dancing, horses and traveling the United States with her husband, Robert.
Carol is survived by her sons; Dennis (Deb) Knapp of Wauseon, Robert (Jessica) Knapp, Jr. of Hamler; Adam (Tracy) Paxton of Dunkirk, Ohio, three half-brothers, grandchildren; Allen, Brandon, Taylor, Kendra, Tyler, Jonathon, Paige, Catherine, Sela and Trebor and great-grandson, Korbin.
Along with her husband, Robert, she was preceded in death by three infants, Stephanie Lynn, Timothy Howard and Rodney David; sisters, Betty Flatt and Joyce Kloth; and half-brother, Howard Kloth.
Friends will be received from 2-4 PM and 6-8 PM on Tuesday, January 16, 2018 at Barnes Funeral Chapel, 5825 St. Hwy. 109 in Delta. A funeral service celebrating Carol's life will be held at 10:00 AM on Wednesday January 17, 2018 also at the funeral home. Pastor Chuck Whitmire will be officiating. Interment will follow at Wauseon Union Cemetery. In lieu of flowers, those wishing a show of sympathy are asked to consider contributions to Shiloh Christian Union Church, 2100 Co Rd 5, Delta, Ohio 43515 in her memory.
Online condolences may be sent to the family through our website at www.barnesfuneralchapel.com.