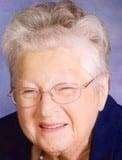 Clara P. Kunesh, age 88, of Montpelier, Ohio, passed away at 8:00 P.M. on Monday, September 3, 2018, at Mercy Defiance Hospital where she had been a patient. Mrs. Kunesh was a homemaker and a member of St. Isadore Parish.
Clara was born on December 17, 1929, in Jackson County, Michigan, the daughter of Forest J. and Ida (Miller) Brown. She married James M. Kunesh on February 15, 1958, in Marysdale, and he survives.
Clara is also survived by her children, Mark (Connie) Kunesh, of Defiance, Greg Kunesh, of Continental, Tina (Galen) Gerkin, of Defiance, David Kunesh, of Defiance and Deb (Tom) Zimmerman, of Defiance; fourteen grandchildren; three great-grandchildren; brothers, Ralph (Barbara) Brown, of Defiance, Forest (Gertrude) Brown, of Camden, Michigan and Rex Brown, of Bushnell, Florida and a sister, Wilma Michaels, of Montpelier. She was preceded in death by her parents; children, Martin, Tamara and Kevin Kunesh; grandson, Benjamin Zimmerman, brothers, Boyd, Donald, Clyde, Walter Dick and Eddie Brown and sisters, Shirley Knapp and Elva Guernsey.
Visitation will be held on Thursday, September 6, 2018 from 2:00-8:00 P.M. in the Krill Funeral Home, 860 West Mulberry Street, Bryan. Mass of Christian Burial will be celebrated on Friday, September 7, 2018 at 11:00 A.M. at St. Isadore Catholic Church-Marysdale with Father Robert Kill officiating. Interment will follow the service in St. Isadore Catholic Cemetery.
In lieu of flowers, memorials are requested to an organization of the donor's choice. To sign the online register or to send condolences, please visit www.krillfuneralservice.com.
---