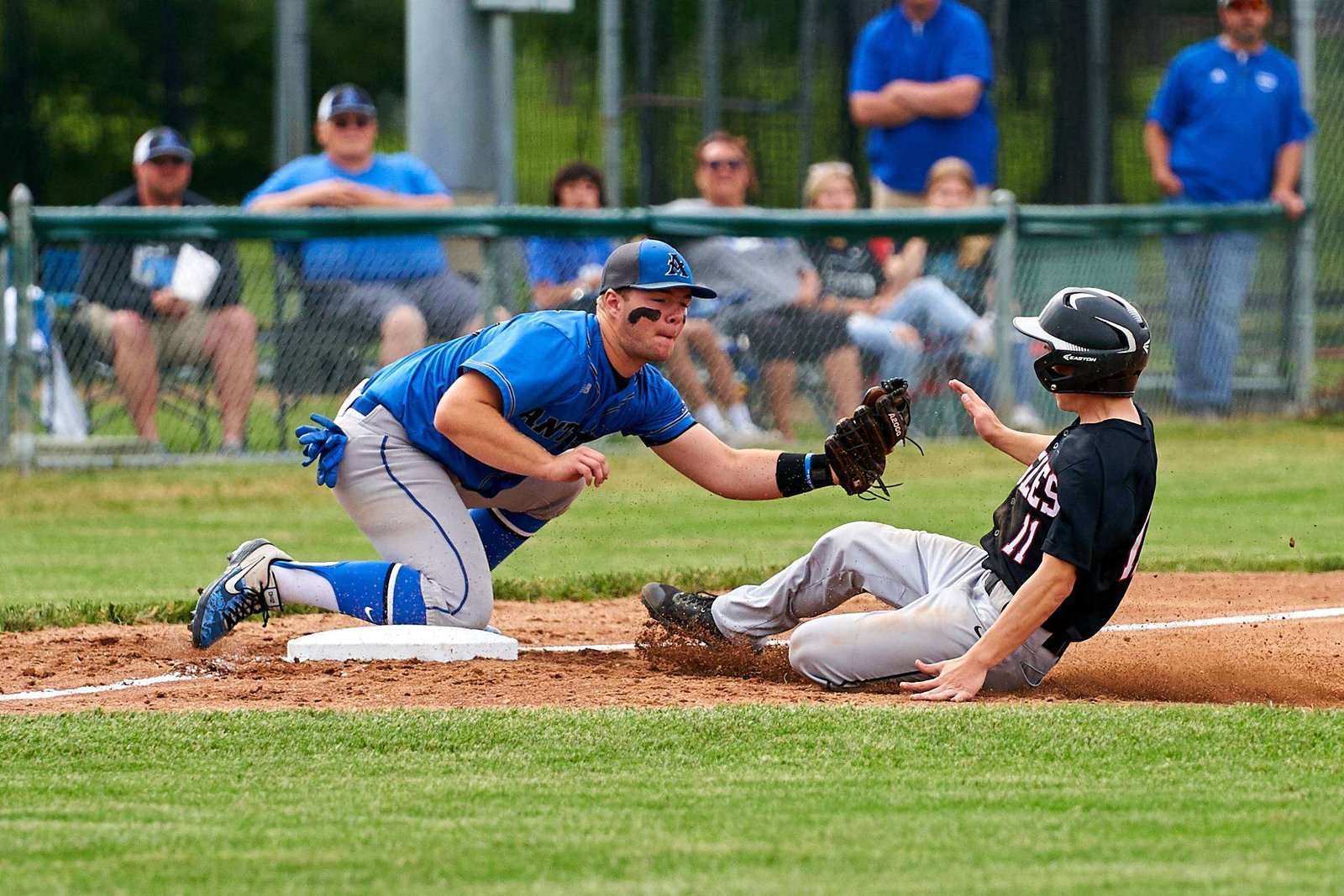 AVOIDING THE TAG …North Central centerfielder Quin Burt slides under the tag at third base. (PHOTO BY RICH HARDING, STAFF)
---
By: Nate Calvin
BRYAN-North Central got the winning runs on base in the seventh but Antwerp pitcher Austin Lichty was able to get a pair of groundouts to end the game and send Antwerp into the district final.
The Eagles took the early lead against the top seeded Archers as Quin Burt started the game with a single and after stealing second, he would tag up and go to third on a Ben Pettit fly out.
North Central starting pitcher Zack Hayes would drive in Burt with a groundout to first as North Central grabbed a 1-0 lead.
Antwerp answered in the bottom of the first as Hunter Sproles (2-3, 3 RBIs) had a two out two-run single to put Antwerp on top 2-1 after one inning.
Hayes and Lichty controlled things for the next three innings as neither team was able to put any runs on the board.
Connor Gendron started the fifth for the Eagles by reaching base on a dropped third strike and would go to third on a sacrifice by Sam Wheeler.
It was Burt this time with the RBI groundout for the Eagles to score Gendron and tie the game 2-2.
Antwerp took the lead for good in the bottom of the fifth as Chase Clark singled but was then caught stealing before Parker Moore singled to left with one out.
After Lichty hit into a fielder's choice for the innings second out, Luke Krouse tripled to drive in Lichty and Sproles singled to left to bring home Krouse and give Antwerp a 4-2 lead.
The Eagles began to chip away at the Antwerp lead in the sixth as Hayes started the inning with a single and Kaiden Russell walked to give the Eagles two on with no outs.
Hayes, who stole second during the Russell at-bat, would steal third and then score on error by the Antwerp catcher to cut the Archer lead to 4-3.
North Central's last chance in the seventh opened with a walk by Gendron who then stole second before moving to third on a sacrifice by Wheeler.
Burt was next up for the Eagles and he would walk and steal second to give North Central the tying and winning runs at second and third with one out.
Lichty bounced back for Antwerp as he got Pettit to groundout followed by getting a groundout from Hayes (2-4, 1 RBI) after falling behind in the count 3-1 to wrap up the win for Antwerp.
Both pitchers went the distance as Lichty allowed three runs on four hits while striking out nine and Hayes gave up four runs on eight hits and recorded 3 K's for the Eagles.
Antwerp will meet Montpelier on Friday night in the Division IV championship game back in Bryan.
North Central ends the 2021 season with a 14-11 overall and second place in the BBC at 9-3.
SCORE BY INNINGS               R    H    E
N. Central    100 011    0           3    4    1
Antwerp      200   020    x        4    8    1
Nate can be reached at publisher@thevillagereporter.com
---