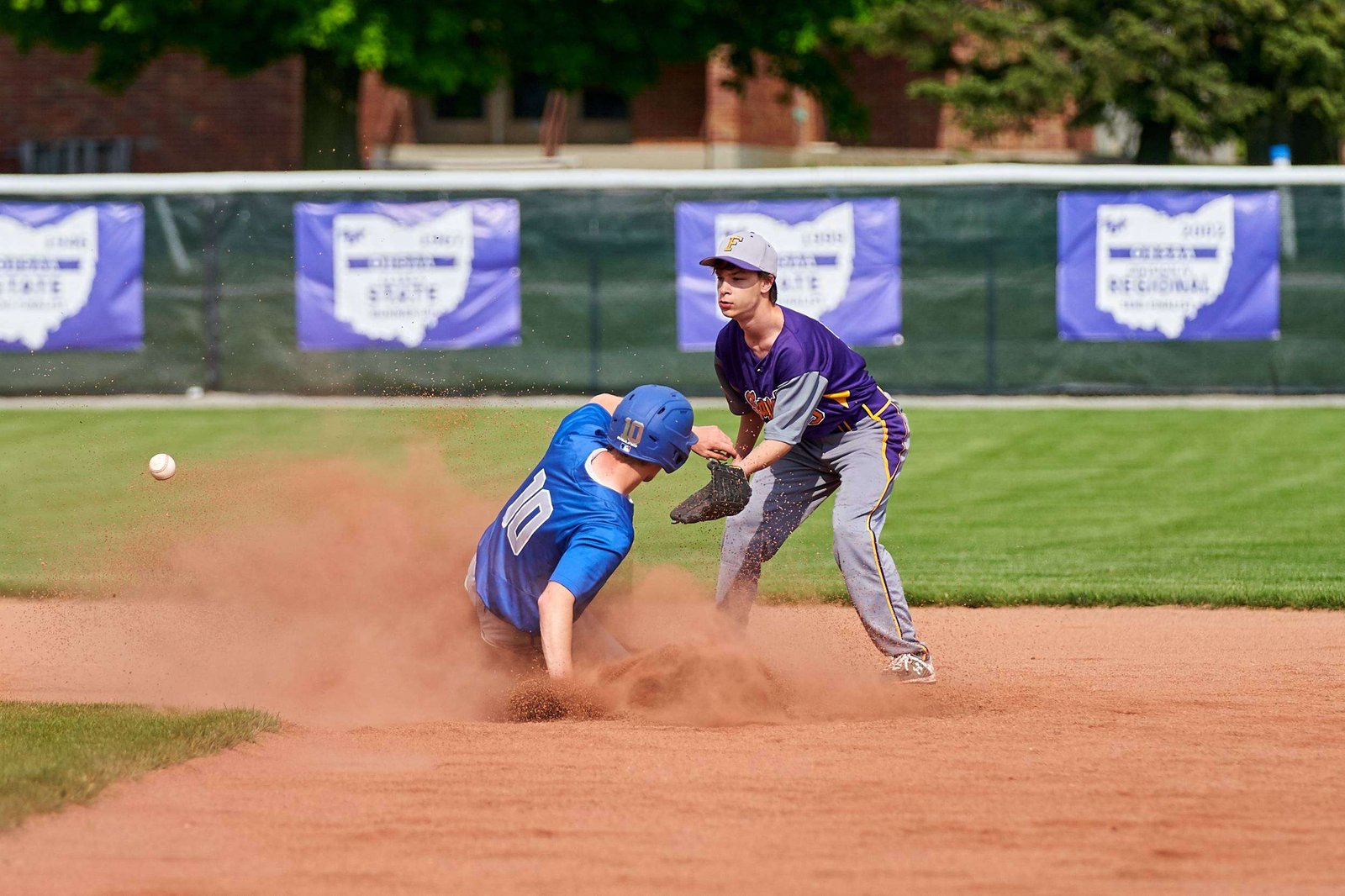 ADVANCING ON THE BASE PADS … Edon's Wade Parrish steals second after reaching base on a single. (PHOTO BY RICH HARDING, STAFF)
---
By: Nate Calvin
EDON-The Bombers exploded for 13 runs in the third inning to erase a 3-2 Fayette lead on their way to the win in the Division IV baseball sectionals.
Fayette did their damage in the first inning as they were able to load the bases before Tanner Wagner would score and Chase Moats singled to drive in two more runs to give the Eagles a 3-0 lead.
The bottom of the first saw Edon also get a bases loaded opportunity and Konnor Prince delivered with a single to right for the Bombers first run of the night.
Connor Towers would then reach on an error to drive in Garrett Skiles to cut the lead to 3-2.
Wagner would get out of the inning for Fayette by getting a pop out to the catcher and Cole Vasquez was thrown out at home trying to score on a dropped third strike to keep the score 3-2.
The third inning onslaught by Edon started with a Vasquez single and he would eventually score on a single by I. Hickman to tie the game at 3-3.
Edon would take a 4-3 lead when Caden Nester reached on an error which allowed Towers to score and Carter Kiess singled to load the bases.
Ethan Steinke doubled to right to drive in two runs to make it 6-3, Kiess scored on a pass ball, and Wade Parrish had an RBI infield single to increase the lead to 8-3.
Edon again loaded the bases and this time it was Prince with a two-run single to center to make it 10-3.
Following a pitching change by the Eagles, Edon would draw three straight walks to force in two runs and Kiess smacked an RBI single as the lead grew to 13-3.
Parrish ended the scoring for Edon with a bases loaded single to drive in a pair of runs as the Bombers lead ballooned to 15-3 after three innings.
The Bombers collected 13 hits on the night led by three apiece from Parrish and Kiess with Parrish and Prince adding three RBIs.
Moats topped the Eagle (3-16) offense with two hits and two RBIs while Wagner, Jayden Fairfield, and Owen Lemley each singled.
Edon (7-18) will now travel to top seeded Antwerp (15-5) on Thursday night to face the Archers in a Division IV sectional final.
SCORE BY INNINGS           R    H    E
Fayette    300   00x    x         3     6    3
Edon       2013 0xx    x         15   13  1
Nate can be reached at publisher@thevillagereporter.com
---