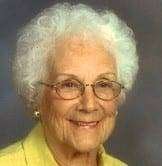 Doris May Carlin, age 92, of Bryan, Ohio, died at 5:50 P.M. on Sunday, November 11, 2018, at the Inn at Fountain Park where she had been a resident.
Doris was a graduate of Bryan High School. She was a homemaker, had worked in customer service at Custom Cleaners and attended Trinity Lutheran Church in Bryan. Doris was a loving and kind person who always put her family above all.
Doris was born on May 15, 1926, in Bryan, Ohio, the daughter of Darrell "Ted" and Carrie (Beard) Hitt. She married Delmer Carlin on June 16, 1948 and he preceded her in death in 2002.
Doris is survived by her daughters, Trudy (Bill) Moore, of Columbus and Lori (Greg) Johnson, of Ney; grandchildren, Kelly (Rob) Aitken, of Columbus, Kyle (Nubia) Moore, of Memphis, Justin (Emily) Harrington, of Findlay and Wesley Harrington, of East Lansing, Michigan; step grandchildren, Zach (Alesha) Johnson, of New Cumberland, Pennsylvania and Emmi Johnson, of Defiance and six great granddaughters, Kirsten, Lynea and Elizabeth Harrington, Kaia Aitken, Adanne Moore and Lillian Johnson. She was preceded in death by her parents, husband and brother, Louis Hitt.
Visitation will be held on Thursday, November 15, 2018 from 9:30 A.M. to 12:30 P.M. at Krill Funeral Home, 860 West Mulberry Street, Bryan. Funeral services will be held at 12:30 P.M. with Pastor Mary Beth Smith-Gunn officiating. Burial will follow in Fountain Grove Cemetery, Bryan, Ohio.
In lieu of flowers, the family would suggest memorials to Community Health Professionals Hospice or the Mid-week Manna at Trinity Lutheran Church; or simply to do something nice for someone today.
---