---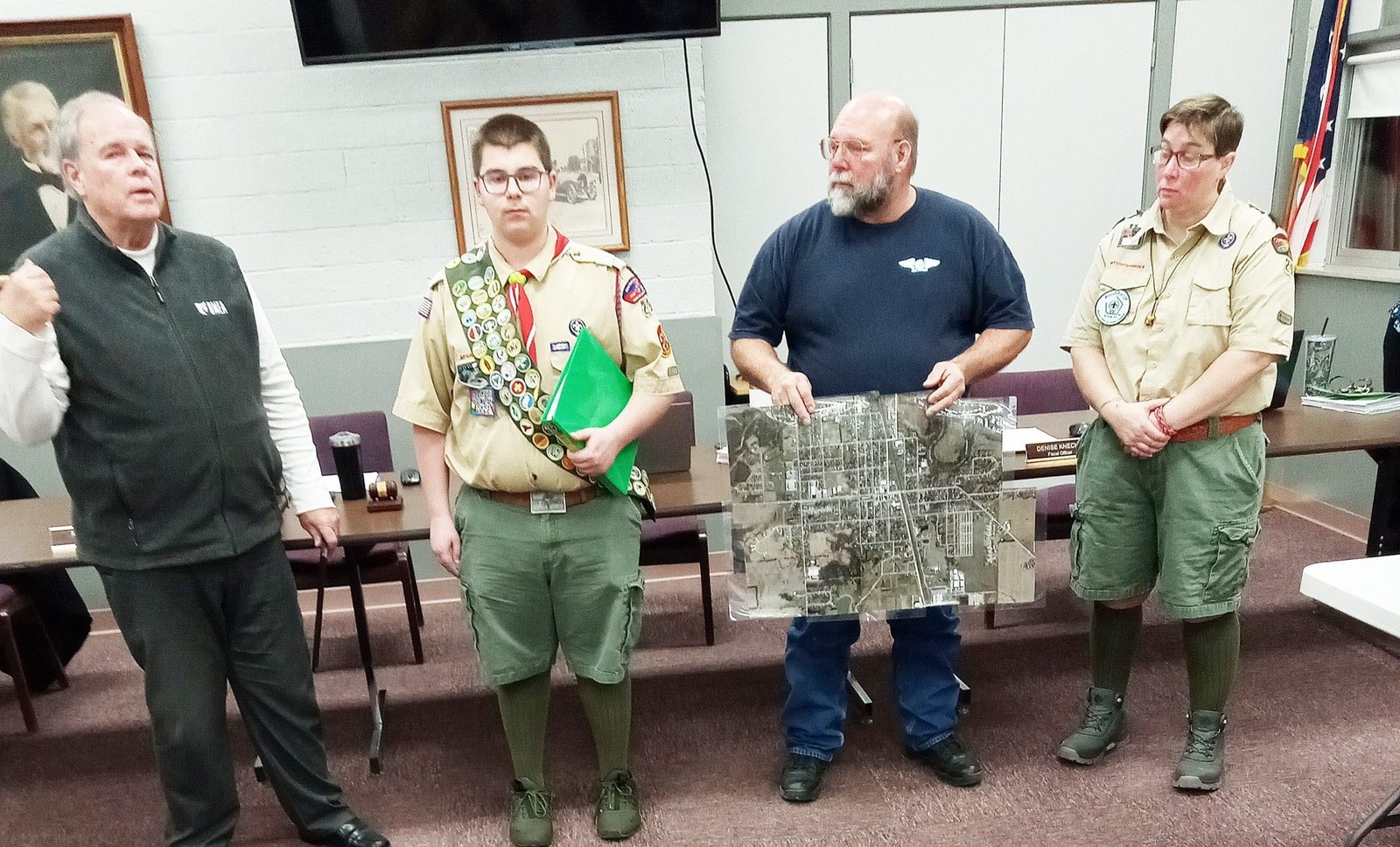 SAFETY PROJECT … Pictured left to right are Mayor Bob Day, Avery Perez, EMT Luis Hernandez and Scout Leader Sarah Perez. Hernandez is holding up a map of the Village of Edgerton. Perez, of Boy Scout Troop 29, found 36 houses in the village that did not have numbers. Those houses now have numbers. Edgerton Police Chief Gary Plotts stated that ensuring that all the houses having numbers could potentially save lives. (PHOTO BY DANIEL COOLEY, STAFF)
---
By: Daniel Cooley
The Edgerton Village Council meeting from February 21 began with the Pledge of Allegiance, followed by a prayer from Mayor Bob Day.
All six council members, Sharon Blinzler, Pam Wampler, Lance Bowsher, Leslie VanAusdale, Chuck Wallace and Jason Gruver were in attendance.
In the first order of business, council approved the minutes from the previous February 7 meeting.
Next, Mayor Day recognized Avery Perez, from Edgerton Boy Scout Troop 29, for his safety project.
Perez found 36 houses in the village that did not have numbers. Those houses now have numbers.
"That's a great tool to have, all with numbers," said Edgerton Police Chief Gary Plotts. "(This) could save someone's life."
Ashley Epling, director of WEDCO (Williams County Economic Development Corporation), was a guest for the night.
"I've been trying to get out to the communities and the (various) chamber of commerces, to see how WEDCO can assist and help them," Epling said.
"I've had a lot of feedback and there is a lot going on in the county, which is exciting."
Mayor Day then gave the state of the village address. He stated that there have been plenty of projects going on, including phase one of a plan to improve pedestrian infrastructure in Edgerton, focusing on getting students safely to schools.
The Oak Street project, bid at $23,000 under bid, left the village's portion at 54% of the cost.
The village was able to put in new sidewalks, that will allow students to use sidewalks more, instead of using the streets. The project also brought improved esthetics to Oak Street.
Next, the completed Laubach Drive project has brought about great improvement to the decades long drainage problem at Miller Park.
Also, new asphalt was laid on the following roads: West Street, Hull Street, Crane Street, Railroad Street, River Street and Maple Lane.
New playground equipment was installed in both Miller Park and Burkhart Fields on Gerhart Street and the Picnic Pavilion in Town Park now has safer steel support posts.
Also, the water department had two new low service pumps, two check valves and four gate valves installed, replacing the original ones that were installed way back in 1966.
In addition, both water towers are being renovated, which will add 40 more years of life. The project is being funded in part by $30,000 from the Williams County Commissioners, through the county ARPA Fund.
The June 5 power outage event, which took down 16 of First Energy's utility poles, provided a blessing in disguise.
It brought about an unplanned multimillion dollar upgrade to the transmission lines, which benefitted the village.
Day stated that the Edgerton Police Department, under Chief Gary Plotts, has experienced improved morale and growing numbers, along with the restoration of the DARE (Drug Abuse Resistance Education).
The police force also has a K-9, Jaxx, who has been well received by school students and the community.
Fire Chief Scott Blue recently celebrated his 50th year with the Edgerton Fire Department.
Next, the Ohio Department of Development announced that the funding request made by both the Edgerton Development Corps and the Village of Edgerton, was being fully funded through the state of Ohio's Brownfield Remediation Program.
The old Metals property, currently owned by Edgerton Acquisitions, will be getting a cleanup.
This will provide an opportunity to develop the 4.4 acres into something positive for the community. The riverfront property will be ready for development and turned over to the village, at no cost.
"(The Old Metals Project is) a true modern day miracle and an example of God's blessing and an answer to the many prayers of this community," Day said.
Day mentioned that a total of $5.5 million dollars more in funding was applied for in 2022 and these applications are still in process. Thus, he anticipates more good things to come.
"With all of us, working together, along with God's Hand guiding us, our future potential is limitless,"
Day said. "We implement our vision with the mottos, 'let's do things that will live long beyond ourselves' and 'why not in Edgerton?'
Day also mentioned that Village Administrator Dawn Fitzcharles is a true test of a leader, because she makes everyone around her better.
Employees have trust and respect of her leadership. In particular, Fiscal Officer Denise Knecht appears to have a weight lifted off her shoulder and is a lot more comfortable.
Fitzcharles then gave a report. First, she thanked Epling for coming to the meeting. She thinks of WEDCO as a partner and is glad to have her as the WEDCO director. Day added that Epling is "a breath of fresh air."
Fitzcharles stated that the wire relay project went well, and the village employees were able to do a lot of the work themselves.
Also, she cautioned for everyone to remember that the electric and fire departments have the longest wait times for getting equipment.
In addition, Fitzcharles stated that the street department has been able to do a lot of cleanup along the railroad, because of good weather.
Fitzcharles also mentioned that in order to be in compliance, the small water flow into the river is in the process of being rerouted into a lagoon and out of the river.
Finally, the firm working with the old Edgerton Metals property should take about two years to finish the project.
Next, in the fiscal officer report, Knecht said that the credit card report is complete through February 15.
Council then voted to pay the bills.
In the police chief report, Plotts said that the police department is working on some plans to teach gun safety.
Next, council approved of the second reading of Ordinance 1116. Council then approved Ordinance 1117, providing for a supplement to the 2023 annual appropriations.
Council then moved into executive session.
             Dan can be reached at publisher@thevillagereporter.com
---