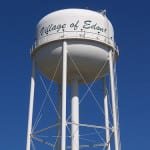 Edon Board of Public Affairs addressed a clear-cut agenda during its regular monthly session held Tuesday, March 12, 2013 at Edon Village Chambers.  Mayor Darlene Burkhardt called the late afternoon meeting to order with members Chip Hulbert, Andy Ledyard, Fiscal Officer Heidi Bidwell and Water/Wastewater Superintendent Chris Decker in attendance; not answering roll was Warren Henry.
In action taken, the Board:
• Approved the Minutes, Financial Report and Bills as presented.
[emember_protected custom_msg="Full content protected for online subscribers.  Purchase a one week subscription from the top menu bar for just $1.99 to read all online content (full access).  Longer subscription plans are also available.  Subscriptions cover our costs to attend local events; bringing forth Hometown News Coverage to our communities."]
• Heard from Superintendent Decker that frozen clarifiers had been taken care of; a plugged return line was pumped out by Brown's of Montpelier and chlorine feed pumps should be replaced every six-twelve months.  He also noted Dave Wehrle and Tim Hartsock would submit quotes to replace and/or add shut-off valves to the Village's waterline.
• Was informed running a camera through sewer lines would be the best solution to address current issues; the County has approved usage of their equipment for the project budgeted at two thousand dollars.
• Learned the generator at the Wastewater Treatment Plant should be moved to prevent further exposure to weather conditions; Superintendent Decker will organize the undertaking.
• Tabled further discussion regarding work at the Water Plant until additional quotes are obtained; under consideration is purchasing steel, having it fabricated into railings for Village employees to install around the Plant's outside water tanks.  This upgrade is in compliance with the Ohio Bureau of Workers' Compensation PERRP (Public Employment Risk Reduction Program) inspection report.
• Heard, to date, Artesian had not yet replaced the Water Plant's lower manifolds.
• Signed the Shut-Off List.
Edon Board of Public Affairs will hold its next meeting Tuesday, April 9, 2013 beginning at 4:30 p.m. in Village Chambers.
(Compiled from information  provided by Edon BPA.)
[/emember_protected]