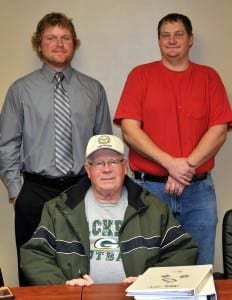 Andy Ledyard was elected to a one-year term as Edon Board of Public Affairs president during its first session of 2013 held Tuesday, January 8 at Edon Village Chambers. Mayor Darlene Burkhardt called the late afternoon meeting to order with Board Members Warren Henry, Andy Ledyard, Chris Hulbert, Fiscal Officer Heidi Bidwell and Water/Wastewater Superintendent Chris Decker in attendance.
Before addressing their light agenda, members paused to review undertakings completed over the past year, including upgrading the Village's utility software with ACH capability; installing a new air conditioning unit in the Wastewater Treatment Plant's Lab; repairing five major water leaks on East Indiana, Union and Franklin Streets; purchasing a new exhaust blower for the Wastewater Treatment Plant; supplying water to the newly renovated Village bays; replacing the utility truck's transmission; replacing two sewer tanks on Union and North Michigan Streets and completing minor upgrades around the Village and at both facilities. All-in-all, everyone felt good about what had been accomplished by the Departments throughout 2012.
In other business brought before the Board, members:
Voted to continue with the second Tuesday at 4:30 p.m. as the date and time for regular monthly meetings.
Approved the Minutes, Financial Report and Bills as presented.
Approved Tim Hartsock's six hundred dollar quote to redo the water bay's lighting and to repair its heating unit.
Was informed by Superintendent Decker suggestions from the Ohio Bureau of Workers' Compensation PERRP (Public Employment Risk Reduction Program) inspection report continued to be addressed.
Learned maintenance on the water tower could be delayed until 2014; measures ensuring continuous service during the twenty-eight-day downtime need to be in place before proceeding.
Tabled further discussion regarding the replacement of five main-line water valves around the Village to isolate shut-offs (projected at $7500) and leasing trucks/bladder tanks to help provide water pressure during tower maintenance work (projected at $20,000-$30,000) until additional information and estimates are obtained; it is hoped to complete Phase I of the Water Tower project this summer.
Noted information is being collected for the Ohio Rural Community Assistance Program (RCAP); affordable funding could be secured through their services to upgrade the Water Plant and offset maintenance costs for the Water Tower Project
Signed the Shut-Off List.
Edon Board of Public Affairs will hold its next meeting Tuesday, February 12, 2013 beginning at 4:30 p.m. in Village Chambers.