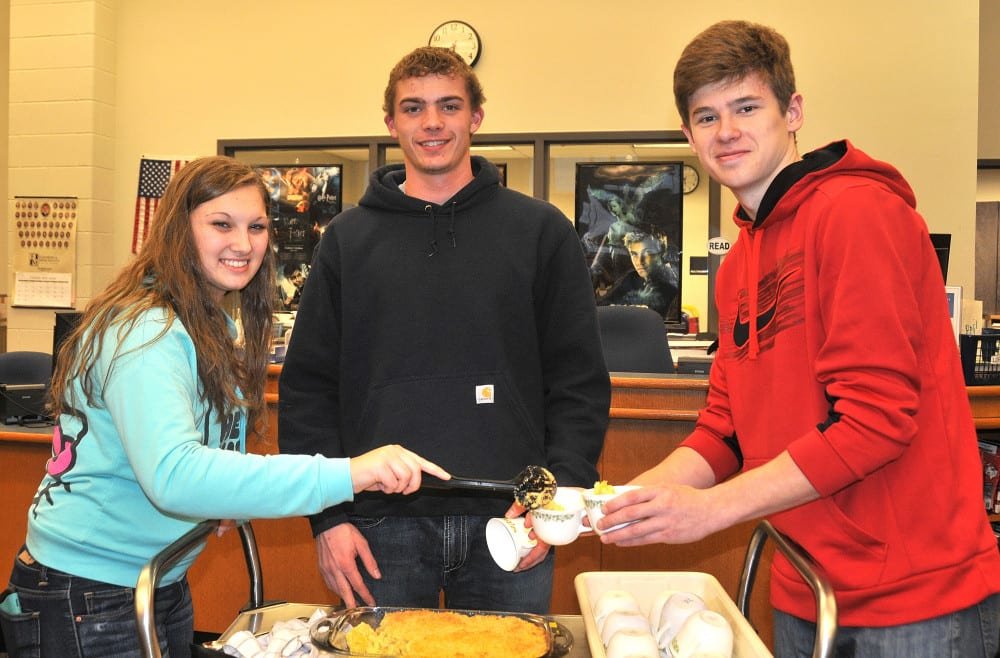 Members of Edon Northwest Local Board of Education enjoyed a delicious taste of home during its regular monthly session held Tuesday, February 9, 2016 in the school's Media Center. President Jamie Schaffter called the meeting to order with all members and approximately fifteen guests in attendance.
While healthy servings of macaroni and cheese were dished up by students Jared Cook, Alexia Ewers and Levi Brandt, members were updated by Principal Stevens on "revived" Family and Consumer Science classes. "As you know, a series of FCS courses was brought back this year and it's been really positive for our students," he began. "The program is definitely still an identified need within our community and our school."
"Mrs. Hunt has done an excellent job in giving students this experience," continued Principal Stevens. "I asked them to be here to give you a 'taste' of what they've learned in the classroom." The entrée served was made from one of the recipes prepared in the Healthy Foods Class; homemade ~ and with no preservatives. "If you don't like this dish," Mrs. Hunt jokingly shared, "these are the students who picked it!"
In addition to the foods class, high school juniors and seniors were offered a Financial Management course as well. "Right now we're learning about saving money; how to open a savings account, the importance of saving," noted Mrs. Hunt. Going on to share some of what they've learned in both the Healthy Foods and Financial Management Classes, Jared Cook stated, "I like to think [the Financial Class] has helped me a lot. I work [but I] obviously don't spend my money very well. I've now learned how to budget; how to spend and save."
"I've definitely learned some cooking skills!" added Levi Brandt.
It is hoped to expand FCS offerings to the junior high level in the future and to possibly re-establish FCCLA (Family, Career and Community Leaders of America). "I see a need for that here," said Mrs. Hunt. "There's a group of people whose [interests] aren't being met with the different organizations [already offered]. I think we could do some really fun [activities and programs] here with FCCLA."
Additionally that night, Board members approved the 2016-2017 School Calendar. Presented last month for review, the school year would see classes beginning Thursday, August 18; Thanksgiving Break: November 24-28; Christmas Break: December 21-January 2 (classes resume January 3, 2017); Spring Break: March 20-24; the last day for students (with early release): Thursday, May 25 and 2016 Commencement Exercises: Sunday, May 28. To view the 2016-2017 Calendar in its entirety, visit the school's website at www.edon.k12.oh.us.
Highlighted February Reports to the Board included:
Superintendent John Granger
•Noted promotional materials, including information regarding open enrollment to the District, will be available at the Edon Chamber booth during the next month's Business and Industry Show in Bryan; he will also attend the February Edon Village Council meeting to describe Chief Tom Szymczak's activities while on campus and to address inquiries by new councilors regarding cost to the village for him to serve the school.
•Invited board members to tour the building and experience what goes on during regular school hours; all will enjoy lunch with the students during the visit as well. Additionally, members can now be contacted through school email accounts posted on the District website's Board of Education page.
•Shared District Treasurer Deb Nester will provide Edon Northwest Teachers' Association financial information per their request; it is expected to have the first session of negotiations before March's board meeting.
Grades 7-12 Principal Anthony Stevens
•Shared how there's an identified need for Family and Consumer Sciences courses for grades 7-12; expanded FCS offerings would benefit students and increase their time in class. With few electives at the junior high level, this would be an option to fulfill that need (similar to opening Ag classes to grades seven and eight) as well as meeting state mandates.
•Recognized January 2016 High School Student of the Month, senior Jim Peckham and January 2016 Junior High Student of the Month, seventh-grader Nevaya Deck; introduced Shane Kohl, Darius Kurtz, Alexia Ewers, three choir members who recently participated in the High School Solo and Ensemble Adjudicated Event at Bryan High School. Cathy Frastaci was pleased to share that nineteen of twenty-two band and choir events that students contested in received the highest mark – a Superior (I) Rating.
•Noted the graduation rate's State Report Card grade looked good and efforts will continue in monitoring it closely; Prep for Success was not graded this year; however, professional efforts were focused on the ACT ~ looking at the curriculum's alignment and where it meets with standards. While ACT preparation classes are available to students and sign-up packets provided as well, the possibility of offering an informational "ACT Night" with parents (similar to the annual Financial Aid Night) is being considered.
KK-6 Grade Principal Michelle Molargik
•Congratulated January's Bomber Courtesy Club members and this year's Williams County Spelling Bee participants Cory Brooks and Gage Eicher.
•Noted third grade English Language Arts results indicated students performed well (first time tested in both reading and writing); the District's average score was 709 (state average was 683; 700 is considered proficient). Fifty-six percent of the students were at or above proficient (state's proficiency average was thirty-four percent). Students not scoring proficient will have the opportunity to try again in April and once more during the summer, if necessary. Additionally, she pointed out the Report Card showed Edon Elementary School's performance was similar to what's been achieved in the past; all indicators were met and a Performance Index score of "B" (measuring where students come in ~ proficient, advanced, accelerated ~ with weighted points) was awarded.
•Shared teachers and students enjoyed a fun game of dodge ball to kick off the 2016 Jump Rope and Hoops for Heart fundraiser; organizers look to raise $5200 for the American Heart Association.
In other business brought forward, the Board:
•Accepted, with thanks, Cash Donations during January from: Box Tops for Education ($335.95 apiece/Elementary Principal and High School Principal Funds); Williams County Dairy Association ($200/Family Consumer Science Classes); Various Individuals/Organizations ($705/Music Department's Washington DC Trip); Theta Kappa Chapter of Psi Iota Xi ($4052.98/Band Instruments) and Anonymous ($1,370.25/Boys Basketball Warm-ups).
•Welcomed Andy Ledyard and Mike Lirot, newest members of Edon Village Council. Posed was the question: does Police Chief Tom Szymczak have a contract with the District when he's on campus? Dr. Granger noted there was no individual contract with Mr. Szymczak or the Village; no money is "changing hands" other than income tax paid by employees. The District is blessed to have an excellent working relationship with the Police Chief and his presence in school has been great for students. (Councilors shared they've heard a lot of good things have taken place over the past year including a decline in bullying.) Answers to their questions will help Village Council with budget preparations; aid in keeping lines of communication open and will apprise residents on why Chief Szymczak is on campus.
•Approved the resolution accepting the amounts and rates as determined by the Budget Commission and authorizing the necessary tax levies and certifying them to the county auditor as presented.
•Contracted with NEOLA, Inc. for school board policy services (developing and updating Board bylaws and policies as well as administrative guidelines/procedures and providing handbooks in electronic or printed form); total one-time cost to the District is $23,400.
•Scheduled a Buildings/Grounds/Transportation Committee meeting for February 16; slated for discussion are Phase II of the Parking Lot Project (Phase III to be completed in 2017), track resurfacing and additional smaller projects to be completed this summer.
•Approved the contract with Northwest Ohio Educational Service Center (NwOESC) for 2016-2017 with fees to be deducted from foundation payments.
•Approved the recommendation of Gary Best, Gale Horn, Randy Mohre and Tom Szymczak as volunteer weight room supervisors. (As discussed last month, volunteers will be scheduled to open the weight room at Leanne Field for public participation; a waiver will be prepared for all participants to sign. Scheduled weight room availability will be posted on the District website.)
•Approved a 2015-2016 supplemental contractor for the remainder of the school year with Carl Sonneberger as Junior High School Boys and Girls Track Coach.
•Accepted the retirement resignation of Deb Gensler effective May 27, 2016.
•Approved Dawn Becker, Michelle Free, Deb Gensler, Denyse Johnson, Mindi Kepler, Carey Kiess, Audra Nester and Amanda Pattyn as grades 3-6 Spring Intervention Teachers at the negotiated rate of twenty-five dollars per hour.
•Approved minutes of the regular meeting and amended minutes of the organizational meeting held Tuesday, January 5 as well as December 2015 and January 2016 Financial Reports; January 2016 Then and Now Certifications (pertaining to purchase orders and invoices) and an Amended Certificate request.
The Edon Northwest Local Board of Education will next meet Tuesday, March 8, 2016 in the Edon Schools Media Center beginning at 5:30 p.m.
Lucinda Held-Faulhaber
May be reached at
publisher@thevillagereporter.com