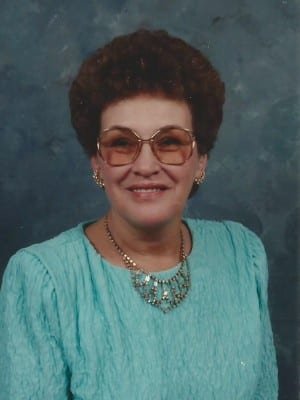 Elinor L. Doeden-Frappier, 87 years, formerly of Bryan, and a current resident of Defiance, passed away Saturday, April 9, 2016 at Community Health Professionals Inpatient Hospice, Defiance. Elinor was born July 8, 1928 in Sherwood, the daughter of the late John A. and Foryst M. (Connelly) Hane. She married Kenneth F. Doeden in March of 1945 and the marriage lasted 22 years. She then married Francis "Gus" Frappier on October 15, 1971 in Bryan, and he preceded her in death on March 8, 2015. Elinor devoted herself to the care and well-being of her family. She had a firm rule that the family ate dinner every evening in the family home. She attended First Lutheran Church and was a Life Member of the Bryan VFW Post 2489 Ladies Auxiliary as well as a member of the Military Order of the Cootie Auxiliary, Bryan Eagles Aerie 2233 and the Montpelier Loyal Order of the Moose #0270. Elinor enjoyed sewing, knitting and crocheting, throwing pottery and making other craft items. She loved to dance, read Western books and watch Western movies. Elinor enjoyed spending time at Hamilton Lake where she had a trailer in Circle Park.
Surviving are her three sons, Gary A. Doeden of St. Paris, Ohio, Daniel D. Doeden of Fort Wayne, Indiana, and David W. Doeden of Defiance; two stepdaughters, Deborah L. Sines of Montpelier and Jodi L. Kirkland of Jackson, Michigan; 14 grandchildren and 20 great-grandchildren; one brother, James (Shirley) Hane of Ney, Ohio; one sister, Eloise (Doyle) McBride of Indiana, Pennsylvania. She was preceded in death by her parents, two husbands, Kenneth F. Doeden and Gus Frappier; one son, Donald Doeden; one daughter, Charlotte Doeden Miller and two brothers, JJ Hane and Howard Hane and two sisters, Doris Kelley and Lois Baldwin.
Visitation for Elinor L. Doeden-Frappier will be held from 4:00 – 8:00 p.m. Wednesday, April 13, 2016 in the Oberlin-Turnbull Funeral Home, Lynn Street Chapel, 206 North Lynn Street, Bryan, where funeral services will be held at 11:00 a.m. Thursday, April 14, 2016 in the funeral home with her son, Gary A. Doeden officiating. Interment will be made in Sherwood Cemetery.
In lieu of flowers, those planning an expression of sympathy are asked to consider memorial donations be given to Community Health Professionals Inpatient Hospice, 6817 State Route 66 North, Defiance, Ohio 43512, or to Cancer Assistance of Williams County, Bryan, Ohio.
Condolences may be sent to the family or the online guest book may be signed at www.oberlinturnbull.com