---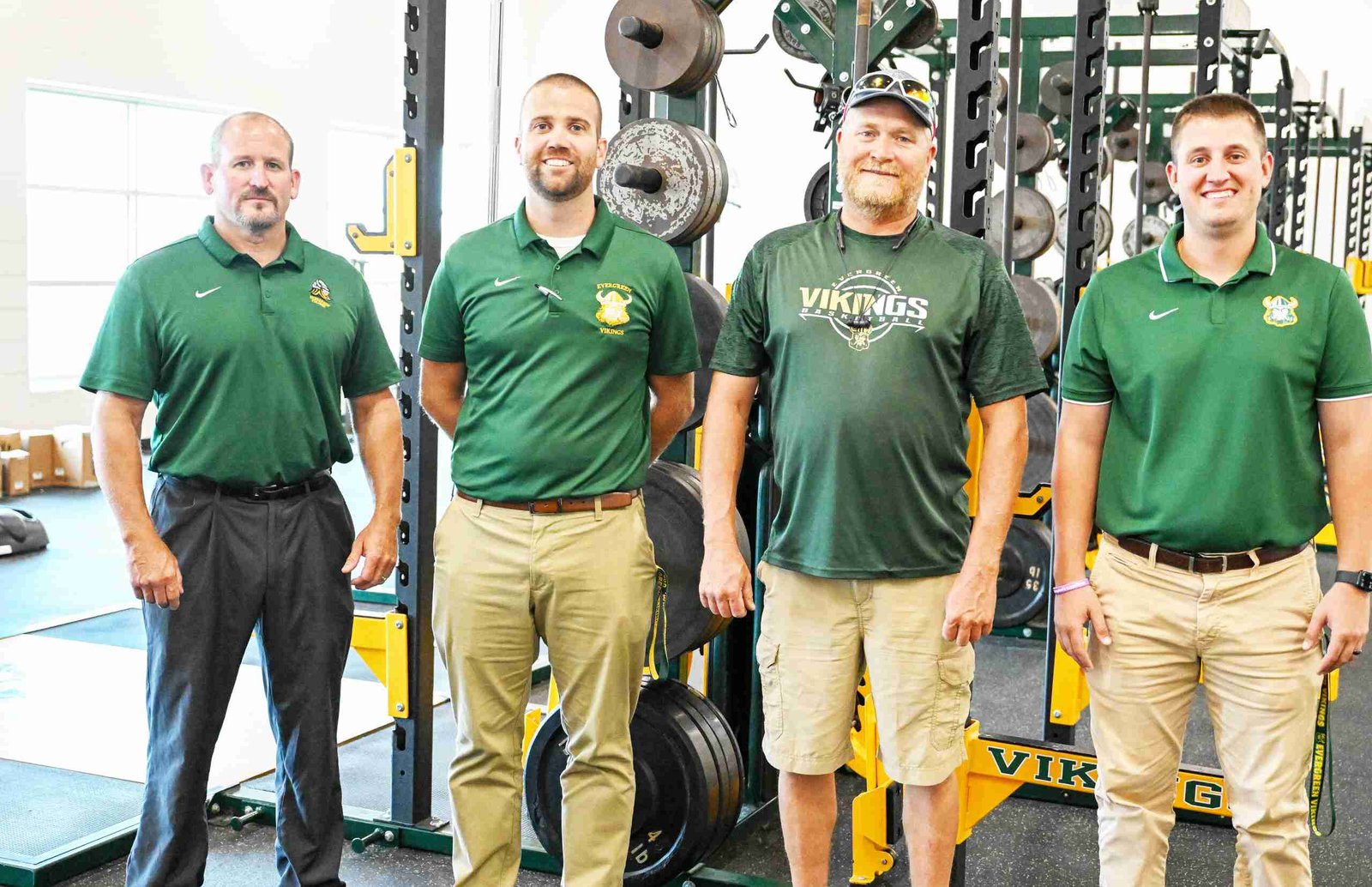 TOURS … Superintendent Eric Smola, High School Principal Brady Ruffer, school board member Matt Vaculik, and Athletic Director Dylan Henricks stand ready to show everyone around the expanded facility. (PHOTO BY JACOB KESSLER, STAFF)
---
By: Jacob Kessler
The Evergreen High School held an open house for their athletic expansion on Tuesday, August 2nd. The project, which is now nearly complete, saw an expansion of over 6400 square feet and a renovation of nearly 5900 square feet. The project itself began over a year ago with construction starting in July of 2021.
Phase one was complete with occupancy granted this past April. Phase one saw the addition and renovation of the north side of the gym that included an expanded weight room, a trainer's office, two changing rooms for officials, a varsity boys locker room, a physical education boys locker room, a film/multipurpose room, more storage options, a coaches locker room and an athletic office expansion.
With phase one complete, phase two was free to begin. This phase targeted the south side of the gymnasium and included a female coaches office, a physical education girls locker room, girls' varsity locker room, and an extra changing room.
The phase two expansion is now nearly complete with only the lockers needed at this time. Due to supply chain issues, these have taken longer to procure than anticipated. Once these are able to come in, the expansion and renovation project will officially be complete.
On Tuesday, the school held an open house in order to celebrate the new facilities. New Athletic Director Dylan Henricks was at the open house to speak with parents and anyone else who wanted to see the newly renovated building.
"I am excited for parents and community members to come out and see the new facilities. It is good for them to come out and see what their kids will be using and putting to good use."
"I am also excited to be back at Evergreen to help kids out and get started with Fall sports. I am thankful to have the opportunity to continue the tradition of excellence at Evergreen," said Henricks.
Following the open house and preceding the Fall Sports Meeting, the school also held a meet and greet for everyone to meet the new principals.
All in all, the Evergreen School District has twelve new staff members that include teachers and administration that will be starting this year.
"With all the new staff members and changes taking place this past year, we are excited that everything is on track and that everyone has come to be here for the kids," said Superintendent Eric Smola.
Jacob can be reached at jacob@thevillagereporter.com
---