---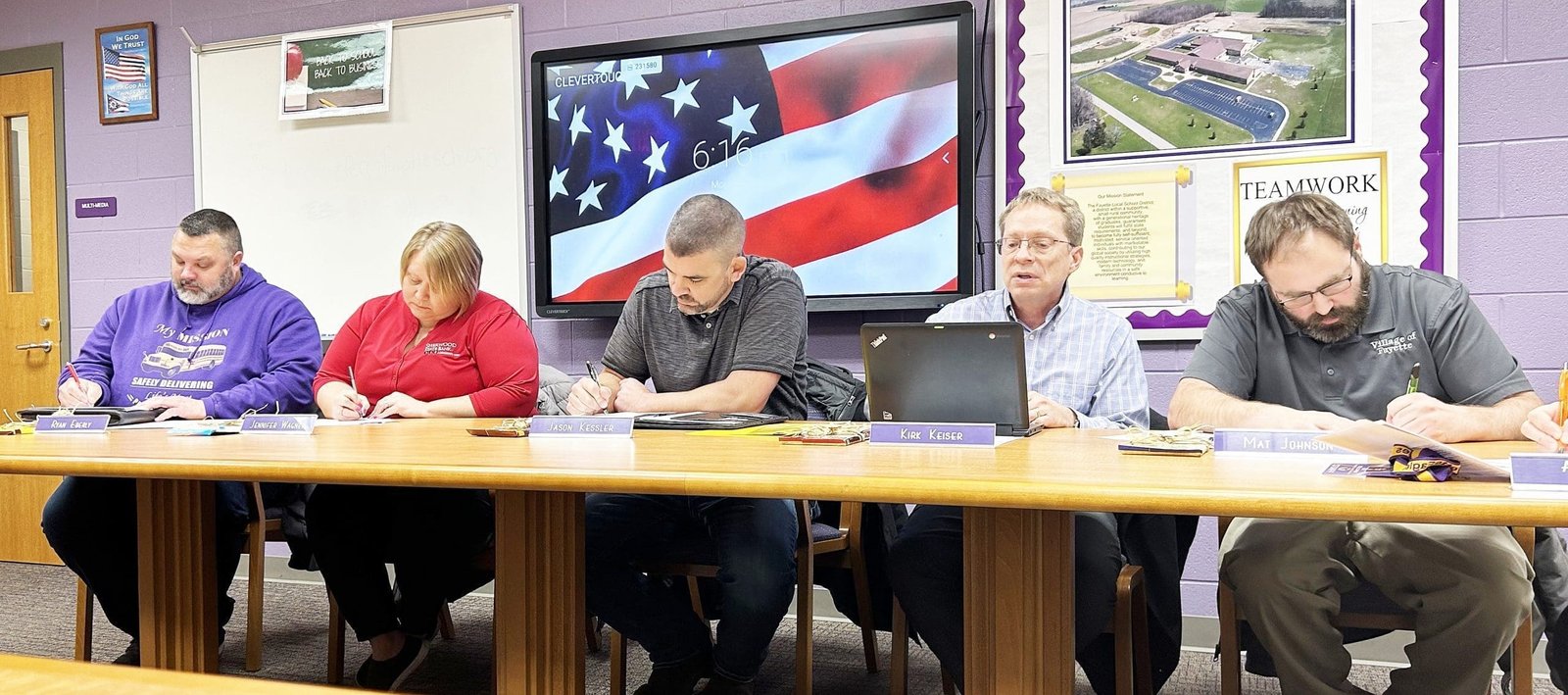 NEW YEAR … The Board of Education elected Jason Kessler as president and Mat Johnson as vice-president for 2023. (PHOTO BY AMY WENDT, STAFF)
---
By:  Amy Wendt
The 2023 Organizational Meeting of the Fayette Local School District was held on January 9, 2023 at 6:15 pm at Fayette Local School with all board members present.
The board elected Jason Kessler to serve as president and Mat Johnson to serve as vice-president for 2023.  The 2023 board meeting schedule was also adopted as presented.
The board authorized the following items for 2023:
Board Service Fund of $2,500.00.
The treasurer to borrow money if needed, pay all bills, provided funds are available, and report bills paid monthly to the Board; invest inactive funds, request advances on local taxes, as they are available, set workbook prices and attend local state meetings as necessary.

The superintendent to employ such temporary personnel as is needed for emergency situations (such employment is to be presented for approval by the board at the next regular meeting), Serve as the purchasing agent for the school district, approve meeting attendance, travel requests, and reimbursements as deemed appropriate, serve as sexual harassment grievance officer, make appropriate changes to the district's Crisis Plan as needed and attend local and state meetings as necessary.

Approved the amenities for participants at meetings and/or other occasions.
During the regular meeting, which was held immediately following the organizational meeting, board members were recognized for school board member appreciation month.
In regular business, the following items were approved by the Board:
The financial report for December 2022.
Authorized October 2022 five-year forecast along with the district's debt schedule to be filed with the Fulton County Auditor in replacement of the tax budget as they requested.
A donation of $150 from Allan Valentine for Fayette's Archery program/activities.
Additionally, the following staffing items were approved:
The monthly updated sub-teacher and Para list from NwoESC for FY23.
A one-year supplemental contract for Michael Brubaker as Asst. Track Junior High Coach for 2022-2023, pending proper certifications, background and reference checks.
Bryan Stambaugh as a volunteer indoor track coach for 2022-2023.
The retirement of Danny Smith as bus driver as of January 2, 2023.
Prior to adjourning, the board also approved Fayette Local School to allow indoor track practicing, school's name and licenses to allow our current students to participate in upcoming events for 2022-2023.
Board meetings for 2023 will be held in the Gorham Meeting room at Fayette Local School at 6:30 pm on the following dates: Monday, February 20, 2023; Monday, March 20, 2023; Monday, April 17, 2023; Monday, May 15, 2023; Monday, June 26, 2023; Thursday, August 10, 2023; Monday, September 18, 2023; Monday, October 16, 2023; Monday, November 20, 2023; Monday, December 18, 2023
Amy can be reached at amy@thevillagereporter.com
---