---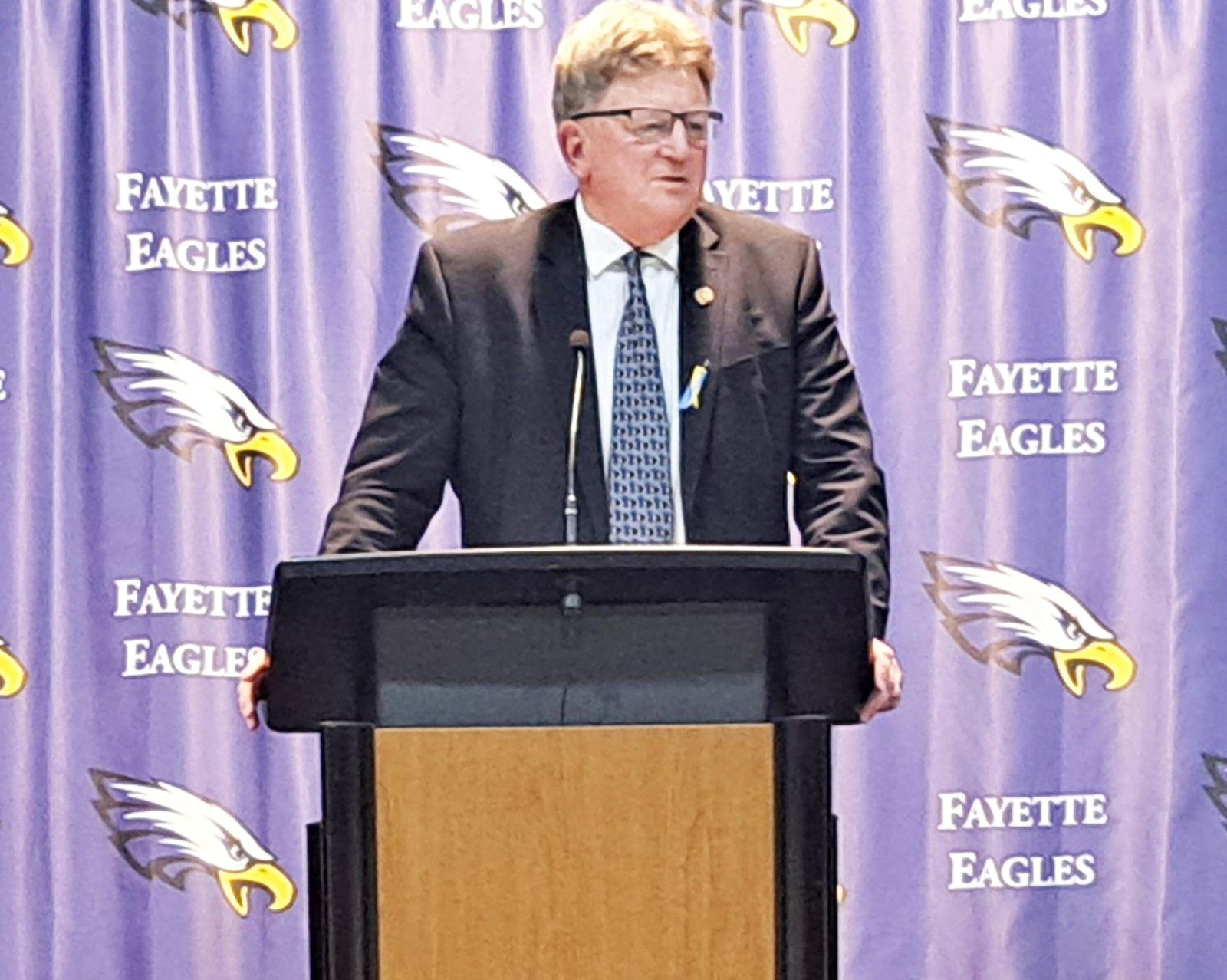 SPEAKING WITH THE COMMUNITY … Jim Hoops addresses those in attendance at Fayette High School on February 20. (PHOTO BY ANNA WOZNIAK, STAFF)
---
By: Anna Wozniak
Karen King, of Fulton County CDC, began the community conversation On February 20, 2023 at 7:00 p.m. with a prayer. King then introduced Ohio Representative Jim Hoops as the speaker for that night.
Along with a bit of background information about himself, Hoops said he wanted to let the community know what is going on in Ohio and that he thinks "there are good things happening."
One of these good things is TechCred. TechCred is a program that partners local businesses and schools to develop training programs to ensure there are qualified individuals to meet company's' employment needs.
Hoops said that this is integral to supporting the economy, as businesses will go to places that have an adequate workforce to support them.
There are a lot of prime reasons why businesses would be attracted to this area, and Hoops shared that "the future is bright and there are lots of things we can look at."
Hoops then detailed how the Republican caucus has determined that the economy is their number one priority, as well as an effort to change income tax into a flat tax.
Hoops also mentioned how he "never thought of having to protect women's sports" as he battles protections afforded under Title IX.
Questions were raised about how to fund the roads, as gas tax is going down and there was mention of making income tax a flat rate.
Hoops said that the state is looking for suggestions to better fund the roads.
As citizens voiced concerns over solar and wind farming, Hoops informed them that Senate Bill 52 was passed so that the county commissioners had to approve any solar and wind farming operations that are wanting to be started.
This is to try and help make opportunities for both the companies and communities to benefit from implementing solar and wind energy.
The speech ended with a discussion about looking into funds for replacing the damaged traffic light over Route 20.
Anna can be reached at anna@thevillagereporter.com
---