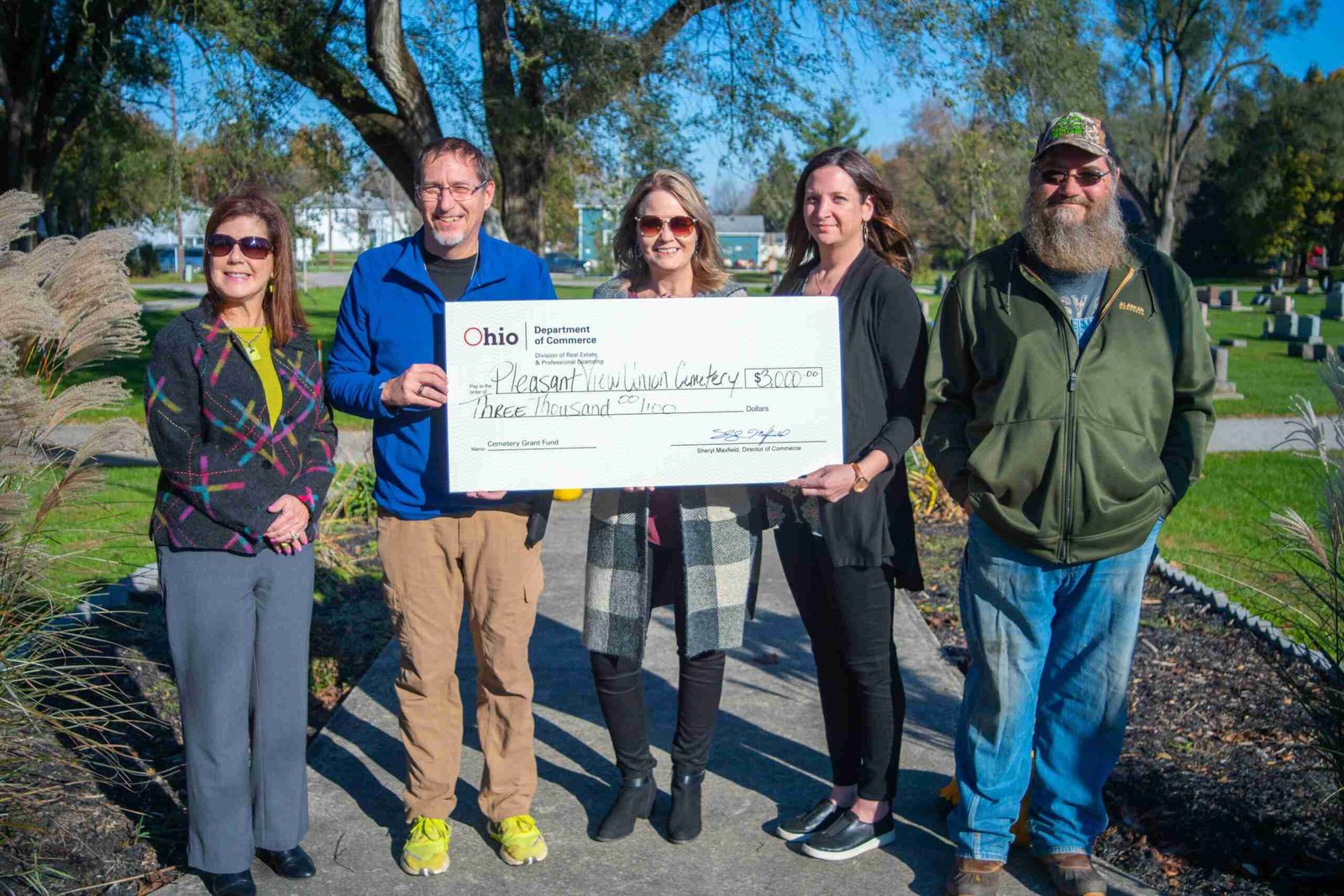 GRANT CHECK … Trustees stand to accept a grant check for $3,000 for the Pleasant View Cemetery in Fayette. Names are given left to right. Ohio State Division of Real Estate & Professional Licensure Superintendent – Anne Petit, Fayette Trustee – Chris Meeker, Secretary – Marcia Franks, Board President – Abigail Bieber, Sexton – Dan Shock. (PHOTO BY JACOB KESSLER, STAFF)
---
By: Jacob Kessler
The Pleasant View Cemetery in Fayette has received a $3,000 grant from the Ohio Department of Commerce's Division of Real Estate and Professional Licensing.
The grant that was received was part of a Statewide 2022 cemetery grant program that offered a total of $129,913.99 to 51 Ohio cemeteries for fiscal year 2022.
The grant was applied for by Pleasant View Cemetery Secretary Marcia Franks. She explained that this is actually the second time the cemetery has been awarded the grant. Two years ago, a $1,000 grant was awarded for the cemetery to computerize their records.
This year, the $3,000 grant will be used to repave the roads inside the cemetery. The roads are in varying states of decay with the latest repaving work on some of them being done in 2005, and others being done even before that.
"We are very excited to add to our cemetery. It is like a big family here and everyone likes to see it in the best condition it can be."
"We are very grateful for the grant and look forward to the opportunity to continue serving our community," said Secretary Marcia Franks.
On Monday morning, Superintendent Anne Petit of the Ohio Division of Real Estate and Professional Licensure came down to Fayette to hold a small ceremony at the cemetery to present the check to the trustees.
"It's absolutely our pleasure to be able to award you an additional $3,000 this year for the repaving and repair of your roads here in the cemetery. I look forward to my next trip to Northwest Ohio to see what has transpired with this award."
"We are really pleased that we were able to go above and beyond the expected $1,000 and that several of our Ohio cemeteries have been able to put these funds to use," said Superintendent Anne Petit.
The trustees present were very pleased to receive the money to fix up the roads. The grant issued is normally capped at $1,000 but was given at $3,000 due to the fact that the cemetery was able to provide matching funds for the project.
Jacob can be reached at jacob@thevillagereporter.com
---