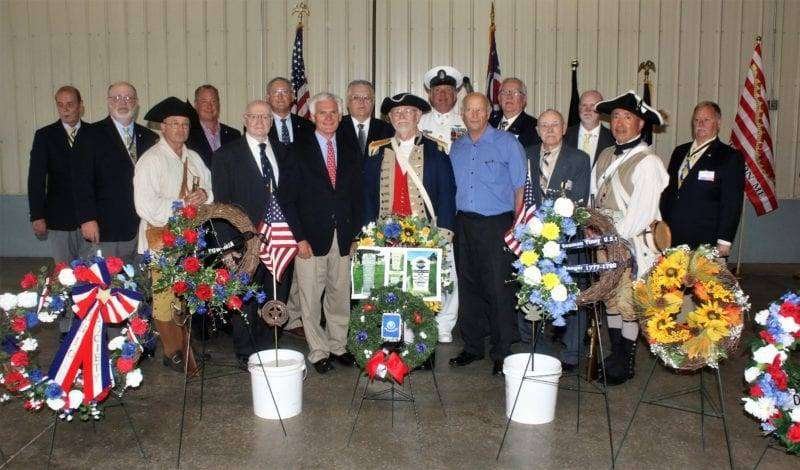 ---
By: Bill O'Connell
Seaman Richard Tynie, an American patriot who served in the Continental Navy on the warship Ranger under Captain John Paul Jones during the American Revolution, was honored in a grave marking ceremony held at the Lyons Royalton Fire Hall this past Sunday.
Born in Maine in February of 1762, Seaman Tynie (sounds like tiny), settled in New York after the war before bringing his family to Michigan and eventually to Royalton Township in Ohio. He and his wife, Dorothy, remained in the area until their deaths, his in 1841 and hers in 1839, and are buried in Edgar Cemetery in Fulton County.
Richard Tynie is the first Navy Patriot honored by the Northwest Territory Chapter of the Ohio Society Sons of the American Revolution (OHSSAR). Other individuals that fought in the American Revolution and are buried in Fulton County were also honored with wreaths in the grave marking service. They were Sergeant Phineas Brown of the Berkshire County Massachusetts Militia, Private William Holland of the 3rd Massachusetts Regiment and Private Gideon Braley of the 12th Massachusetts Regiment.
A letter in the program from the local chapter of the OHSSAR read, in part, "We take great pride in being able to provide this recognition to the 'Fulton County Patriots'. We have always considered each and every Patriot that gave service during the Revolutionary War to be a 'Founding Father', for without them, the Continental Congress could make all the declarations and resolutions they wanted but it required our Patriot ancestors to put the ideas into action by defending our Nation's nascent desire to be free and self-governing."
The ceremony, facilitated by Chapter Secretary/ Treasurer David Lupien, was very formal. A Navy Color Guard presented the Flag and United States Congressman Bob Latta of Ohio's Fifth District was the featured speaker and brief biographies of the honored individuals were read.
Originally, the program was to have taken place at Edgar Cemetery and the wreaths and markers placed with the headstones, however, inclement weather moved the proceedings into the Fire Hall.
Bill can be reached at publisher@thevillagereporter.com
---