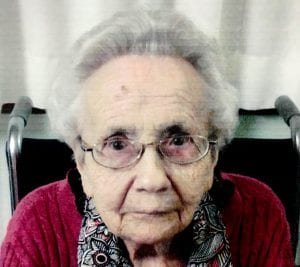 Flossie M. Sanders, age 93, of Stryker, passed away Friday evening, January 12, 2018, at the Fairlawn Haven Nursing Home in Archbold, surrounded by her loving family.
Flossie was born in Williams County, Ohio on December 28, 1924, the daughter of Louis and Wilma (Layman) DeLong. On December 3, 1945, she married Orville Sanders, and he preceded her in death in 1972. She was an active member at the United Brethren Church in Stryker and enjoyed attending almost every Sunday until a short time ago. She also loved spending time with her family.
Surviving are three daughters, Nancy Sanders of Stryker, Lynette (William) Matthews of Bryan and Susan (David) Wachtman of Defiance. She is also survived by grandchildren, Amy (Billy) Jarvis, Donna (Bill) Tompkins, Dewayne Sanders, David (Holly) Sanders, Gregory Sanders, Matthew Wachtman, Lexi Wachtman; great-grandchildren, Donald Wilson, Jr., Destiny Wilson, Natalie Tompkins, Kiersten Sanders, Jade Sanders, Ashley Tompkins, and Taylor Tompkins; and daughter-in-law, Barb Sanders of West Unity. She was preceded in death by her husband; two sons, Orville Sanders, Jr. and Dale Sanders; granddaughter, Diane Sanders; and two sisters, Marjorie Rex and Betty Harmon.
The family requests that memorial contributions be given to the church. Online condolences may be offered to the family at www.grisierfh.com. Grisier Funeral Home in Stryker has been entrusted with arrangements.