---
JACK TEEPLE … Pastoring for fifteen years during the long history of Bridgewater Community Church, gave Jack Teeple a point of reference to speak at the opening meeting held on Friday night, June 17, 2022. (PHOTOS BY REBECCA MILLER, STAFF)
---
By: Rebecca Miller
After some extremely high temperatures in the middle of the week, the weekend of June 17, 2022 began with a lovely sunny evening accompanied by cool breezes.
The members of Bridgewater Community Church who gathered to begin the celebration of 150 years greeted each other with joy as they filled the outdoor meeting area selected for their festivities.
Pastor Mark Pitman who has been at Bridgewater Community for the past thirteen years, welcomed everyone and opened in prayer.
He then read Psalm 136 which follows each statement about God with the thought, "His love endures forever!" After getting the Psalm rolling, he paused after a statement and the congregation picked up with, "His love endures forever." They completed the Psalm as a Responsive Reading.
Larry Picket and Brian Yoder led in singing some hymns, choosing Victory in Jesus and I'll Fly Away as two of the selections.
Something delightful about the group was that half of the approximately 60 people there were children, a sign of a healthy and growing church.
Pastor Pitman introduced the speaker for the opening service, saying that they had "the privilege of hearing Jack Teeple, who was here for 15 years as Pastor."
Pastor Teeple congratulated them on 150 years, adding that he was happy to have been a small part of that. "My wife and children and I have very fond memories of having been here in Bridgewater," he said, and shared an update on their children who grew up there.
The theme for this 150th Anniversary Celebration Weekend was "The Faithfulness of God." Teeple spoke of God's faithfulness over the years, focusing on the miraculous and statements of individual faith.
He shared a story of how he was fishing with a young man, years ago, and the boy's rod and reel fell in the water out in the middle of the lake.
After going back to land and enjoying lunch they decided to fish some more and Pastor Teeple suggested that they ask God to help them find the rod and reel, which would truly be a miracle if they did.
They took the boat out again, not even sure where they had been exactly, and lowered a tiny hook on a line down into the water, asking God to help them find the boy's pole which belonged to his brother. Against astronomical odds, they hooked the tiny eye at the top of the pole and pulled it up!
Why God chose to answer that prayer and yet sometimes seems to not answer the prayers about much more important things, like healing from cancer, Teeple said, "We don't understand, but we keep trusting God."
"We keep praying, but we need to trust even when we don't seem to get an answer, because no matter what…God is Faithful! He gives us live and breathe, all that we are and all that we have." He continued, "Bridgewater Community Church is still here today, because of God's faithfulness."
---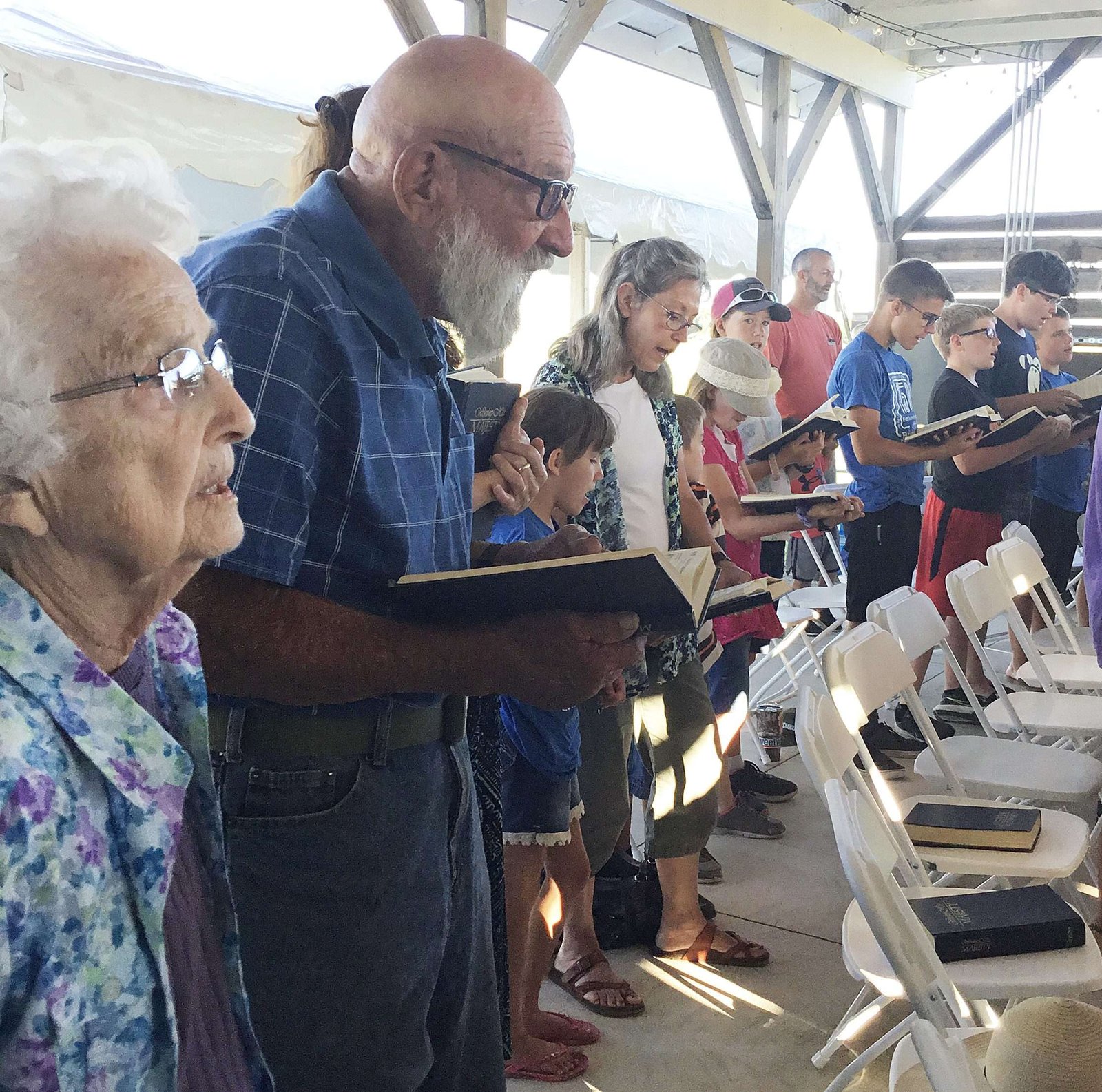 THRU THE AGES … Joining in the singing of hymns at the opening of the 150th anniversary of Bridgewater Community Church, were rows of all ages. From the faithful older folks through the teens and little ones, joyful singing could be heard.
---
He also shared a list of truths that need to be spoken over our lives to build our faith. They are contained in a book he wrote a few years ago called Riches in Christ: A Dead Dog at the King's table.
He quoted many of the 105 statements about believers that are life changing when spoken often to plant them deep in the heart.
He reminded everyone to trust God in the silence, trust God in the trials, trust God when the answer is no, trust God when things just don't make sense.
He shared how he got cancer in 2005 and he learned so much as he went through it. "As David said in the Psalms three times, it was good for me to be afflicted. We learn so much."
He wrote his book during that time, and the 105 thoughts he studied from the Bible, encouraged him so much and helped him to keep trusting God. "If you know Jesus, these thoughts will be a great encouragement to you."
Some of them were: "all of your sins are forgiven", "you are complete in Christ," "you have direct access to the presence of God," and "God is your faithful father." These thoughts can help to be an anchor for the soul when going through hard times.
Beginning this weekend of celebration of the great accomplishment of being a part of the community for 150 years, with the thoughts that even though many hard times were experienced by this part of the body of Christ, they kept trusting and moving forward, was a great way to start.
Following the short service, an evening of fun, fellowship and s'mores was enjoyed by all. Saturday held a full day of more fun, reminiscing and short services of worship and sermons.
As Teeple said on Friday night, may the people of Bridgewater Community Church continue to be faithful, courageous and make a difference.
"Yes, the fishing rod was an incredible miracle, but the things that are happening through Bridgewater Community Church are miraculous also.
Jesus is our only hope! We need to be faithful, courageous and make a difference."
Rebecca can be reached at rebecca@thevillagereporter.com
---