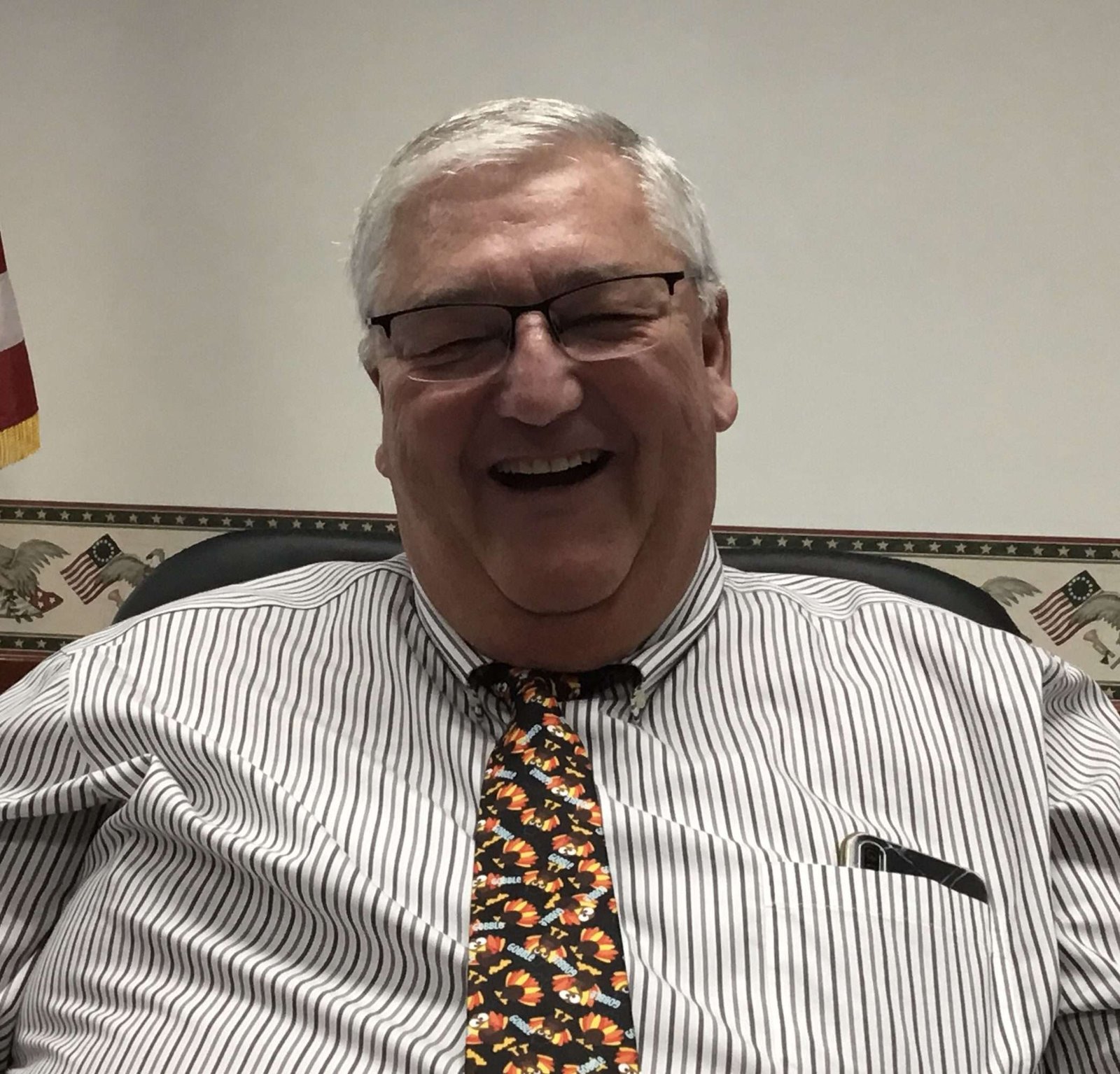 THANKSGIVING TIE … The Fulton County Commissioners wish everyone a Happy Thanksgiving starting with this big smile, and a Thanksgiving tie with brightly colored turkeys all over it, worn by Commissioner Jon Rupp. (PHOTO BY REBECCA MILLER, STAFF)
---
By: Rebecca Miller
Lauren Lester, Marketing and Communications Director for Fulton County, previewed an interactive draft of the new website that will replace the old one soon.
Lester said this is a redesign which is a part of the original contract and provided a demonstration of the new website. She highlighted what is changing and said she is especially pleased with the new design being more "mobile friendly."
As many people refer to it on their phones, this new website design is much easier to view and to navigate.
She asked the commissioners for a decision on what adjustments they would like to see, before Friday, November 19, 2021 so she could get it turned in to the company who is doing the work.
In regular business, the commissioners approved:
-Minutes for November 9, 2021, agenda as presented, payment of bills, Purchase orders and Travel Requests, and Increase and transfer of appropriations for various departments
-Resolution 825 Contract 2021-120 with Fayette United Methodist Church on behalf of Fulton County Senior Center
-Resolution 826 Re-appoint Board members to Board of Developmental Disabilities
-Resolution 827 Authorize Ad for Grant Writer services
-Resolution 828 Insurance Renewal Rate
-Resolution 829 Proclaim November 27, 2021 as Small Business Saturday
They also reviewed the October 2021 Investment Report; Transfer Facility Inspection Report from FC Health Department; CDBG Program Overview from Maumee Valley Planning Organization (MVPO); Correspondence from NOCAC (Northwest Ohio Community Action Commission) for 22-23 Community Services Block Grant; and Office Closure Notice from the Western District Court.
Mobility Manager for MVPO, Kim Lammers, Triangular Processing Director Kathy Shaw and Fulton County Senior Center Director Sheri Rychener were present at 9:45 that morning to discuss Transportation with the Commissioners.
Ms. Lammers provided a brief explanation of a 5310 Specialized Transportation Operating ODOT (Ohio Department of Transportation) Grant. She said that a 5310 is an 80%/20% match, with the grant covering 80% and the county finishing off the 20% needed for a program.
The grant would go through Triangular Processing to help with transporting senior citizens to appointments.
Ms. Shaw stated that some of the work would need to be subcontracted out because Triangular Processing would not be able to keep up with the demand.
Ms. Rychener said they have to turn some seniors away due to lack of resources, so having other transportation available in the county would be very helpful.
Lammers shared that Fulton County does approximately 2500 one way trips per year. Shaw informed the commissioners how the program would work and that there is a definite need for such services.
They would need a letter of support from the commissioners in order for Triangular Processing to apply for this grant and if awarded, it would not go into effect until 2023.
There was further discussion concerning the grant before the Commissioners thanked them for coming and the meeting adjourned for the day.
Rebecca can be reached at rebecca@thevillagereporter.com
---