---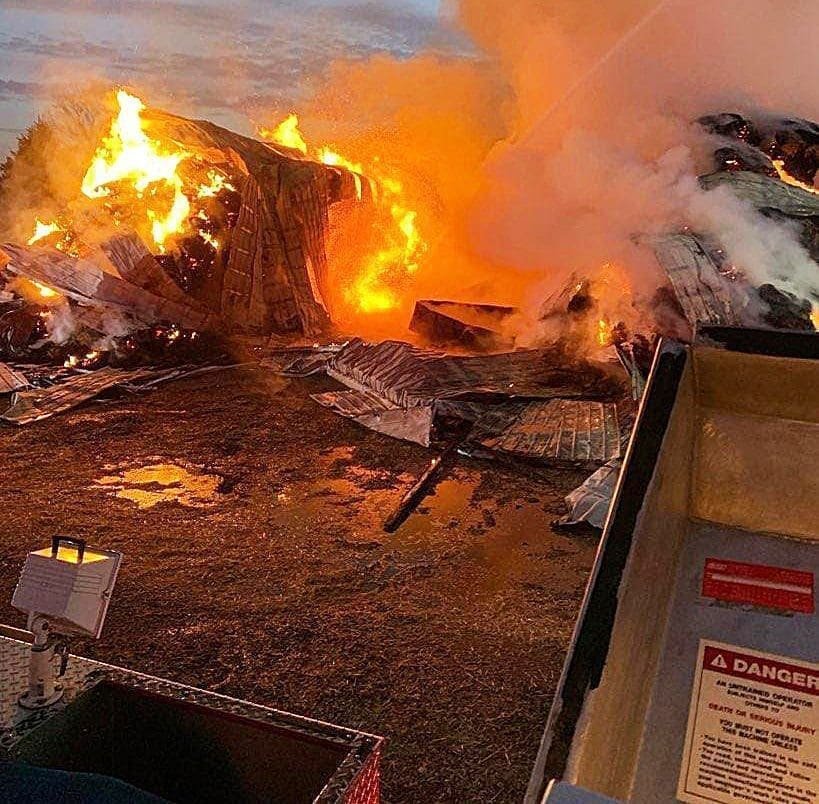 (PHOTO PROVIDED)
---
By: Jacob Kessler
Several Fire Departments spent Thanksgiving Day away from their families for most of the day this past week.
Archbold, Delta, Gorham-Fayette, Lyons-Royalton, Metamora-Amboy, and Wauseon all spent their holiday helping the neighboring department of Morenci, Michigan.
The departments were called to assist on a large double barn fire in Seneca Township in Michigan.
According to the Morenci Fire Department, the department was dispatched at 5:45 a.m. and the fire department was on scene by 5:54 a.m.
At the location were two 200 x 500-foot barns with one fully involved and the other being considered a working fire.
Inside each of the barns were approximately 6,000 bales of straw and farm equipment.
Three pieces of equipment from one barn was able to be saved before the fire over took the building.
Besides the two barns, two other buildings on the property were able to be saved. Numerous excavators were needed in order to help take care of the straw.
The amount of straw present in the buildings led to the property continuing to smolder and smoke for several days.
Altogether, 18 fire departments were dispatched as well as numerous other organizations such as the Morenci Police Department.
Twenty tenders were utilized as well as the municipal water system. This led to a total of 1,396,100 gallons of water being used at the fire, with a total of 2,200 feet of hose being stretched to get that water to the fire.
Fire crews were on scene until 9:49 p.m. that night. With Thanksgiving being a time to give thanks, our fire departments should definitely be on that list due to their readiness to serve others at any time.
Jacob can be reached at jacob@thevillagereporter.com
---