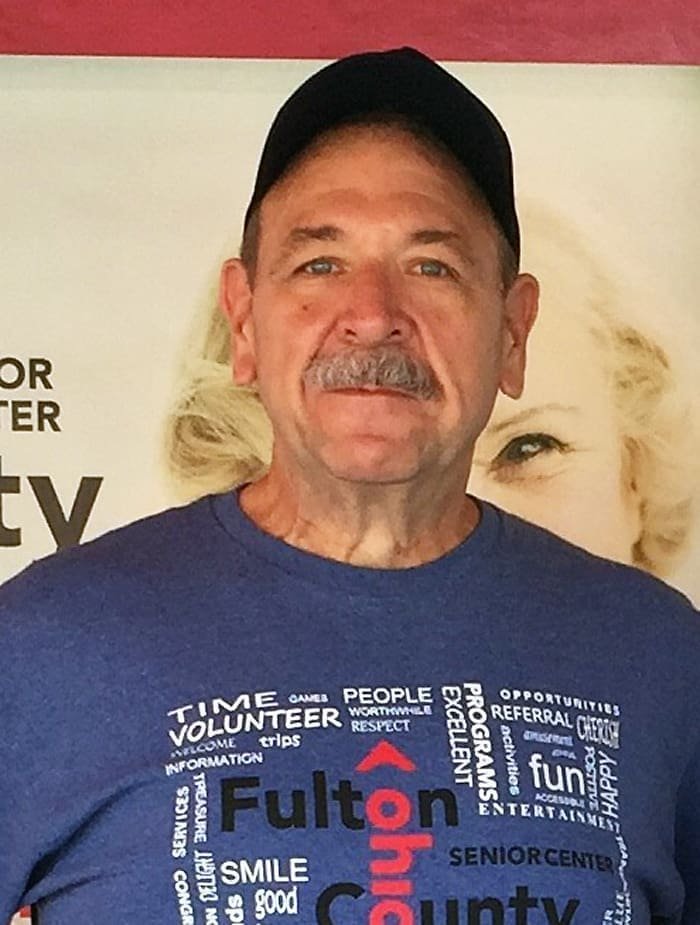 ---
In January 2024, Kyle Wilcoxon's role at the Fulton County Senior Center will come to a close. After 19 years at the Senior Center, 15 1/2 of them as Head Cook and Kitchen Manager, Kyle will retire.
"The most satisfying part of my Senior Center job is when I get handwritten notes from people telling me that a dish is 'just like they made' or it's 'the best they ever had.' I couldn't get a better compliment," he said.
"The most challenging part of my job is trying to satisfy everyone's different tastes. If they or their parents made a dish a certain way, then they tell me the way I make it doesn't taste right to them.
Another big challenge is the number of meals we make varies greatly. We might have 500 meal reservations one day and 575 the next day. That makes ordering difficult."
"We'll have bigger numbers for ham loaf day, than stuffed peppers, for example," Kyle explained. The Senior Center role was not his first as a chef. Kyle served as a cook in the Navy from 1980 to 2000.
"If you totaled all of the time I was submerged on a submarine while in the Navy, I was probably underwater for five years," Kyle said.
"Cooks are one of the biggest morale builders. If you are in a submarine for 72 days, and the food's no good, there is nowhere else (to go for a meal). Submarine cooks are also the most versatile cooks in all of the military."
"Bread and bakery products are all made from scratch. I also had to be a good planner, and good at storing things," he said. Kyle's foundation as a chef was laid early in life.
"My specialties were the same things my mother made. When I was 11 or 12, I basically made the entire Thanksgiving dinner, stuffing, turkey, everything, with my mom looking over my shoulder," he said.
When he retires, Kyle hopes to travel, spend time in his Michigan cabin and continue to be involved in food service for different local organizations.
"I will have to find something to keep me busy, but I won't get up at 3:30 in the morning anymore," Kyle said. Congratulations on your retirement!
---