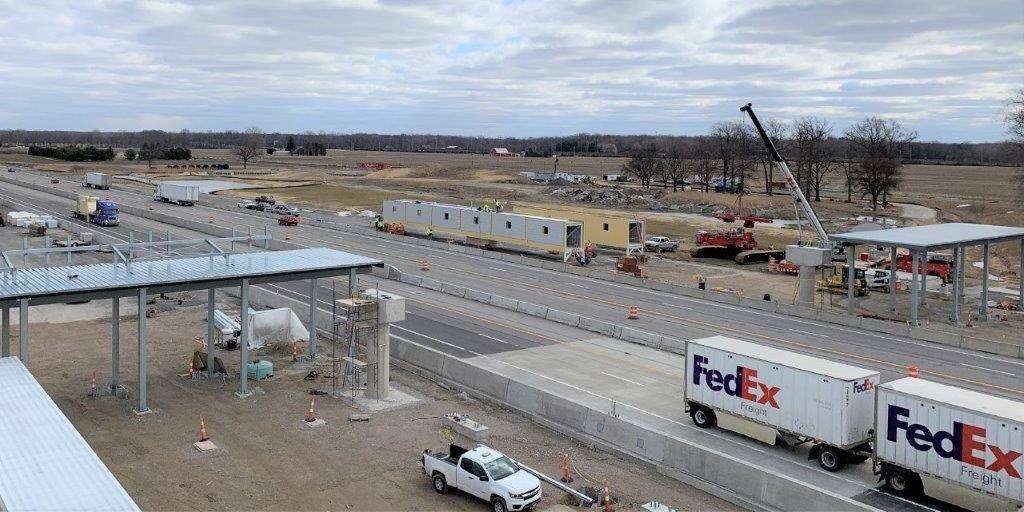 ---
By: Tim Kays
The Ohio Turnpike Commission has been working on the construction of Toll Plaza 49 near Swanton. While many in Williams and Fulton Counties who do not use the Ohio Turnpike may not fully comprehend the significance of the project, it will carry a positive impact for every motorist in Northwest Ohio.
"On December 18, 2017, the Turnpike Commission approved the modernization plan for the toll collection system," said Brian Newbacher, Public Information Officer for the Ohio Turnpike and Infrastructure Commission.
"That's because the current system, which was implemented in 2009, has now reached the end of its useful life. The parts are difficult to replace, and technology has improved, and further, customers have indicated a strong preference for the Turnpike to remove the gates at the tollbooths."
"With this modernized system, we'll be able to do that."
To prepare for this eventuality, the Ohio Turnpike and Infrastructure Commission (OTIC) said in a March 5 project background release, the OTIC adopted a new Toll Collection System (TCS) and Customer Service Center (CSC) Strategic Plan, developed and recommended by Jacobs Engineering Group Inc. of Cincinnati, an independent planning and engineering consultant, and an Ohio Turnpike Advisory Team.
As part of the updated system, the Ohio Turnpike is constructing two new mainline plazas with highway-speed E-ZPass lanes near Swanton in Lucas County, and in Trumbull County.
This plan also includes reconfiguration of existing Toll Plazas 13 to 39 (Williams and Fulton Counties), and 215 to 234 during the anticipated demolition phase of the plan.
"We began constructing it at that site (Swanton) last fall," Newbacher said. "It is the first of four brand new toll plazas that will be the linchpins of the new system. So the post there, the redesign of the lanes and all that's all that's going on now, as people in their area see this begin to take shape, they can know that their preference for a new system is coming soon."
Based on current estimates, the plan will allow non-tolled trips for local travelers within Toll Plaza 13 (Ohio 15 – Bryan/Montpelier) through Toll Plaza 39 (Ohio 109 – Delta/Lyons), and within Toll Plaza 215 (Lordstown) through Toll Plaza 232 (Youngstown).
The plan calls for removal of all toll lane gates from all Ohio Turnpike Toll Plaza entrance lanes and E-ZPass-Only Exit lanes. New license plate image capture cameras are planned for installation to catch any toll violators.
Toll lane gates will be retained in non-E-ZPass exit lanes (cash and credit). The Ohio Turnpike will continue to staff and operate its in-house E-ZPass Ohio Customer Service Center, and in the near future plans to issue an RFP (Request for Proposals) to award a contract with a vendor for unpaid toll processing, including license plate image review.
As part of the plan, the E-ZPass website at ezpassoh.com will be upgraded in two phases to provide improved customer service. The first phase has already been completed.
The plan will provide improved customer service to E-ZPass customers by eliminating gates in all E-ZPass lanes. This will allow E-ZPass users who are traveling the full length of the Ohio Turnpike to travel non-stop at highway speeds (70 mph).
E-ZPass customers will also be able to travel non-stop at low speeds (10-15 mph) at all remaining Toll Plazas (52 – Toledo Express Airport, through 209 – Warren) once the recommended plan is fully implemented in 2023.
The total capital implementation cost for the new TCS will be between $204 to $232 million.
The Commission estimates it will save approximately $257 million in operating costs over 30 years because of the reduction in the number of Toll Plazas from 31 to 24, the addition of automatic toll payment machines at ten toll plazas, the elimination of toll gates on entry and a projected increase in E-ZPass usage.
These cost savings are contemplated to include a reduction in utility and maintenance costs at the closed toll plazas as well as a reduction in toll collection staff.
The Commission will accomplish the reduction in toll collection staff through attrition and relocation while preserving enough jobs to be able to collect cash and process credit card transactions for customers who are not enrolled in E-ZPass.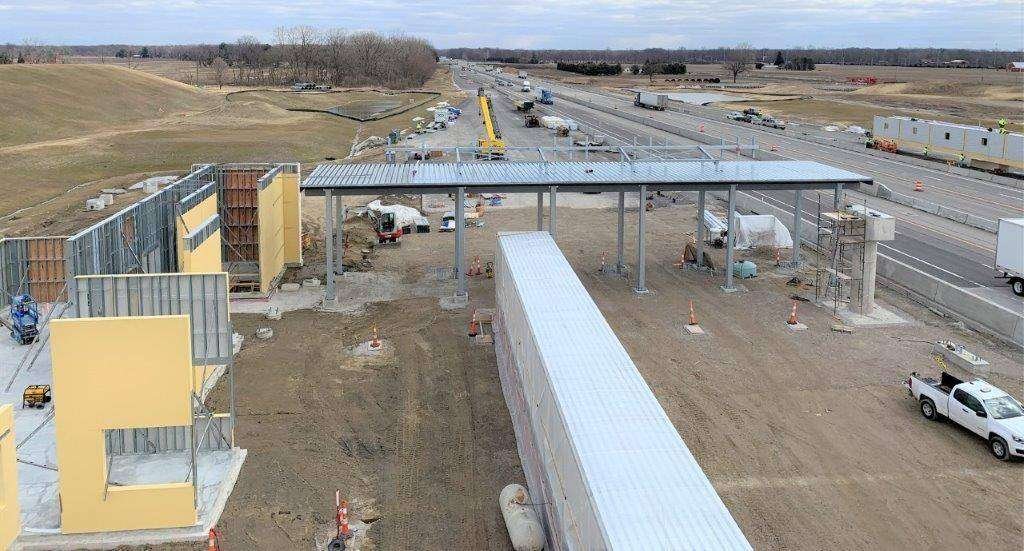 ---
Work on the project has not been slowed by the COVID-19 pandemic, and for good reason. "Transportation infrastructure is considered essential," Newbacher said. "Especially given the movement of freight, the needs to keep going with vaccine delivery, and everything else needed to take care of Ohioans."
"We expect that this new toll plaza and its associated lanes will be completed by the end of this year. This modernized system is scheduled to go live in the spring of 2023."
"The toll plaza at Swanton will be completed ahead of the other ones. It's the first to be completed that will serve as a test site for the new technology for the new system."
"The strategic plan to remove gates and install new technology is a bold step forward in convenience for our customers without introducing significant revenue risk to our financial position," said OTIC Executive Director Ferzan M. Ahmed, P.E.
"On the operations side, we will gain significant efficiencies without wide-scale organizational changes. Customers have asked us to remove gates, and we are preparing to do so."
Tim can be reached at tim@thevillagereporter.com
---