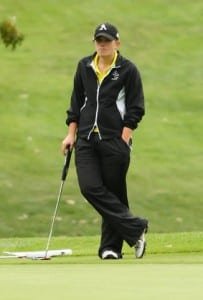 What does a young lady in junior high do when she wants to play golf and the only golf team is for boys? She joins the team anyhow, and then does better than them! Ariel Gruber of Pioneer refused to let the lack of a girl's golf team keep her from her passion.
Ariel is the daughter of Richard and Sue Ann Gruber of Pioneer, Ohio. She has two siblings; a sister Amanda, and a brother Jason.
She first began playing golf at age 10 with her father. She quickly caught on, and proved herself to be adept at the sport. She joined the team while in junior high school at North Central. She was not in the least intimidated that she was playing against young men, and proved that she was equally capable of doing as well as they were. In fact, she kept close track of her progress and found that she was often the number one or number two best player on her team throughout her junior high and high school career. She added that taking golf lessons during her sophomore, junior and senior years in high school added to her skills. This young lady was also active in her high school's drama club, the quiz bowl team and was a member of the National Honor Society.
Ariel now plays golf for the women's team at Adrian College where she majors in accounting. After playing golf with young men for so long, she said that it was strange at first competing against other women, but she has continued to do well in her sport. She has played so well, in fact, that she finished in first place and was a medalist at the Defiance Invitational at Defiance College on September 3.
In her spare time, what little she actually does have, she enjoys hanging out with her friends and going to movies. She maintains a 3.5 grade point average.
She doesn't know what she wants to do after college, but hopes to find a job an accounting related job. As for whether or not she will return to her hometown after graduation, she said that is an option, but she may want to spread her wings and see what it is like to live and work in other places.
No matter what she decides to do after college, if she does as well in life as she does playing golf, her future will be bright.