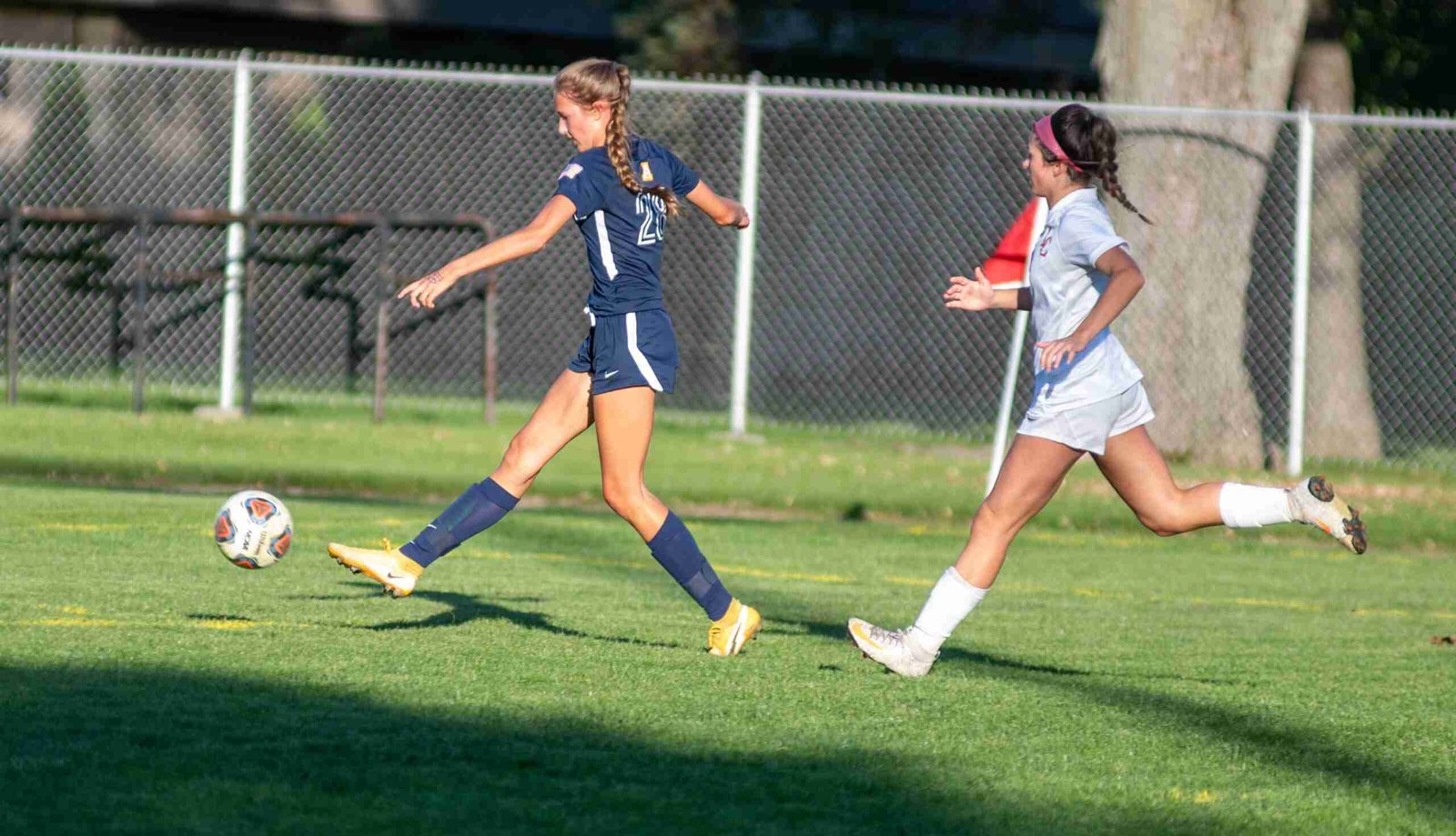 OPENING GOAL … Archbold's Sophie Rupp unloads a shot that resulted in her first goal of the night. (PHOTO BY JACOB KESSLER, STAFF)
---
GIRLS SOCCER
Division III Sectional Finals
Archbold 4 Liberty Center 1
Sophie Rupp scored twice as Archbold advanced to the district semifinals with a 4-1 win over Liberty Center. Rupp tallied her first goal with 15:03 left in the first half on an assist by Zoe Arend and then Joelle Waidelich scored off a rebound at the 6:52 mark to make it 2-0 Archbold.
The Bluestreaks added to their lead early in the second half as Jenna Mahnke found the net before Rupp closed out the Archbold (7-7-3) scoring with her second goal of the match with 18:49 left in the contest. Waidelich, Carlee Meyer and Karsyn Hostetler each recorded an assist for Archbold.
The Streaks will face either Evergreen or Ottawa Hills on Tuesday, October 26th in the district semifinals at Evergreen.
Ottawa-Glandorf 8 Delta 1
The top seeded Lady Titans cruised past Delta (8-8-1) 8-1 to move on to districts at Evergreen. The Delta goal came off the foot of Ella Demaline with an assist from Faith Berger.
Swanton 3 Miller City 0
Swanton traveled to Miller City and earned a 3-0 win to claim a sectional title. No stats were reported. Swanton (6-9-2) will face Ottawa-Glandorf in the Division III district semifinals on Tuesday, October 26th at Evergreen HS.
VOLLEYBALL
Division II Sectional Semifinal
Toledo Central Catholic 3 Bryan 1
The Golden Bears season came to end as they fell to Central Catholic in four sets 25-23, 25-27, 25-17, 25-17. Gwen Spengler registered 15 digs, six kills for Bryan (9-14) and Jordan Beck added 19 digs.
Division IV Sectional Semifinals
Edgerton 3 Pettisville 1
Addie Cape went 26/29 in digs and Sadie Walther was 62/66 on attacks with 15 kills to lead Edgerton past the Blackbirds 25-23, 22-25, 25-13, 25-17. Hollyn Klopfenstein topped Pettisville (7-16) with 19 digs and Leah Beck added 18 assists. Edgerton (7-15) will now take on the No. 2 seed North Central in the sectional finals at Hilltop on Thursday, October 21st.
Ayersville 3 Fayette 0
Ayersville advanced to the sectional finals by cruising past Fayette (0-20) 25-3, 25-4, 25-7. No stats were reported.
Antwerp 3 Stryker 0
Antwerp earned a spot in the sectional finals with a 25-20, 25-16, 25-23 victory over Stryker. Sage Woolace paced the Stryker (7-16) attack with 20 digs and Haylee Fulk had three kills, seven assists.
GIRLS TENNIS
Bryan 4 Shelby 1 (Bryan (24-0) advances to State Final Four of OTCA team tournament)
SINGLES: 1. Bassett (B) d. G. Mahek 6-2, 6-3; 2. Posey (B) d. Vogt 6-2, 6-3; 3. Smith (S) d. Adams 6-1, 6-3; DOUBLES: 1. Grothaus/Wheeler (B) d. Eith/A. Mahek 6-11, 6-1; 2. Taylor/Seaman (B) d. Deane/Biettner 6-1, 6-0
---